Missouri journalism team helps public health agencies tell stories about opioids, abuse of the drugs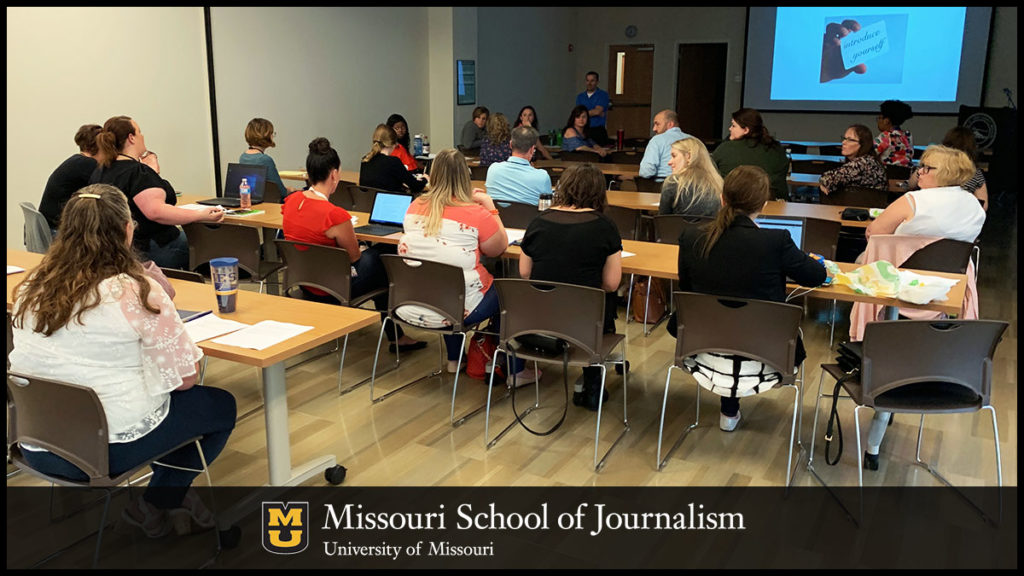 Missouri journalism faculty traveled to Cape Girardeau, Columbia, Kansas City, Kirksville, St. Joseph, St. Louis and Springfield to discuss media coverage of opioids and their abuse.
Research finds little coverage of opioids in Missouri
By Jennifer Nelson
Columbia, Mo. (Dec. 17, 2019) — This past summer a team of Missouri School of Journalism strategic communication faculty members equipped public health agencies across the state with resources to help them tell stories and create change in their communities when it comes to the subject of opioid awareness.
The team also conducted research to learn about existing media coverage in communities and find out more about public health employees' approach to increasing opioid misuse knowledge. The team plans to release a full research paper with their learnings in 2020.
The project was funded by a Missouri Department of Health and Senior Services grant.
Training
The training was inspired by the need for more communication resources at public health centers, said Professor Jon Stemmle, faculty chair of strategic communication and primary investigator on the grant. Stemmle has trained many communicators including those at health centers throughout the years.
"Our greatest challenges include increasing community awareness with few resources, staff and knowledge to adequately communicate messages across ever-changing media platforms," said training participant Maria Davis, a health educator at Cape Girardeau County Public Health Center.
For this project, Stemmle was joined by Professor Shelly Rodgers, Associate Professor Jamie Flink and Associate Professor Jim Flink. Missouri graduate students Maddie Jones and Weilu Zhang also helped with the project, along with Fairriona Magee, an undergraduate student from North Carolina A&T State University, who was studying at MU this summer as part of the Missouri School of Journalism Summer Graduate Fellowship program.
To address the need seen at the public health agencies, the grant team provided half-day trainings in seven markets across the state: Cape Girardeau, Columbia, Kansas City, Kirksville, St. Joseph, St. Louis and Springfield. They reached more than 120 people from 57 counties. They covered a variety of topics including understanding audiences, storytelling, creating, editing and posting videos from a mobile device, communicating with news outlets during a crisis and writing an elevator pitch.
Davis said the training was helpful to her department's everyday messaging efforts. They have increased their social media presence by posting more frequently with more engaging messages and have included more videos. They have also improved their relationships with the local media, which has included establishing a monthly spot with a radio station to discuss a variety of health issues, she said.
"The Cape Girardeau County Public Health Center is extremely grateful for the opportunity to learn the tools necessary to increase public health outreach," she said. "The training was so much more than opioid communications and has truly changed how we approach all media and public communications."
Research
In addition to helping public health agencies, Stemmle said they also wanted to do something to provide value to the state's efforts at combating the opioid crisis. This inspired a two-pronged research agenda led by Rodgers and Jamie Flink. Flink conducted follow-up, qualitative in-depth interviews with 18 professionals who attended the trainings to learn more about a variety of topics including their approach to sharing knowledge about opioid abuse and specific barriers they face.
Rodgers led the content analysis of nearly three years worth of stories from Missouri newspapers as a way to gauge how the media was reporting on the topics. They also wanted to know more about how public health and localization played a role in those stories.
Through their research they discovered there wasn't much coverage on the subject of opioids, and the coverage that existed came from fewer than half of the newspapers surveyed. The St. Joseph News-Press published 43% of the stories on opioids or opioid misuse, followed by the Daily Journal in Park Hills, which published 15% percent. About eight of the newspapers published only about 2% on this topic. About 26% of stories were published with a national perspective and 43% had a state angle. Of the stories that were published possible solutions to the opioid crisis were rarely mentioned in stories, the researchers found. The cost to taxpayers was frequently a theme in stories.
"Our data findings present a blueprint of how the state can work with the local public health agencies in Missouri to fill the gaps in knowledge and move forward in educating the public about the dangers of opioids," said Stemmle.
The team also did pre- and post-training surveys with participants to see how effective techniques were and what public health employees would like to see covered in future trainings.
The team is still in discussion on practical next steps, including plans to publish the data collected sometime in 2020, said Stemmle.
Updated: November 11, 2020
Related Stories
Expand All
Collapse All
---