Cameron and Journalism Alumni Colleagues Release New Public Relations Textbook
Columbia, Mo. (Oct. 15, 2007) — In college classrooms across the country, Missouri School of Journalism professor Glen T. Cameron and a handful of Missouri Journalism alumni are helping to educate America's next generation of public relations professionals.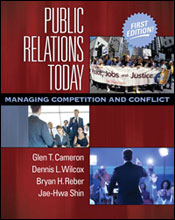 Their new book, Public Relations Today: Managing Competition and Conflict, is an introductory text featuring classic and contemporary cases that illustrate the working world applications of public relations theory. The all-Missouri cast of authors also includes Dennis Wilcox, PhD '74, now at San Jose State University; Bryan Reber, PhD '01, now at the Grady College of Journalism and Mass Communication at the University of Georgia; and Jae-Hwa Shin, PhD '03, now at the University of Southern Mississippi.
Topics of the real-world cases include the image of the Dixie Chicks, the faltering reputation of Wal-Mart and the Bush Administration's reaction to Hurricane Katrina.
"A lot of the cases involve crisis and issue management," said Cameron, who is in his 10th year at the Missouri School of Journalism and holds the Maxine Wilson Gregory Chair in Journalism Research. "You can live or die as an organization depending on how you manage and represent yourself."
The book describes the ideal public relations professional as one who earns the power of influence through effectively managing conflict – "the wrangle in the marketplace of ideas" – and is then able to shape organizational behavior.
Each chapter includes activities relating to ethics, global issues and the practical application of skills. Additionally, Cameron devoted an entire chapter to the role of technology and integrated new media references throughout the book.
Cameron has written four books in the field of public relations. One of his previous titles, Public Relations: Strategies and Tactics, is the best-selling public relations textbook in the country. A ninth edition is due out in fall 2008. His work also has been translated in numerous languages around the world.
Cameron is one of the most-published researchers in public relations, according to a recent American Academy of Advertising study.
"He brings the resulting great expertise to his new book, as well as his unique blend of understanding how students learn about public relations, and what gets their attention and enthusiasm," said Esther Thorson, a professor and acting dean of the School.
The first edition of Public Relations Today: Managing Competition and Conflict (ISBN-13 978-0205492107) was published by Allyn & Bacon.
Updated: April 21, 2020
Related Stories
Expand All
Collapse All
---