The Missouri School of Journalism to Create Two New Online Master's Degree Options
MU Invests $2.5 Million to Launch 16 Online Degree and Certificate Programs
Columbia, Mo. (Feb. 12, 2013) — The Missouri School of Journalism will launch two new online master's emphasis areas at the start of the fall 2013 semester as part of a University of Missouri-wide effort to meet the demands for increased online learning opportunities.
MU is investing $2.5 million overall to develop 16 new online programs in order to increase access to higher education and enhance the number of graduates in specific industries. The School has been awarded $93,730 to develop its new programs.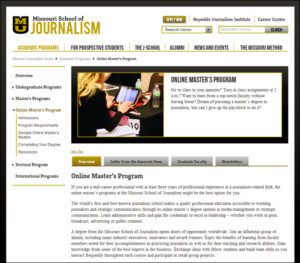 The new health communication online master's program will be designed for professionals in health sciences, health-care facility administration and communication. Courses will focus on public relations, health news and promotion and strategic communication research.
The new interactive media online master's program will help professionals learn the use of interactive, digital and social media as they investigate the psychological, social, ethical and legal issues regarding the roles and effects of digital news, advertising and public relations on society.
The School currently offers two online master's degree program options. The media management option is designed for students who have had substantial professional experience and want to direct their future careers toward management. The strategic communication online model is based on five principles: strategic planning, technology, relationship building, a global/multicultural perspective and a communications toolbox.
More than 200 students have enrolled in the online master's at the Missouri School of Journalism since the program's inception in 2001. Today, more than 75 mid-career professionals are enrolled. The program takes approximately three to four years to complete.
Margaret Duffy, director of the online master's program; Sarah Smith-Frigerio, senior academic adviser; and Hui-Hsien Tsai, an instructional e-learning specialist, developed the grant proposal.
"Our online master's offers students the same top quality education as our on- campus programs," Duffy said. "We're delighted to increase student choices and foster their success in the high demand professional fields."
Other areas of study covered in the new campus initiative include hospitality management, public administration, nursing, education, energy efficiency, geospatial intelligence, public health, architectural studies and biomedical sciences. The programs will be developed and taught by MU faculty. The funds will help defray startup costs of developing the curriculum, including the ability of programs to offer faculty incentives for adapting or creating new online courses.
Demand for online learning is at an all-time high among students of all ages. Mizzou will continue to invest in online offerings by accepting another round of proposals from its schools and colleges; those awards will be announced in 2014.
"Our offerings have more than doubled and our enrollments have grown 78 percent in the last five years," said Jim Spain, vice provost for undergraduate studies and interim vice provost for e-learning. "These new online programs will not only help students be more globally competitive, but also help meet our state leaders' goal of having a more highly educated Missouri."
Contact Grad Studies for more information about the online master's program at the Missouri School of Journalism.
Updated: July 13, 2020
Related Stories
Expand All
Collapse All
---