Registration Open for Oct. 15 Online MA in Journalism Information Session
The Live Session Will Allow Participants to Ask Questions, Interact with Program Adviser
Columbia, Mo. (Oct. 5, 2015) — A live online information session about the Missouri School of Journalism's online master's program will be held from 7-8:30 p.m. CST on Thursday, Oct. 15.
Leading the session will be Sarah Smith-Frigerio, academic adviser to the online master's program in journalism. She has advised the program for over six years and has helped over 60 industry executives, innovators, educators and others graduate with a Master of Arts degree in journalism.
Participants can interact with Smith-Frigerio during the session, asking her questions, participating in the discussion and receiving additional information.
Mid-career professionals do not have to give up their jobs in order to obtain a quality, accredited graduate education, according to Smith-Frigerio.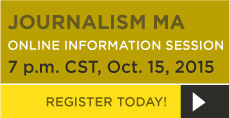 "Our online students come to us from everywhere, including newsrooms, broadcast stations, the armed forces and advertising firms," she said.
Now in its 15th year, Missouri's online master's program in journalism was one of the nation's first. Over 100 students are currently admitted. The School's program is offered through Mizzou Online, which offers more than 90 graduate and undergraduate degree and certificate options.
Missouri's online master's program is as rigorous as that of the on-campus version, Smith-Frigerio said. The program is flexible and is completed on a part-time basis. Most students complete in 3-4 years, while working full time.
Updated: September 10, 2020
Related Stories
Expand All
Collapse All
---