Online Master's Degree Students Visit Campus for Three-Day Seminar
Columbia, Mo. (Aug. 24, 2007) — A reporter and anchor for ESPN New Media, a manager of communications for MetLife and a public affairs officer in the U.S. Air Force are just a few of the accomplished media professionals enrolled in the Missouri School of Journalism's innovative online master's degree program.
The diverse group of reporters, editors, managers and public relations specialists met on campus Aug. 17-19 for a special three-day seminar, "The Chaos Scenario in News and Advertising." It was the first time many of the students had met their classmates and professors face-to-face.
"It gives them a sense of belonging, a sense of affiliation to the campus, and it gives them a chance to really see what the facilities look like," said Amy Lenk, senior academic adviser for graduate studies and coordinator of the online program. "It also helps them make contact with faculty."
The School's online Master of Arts program, now in its sixth year, continues to attract top-notch career professionals of all ages from across the nation and around the world.
With two available degrees, strategic communication and media management, the program offers the same renowned faculty and hands-on approach as the traditional program, with an added degree of flexibility. Many students, while working full time for industry leaders such as Newsday and Reuters Television, choose to take only one class per semester.
Bill Sundstrom, 53, the editor of European communications for Campus Crusade, tackles his coursework a couple mornings each week and said he expects to earn his master's degree in strategic communication within the next four years.
"I wanted to further my education and do my job more effectively," said Sundstrom, who lives in southern Germany with his wife and three children. "I thought that if the University of Missouri is going to put their name behind it, then it has to be good."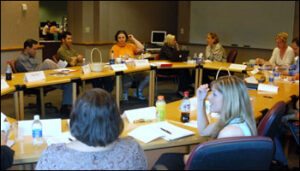 Students in the online program conduct classroom conversation and group work primarily through e-mail and school-sponsored message boards, a system they said has exceeded their expectations of a distance-learning education. Students are required to attend only one summer seminar and have the option of completing it online.
"I feel like I know most of these people, even though I just met some of them for the first time," said Lourdes Fernandez, 43, a 12-year veteran of the copy desk at Newsday in Long Island, N.Y., who is working toward a media management degree.
She added, "People have this idea that it's easy, but it's really not. It's just much better timewise for me. If I want to do my work at 1 a.m., I can do that."
The School first made its online journalism program available in the fall of 2001 and had an inaugural class of 12 students. Since then, six students have earned their degrees. That many or more could graduate at the end of the current semester, Lenk said.
Between 65 and 70 students currently are enrolled in the program.
Margaret Duffy, the acting graduate dean, oversees the online program.
"The No. 1 advantage is the faculty the University of Missouri can offer," she said. "The second is the quality of the students. If you look at this bunch, they're high-performers from around the country and the world, really."
To enter the program, a potential student must have at least three years of experience in a journalism-related field. A "test drive" option is available so those considering the program can experience coursework as a non-degree-seeking student before enrolling.
Visit the School's Web site for more information about the online master's program.
Online Students Who Attended the Seminar:
Barbara Allen, Adviser, Satellite, the Tulsa (Okla.) World's Teen Section
Jim Basquil, Anchor/Reporter, ESPN New Media, ESPN Radio and SportsCenter
Jane E. Sutter Brandt, BJ '81, General Manager, Custom Content, Democrat and Chronicle, Rochester, N.Y.
Rick DeBruhl, Consumer Reporter and Anchor, KPNX-TV
Capt. Kristen Duncan, Public Affairs Officer, U.S. Air Force
Lisa Durante, Manager of Internal Human Resources Communications, MetLife
Lourdes Fernandez, Copy Desk News Editor, Newsday
Pam Fine, Managing Editor, Indianapolis Star
Matthew Flitton, Managing Editor, Standard Journal, Rexburg, Idaho
Kathryn Kelly, Manager of Online Marketing, EarthLink
Justin Kenny, Producer, Reuters Television
Jennifer Kwiatek, Senior Programming Manager, AOL Red
Virginia Martin, State Editor, The Birmingham (Ala.) News
David Pressman, Sports Journalist and Freelance Writer
Liz Robertson, Staff Writer, Columnist and Copy Editor, Delaware (Ohio) Gazette
Teresa Schmedding, BJ '89, Senior News Editor, Daily Herald, Chicago
Bill Sundstrom, Editor, Campus Crusade European Communications
Lisen Tammeus, BJ '94, Senior Director for Alumni and Constituent Relations, University of Missouri-Kansas City
Brian Thompson, Director of Public Information, Flagler College
Updated: April 28, 2020
Related Stories
Expand All
Collapse All
---