Journalism Staff Member Selected for the Chancellor's Emerging Leaders Program
Hui-Hsien Tsai Will Participate in Professional Development Activities Throughout 2013-14 Academic Year
Columbia, Mo. (Oct. 7, 2013) — Hui-Hsien Tsai, the instructional designer e-learning specialist at the Missouri School of Journalism, has been selected to participate in the 2013-14 Chancellor's Emerging Leaders Program (CLEP) at the University of Missouri.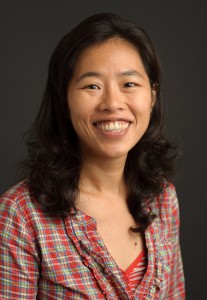 CELP is designed for current leaders who have demonstrated high levels of responsibility in their current position, have the potential for leadership growth, and have an interest in enhancing their understanding and effectiveness as leaders. It combines active participation, personal and professional assessment information and direct application of skills to improve leadership competencies.
The program consists of seven sessions over the course of several months, including a three-day workshop based on the book, "The 7 Habits of Highly Effective People" and a two-day training session on conflict management. Participants also discuss topics such as team-building, cultural competency, change management and facilitation.
"Dr. Tsai has established herself as a go-to strategist and partner when it comes to integrating new technologies into the classroom," said Lynda Kraxberger, associate dean for undergraduate studies. "She is exactly the kind of leader Missouri needs to nurture to handle the challenges we face in journalism education in the upcoming decades."
Tsai helps the School's faculty members and instructors integrate technologies into teaching and learning activities. Tsai's goal is to enhance teaching quality through providing trainings and workshops, course design and development, consultation for faculty and assisting with troubleshooting course technology.
Tsai is also the academic technology liaison of educational technology at MU (ET@MO) for the School of Journalism. She worked for the State University of New York as a consultant and trainer and for the MU School of Medicine as an assessment specialist before joining the School.
Tsai earned her master degree from Pennsylvania State University and her doctoral degree from MU in the School of Information Science and Learning Technologies. Her dissertation focused on problem-based learning, sense of community in distance learning and the impact of learning style on people's interaction in online environments.
Updated: July 20, 2020
Related Stories
Expand All
Collapse All
---