The Impact of a Changing Media Environment on Advertising Ethics to Be Explored in National Discussion
Retiring AAF Executive Wallace S. Snyder Selected to Lead as Distinguished Visiting Professor
Columbia, Mo. (May 22, 2008) — An upcoming yearlong discussion about advertising ethics in a digital global environment will help the industry uphold its high standards.
Today's Challenges in Advertising Ethics will explore the key questions that corporations and strategic communication companies should address in their marketing communications. Those participating in the conversations, scheduled to start in September, will include students at the Missouri School of Journalism, advertising professionals who interact with the Donald W. Reynolds Journalism Institute (RJI) at the University of Missouri and advertising practitioners.
Wallace S. Snyder, retiring president and chief executive officer of the Washington, D.C.,-based American Advertising Federation, has been selected to serve as the program's distinguished visiting professor.
"Wally is a luminary and one of the most respected people in the advertising industry," said William C. Price, BJ '63, chairman of Empower MediaMarketing in Cincinnati. "He will be the catalyst for an exciting and practical program that will serve our students and our industry well. His understanding of the issues will allow the topic to be explored on a variety of levels."
Price, along with Robert L. Wehling, a retired global marketing and government relations officer with Procter & Gamble, also based in Cincinnati, developed the concept for the program.
"Bill's vision for an advertising ethics program within the Missouri School of Journalism will, I believe, result in national attention to this important issue," Wehling said. "I believe it can and will lead to a new era of highly principled, ethical advertising and to a greater appreciation of ethical issues on the part of students aspiring to advertising careers."
Among the questions to be explored are:
Should a company develop and publish a statement of its ethical practices, including advertising?
What internal processes, including discussions with agencies, are in place to ensure high ethical practices?
How do companies best ensure high ethical practices considering the complexities of environmental issues?
How can companies benefit from their ethical advertising claims, including green claims, through online blogging and social network sites?
What ethical considerations should be given to the "content" of advertisements, considering both the nature of the audience and the nature of the product?
Snyder said that he is excited about working with the School and RJI to advance advertising ethics. "It is my proposition that the practice of high ethics will increase customer brand loyalty and enhance the reputation of the advertising profession. I'm indebted to Bob Wehling for his support and for bringing me together with Bill Price, whose vision it was for me to work with Missouri on this mission," he said.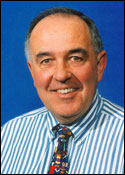 Margaret Duffy, chair of the School's strategic communication emphasis area and a 2008-2009 RJI faculty fellow, said that students, faculty and practitioners alike will benefit from Snyder's extensive knowledge and experience.
"Advertising and strategic communication are critical media industries, and it's important that we focus on the issues and challenges advertisers and corporations face, particularly in this new media landscape," she said.
The Missouri School of Journalism will celebrate its centennial with the dedication of the Reynolds Journalism Institute on Sept. 10-12. The three-day celebration will feature a variety of professional, social and academic activities designed to explore the future of journalism. The Reynolds Journalism Institute is journalism's advanced studies center, launched in 2004 with an initial grant of $31 million from the Las Vegas-based Donald W. Reynolds Foundation.
Updated: April 27, 2020
Related Stories
Expand All
Collapse All
---