Strategic Communication Students Visit New York to Learn More about the Practice of Advertising and Public Relations
New York (April 1, 2013) — The expanding mobile and digital markets, the underlying strategy that drives decisions and the importance of collaboration were among the key topics discussed when 11 Missouri School of Journalism strategic communication students visited New York during spring break.
Members of the group used the trip to acquaint themselves with a wide variety of professional opportunities, from multinational agencies to small boutique firms. Many wish to locate to New York after graduation and appreciated the opportunity to have follow-up interviews at some of the companies before returning to Columbia.
Professor Suzette Heiman accompanied the students.
The eight sites visited were:
Hipcricket, a premier mobile marketing and advertising company.
The New York Times, the largest metropolitan newspaper in America.
Grand Central Terminal, one of the nation's more historic landmarks that houses a commuter rail terminal station.
Theatre Row, a popular name for a section of 42nd Street that is the location of a number of smaller theatre companies.
Emanate, a public relations firm that won Crain's 2012 "Best Places to Work in NYC" award.
VML, a full-service digital marketing agency.
Starcom MediaVest Group, a leading, full-service media specialist agency.

Prolific Interactive, a mobile agency located in DUMBO, Brooklyn, home of New York's Digital District.
At Hipcricket, Liz Horowitz, the senior director of brand solutions, shared the firm's ideation to evaluation approach. The cycle, which includes a situation analysis, data capture and engagement strategies, has increased sales for some of the world's most well known consumer brands, including Macy's, MillerCoors and Nestle. Andrea Horowitz, BJ '12, and Liz' niece, helped arrange the visit to Hipcricket.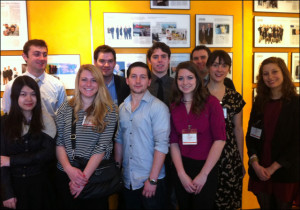 Greg Brock, senior editor for standards, gave the students a tour of the award-winning New York Times Building, which officially opened in November 2007. Internationally acclaimed architect Renzo Piano designed the building to reflect the openness and transparency of the New York Times family of publications. The newsroom and the hallway that showcases the paper's 108 Pulitzer Prizes were among the highlights. The visit included a chat with Jason Stallman, BJ '97, who was named sports editor in late January.
The "whispering gallery," the hidden network of underground tracks used as a private entry to New York City by President Franklin D. Roosevelt, and backward zodiac on the ceiling were among the secrets of Grand Central Terminal revealed during a tour by Daniel Brucker, media relations officer. Brucker's working knowledge of the Terminal's history and operations highlighted the exhaustive amount information required of corporate communicators.
Theatre Row was a case study of how the arts can revitalize a community. Fred Papert, BJ '46, who started his career as an international advertising executive, was a part of a small group of investors who rescued the far west end of New York's most famous street from abuse and misuse. He now serves as president of the nonprofit 42nd Street Development Fund. Papert and Erika Feldman, general manager of Theatre Row, shared some highlights and challenges of trying to grow demand for the arts. Papert received a 2012 Missouri Honor Medal for Distinguished Service in Journalism.
The students attended an evening presentation of "The Old Boy" at the Clurman Theatre on Theatre Row. Chosen by Time Magazine as one of the "10 Best Plays of 1991," the coming-of-age story traces the conflict between old and new American values. After the show, director Jonathan Silverstein visited with the students about his work and his earlier career in public relations. One of his hardest challenges, Silverstein said, is developing the poster that will advertise a play. He advised the students to take a course in improv, short for improvisational theatre, noting that it can help develop brainstorming skills.
Emanate representatives emphasized the importance of relevance marketing, a concept that helps clients be more exacting in identifying and reaching their target market. The presentation team included Kiersten Zweibaum, managing director, and Melanie Buford, associate, BJ '10, MA '11. Catherine Williams, BJ '11, and Andrea Horowitz, BJ '12, both associates at the agency, had hoped to participate in the discussion but were called away on a client assignment. Emanate's organizational structure is flat and allows for a collaborative environment across all titles. The students were impressed with how involved new hires can be in the work of major clients such as KFC and Celebrity Cruises.
VML representatives from various areas in the agency, from account planning, project management and media to mobile and user experience, visited with the students about their backgrounds, how they got their jobs and their current day-to-day responsibilities. Jon Cook, BJ '93, president of VML, made an unexpected appearance and thanked the students for visiting the New York office.
Ryan Johnson, BJ '04, digital strategy director, and Brooke Moody, BJ '08, digital activation manager, at Starcom MediaVest Group spoke to the students about planning digital and social media strategies. Tools such as Twitter allow SMG clients to have real-time conversations, such as Oreo did when the lights went out during the Super Bowl. The tweet, "You can still dunk in the dark," was designed and approved within minutes. Jon Halvorson, BJ '04, a global managing director, had planned to participate in the visit but was called away on a last-minute assignment.
Alicia Drown, BJ '12, joined Prolific Interactive, located in DUMBO (an acronym for Down Under Manhattan Bridge Overpass), Brooklyn, as an intern and returned after graduation. She presented an overview of the company's work and how it has grown from a group of six employees to almost 24 in the past couple of years. Prolific has created a wide variety of mobile tools for leading clients including the ModCloth, Rent the Runway and Thrillist.
All visits included a discussion of how to get an internship or job. Missouri School of Journalism students, many of the speakers noted, have a reputation for having a great work ethic. The hands-on experiences gained through coursework and other opportunities prepare them to make meaningful contributions to their company from the first day on the job.
Updated: October 26, 2020
Related Stories
Expand All
Collapse All
---