Professor Suzette Heiman Named 2019 MJEA Friend of Scholastic Journalism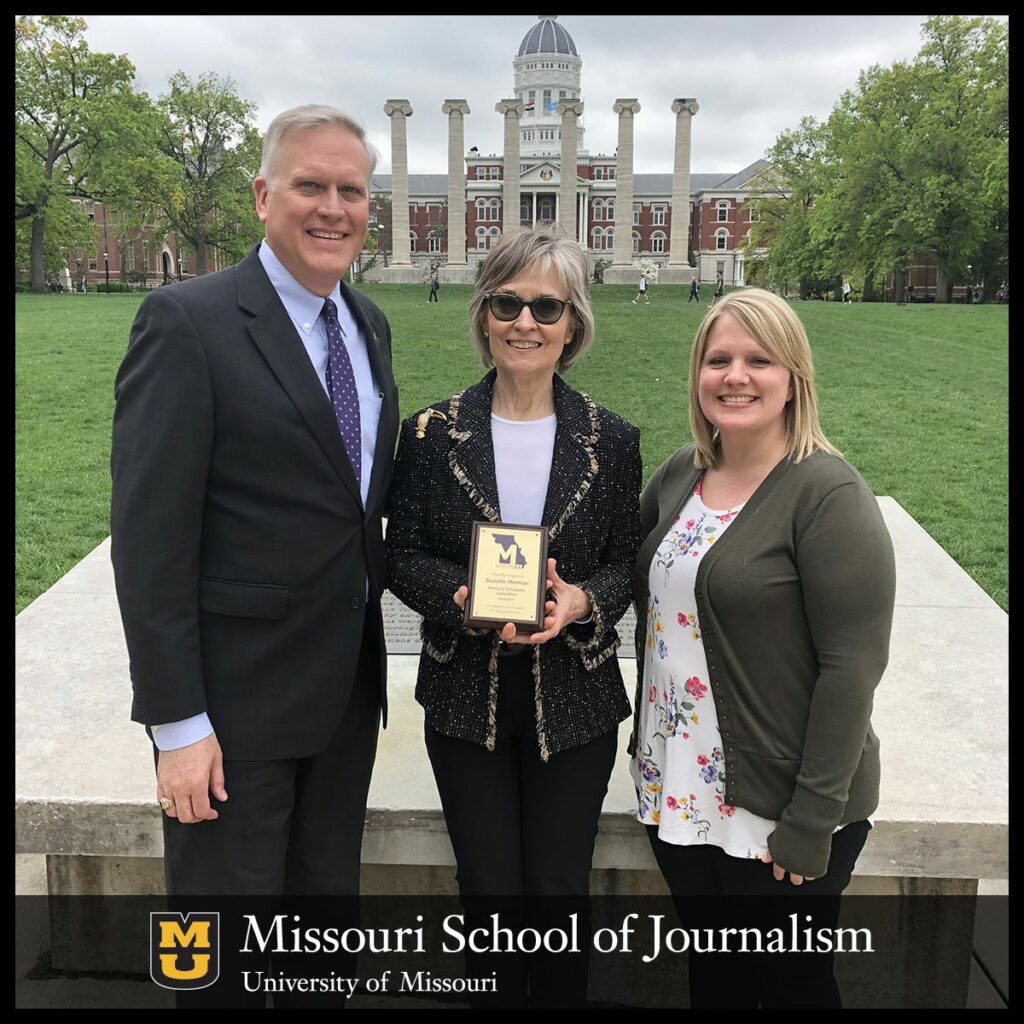 In recognition of her efforts supporting scholastic journalism for high school students across the state, the Missouri Journalism Education Association has named Professor Suzette Heiman as the recipient of its Friend of Scholastic Journalism Award. Heiman, center, is flanked by Missouri Journalism Dean David Kurpius and MJEA member Michelle Kennedy, publications adviser at Grain Valley High School, who nominated her for the award.
Annual Award Is Given for Making a Significant Contribution to Scholastic Journalism
Columbia, Mo. (May 3, 2019) — Suzette Heiman, strategic communication professor at the School of Journalism, has been named the 2019 Missouri Journalism Education Association (MJEA) Friend of Scholastic Journalism for her work in supporting student journalists from all corners of Missouri.
The award is given to a professional journalist, professional media outlet or other individual or group making a significant contribution to scholastic journalism.
According to nominator Michelle Kennedy, "Suzette has done an amazing job of supporting scholastic journalism across the state. This past October she organized a MU campus visit for approximately 40 students from Grain Valley High School, giving these students the opportunity to listen to photojournalist Lois Raimondo speak and to see her work in the McDougall Center Gallery, and speak with student journalists at the Columbia Missourian. If Suzette hadn't planned this event, my students at GVHS would not have been able to experience such an awesome opportunity."
This past year, Heiman has successfully planned high school visits for numerous groups from around Missouri and a one-day MJEA event for more than 60 high school students from eight different Missouri schools. She also organized the Scholastic Journalism Day at the men's March 9 basketball game that welcomed more than 200 high school journalism and yearbook advisors and their students.
"The Missouri School of Journalism has long supported high school journalism students and educators," said Lynda Kraxberger, undergraduate dean of the Journalism School. "Under Suzette's planning efforts, not only do the students that visit our School get to interact with current students and learn from them about our hands-on philosophy – the Missouri Method – the students also get to interact with our world-class faculty and explore topics that are affecting journalism and journalists today."
Heiman is a recognized national leader in strategic communication and currently serves as professor of strategic communication and assists with the planning and communications office and the School's recruitment. Her teaching has included courses in the area of strategic communication, including advanced social media strategies and public relations writing.
Heiman earned a bachelor's degree in journalism from MU in 1973 and a master's degree in English education from Truman State University in 1976. Before returning to the School of Journalism as a faculty member in 1989, she held a series of positions in private industry in advertising, public relations and marketing communications.
The Missouri Journalism Education Association is affiliated with the national Journalism Education Association and provides advisers with resources to facilitate, teach and foster current and future student journalists.
Updated: November 9, 2020
Related Stories
Expand All
Collapse All
---