Missouri's Scholastic Journalism Programs to Be Recognized on March 9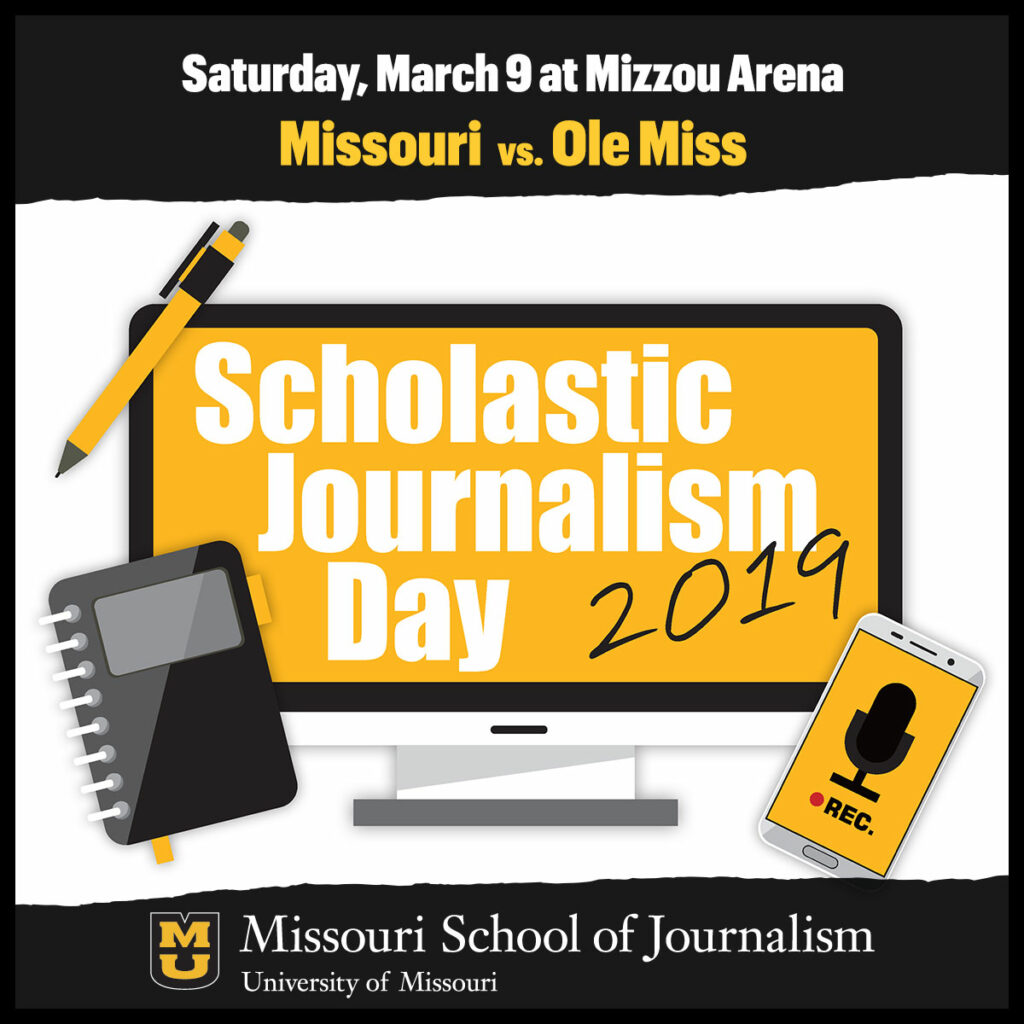 More than 200 high school journalism and yearbook advisers and their students will be on hand as Missouri men's basketball takes on Ole Miss Saturday, March 9 at Mizzou Arena.
More Than 200 Advisers and Students Will Be on Hand at the Men's Basketball Game Against Ole Miss at Mizzou Arena
Columbia, Mo. (March 5, 2019) — The Missouri School of Journalism, Mizzou Athletics and Walsworth Yearbooks will host Scholastic Journalism Day at the Saturday, March 9, men's basketball game against Ole Miss at Mizzou Arena.
More than 200 high school journalism and yearbook advisers and their students will be on hand to celebrate their many achievements in producing news and features that are published on digital, social and other platforms. Journalism advisers teach the entirety of the First Amendment and its role in supporting a free press. Scholastic journalism students learn a broad range of communication skills, from research, critical thinking and writing to collaboration, creativity and accountability.
"High school journalism students are engaged in the world around them, telling the stories of their community, learning how to be responsible citizens," said David Kurpius, the School's dean. "These core values and news literacy skills build a strong foundation that will benefit them for a lifetime, regardless of their career path."
Kurpius, along with University of Missouri Chancellor Alexander N. Cartwright, Missouri Interscholastic Press Association president Christina Geabhart and co-executive director Ron Kelley, and Walsworth Yearbooks executive Keith Hughey, will participate in an on-court recognition for Scholastic Journalism Day during the game. Of special note is the 50th anniversary of "J-Day," the annual journalism workshop hosted by MIPA that is held each year on the Mizzou campus. This year's J-Day will be on Monday, March 25. Also, 2019 marks the 95th year of MIPA.
"Walsworth is proud to support Missouri scholastic journalism teachers and students," said Don Walsworth, president. "We appreciate the effort they make to keep their communities informed while demonstrating the highest standards of journalistic integrity."
Updated: November 6, 2020
Related Stories
Expand All
Collapse All
---