Missouri Urban Journalism Workshop Provides Hands-On Print, Broadcast Experience for 19 High School Students
By Brian Jarvis
Master's Student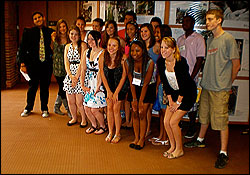 Columbia, Mo. (August 16, 2010) — "Many dreams have been realized by this program," noted Lissette Argenal of the Missouri Urban Journalism Workshop, one of the longest-running high school journalism programs in the nation.
Nineteen high school students from around the country attended the 40th annual workshop in July at the Missouri School of Journalism, spending eight days learning how to use the latest in digital technology to produce real-world stories for print and broadcast.
Like many of MUJW's staff, Argenal, BJ '01, a bilingual anchor for Zion Multimedia Corp. as well as a former producer/reporter for Univision, is a past participant of the program.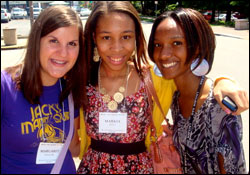 "Even now as I have some experience, I'm humbled by how the program continues to breathe life into my career and rekindles my passion for the craft," Argenal said.
MUJW students produced stories, participated in activities and covered events in Columbia, which were then edited and published in an online newspaper, the Urban Pioneer, linked through the Columbia Missourian. Convergence journalism students also wrote and shot video stories and compiled them in a professional newscast recorded at KOMU-TV. Both the Missourian and KOMU are used as training labs for students at the Missouri School of Journalism.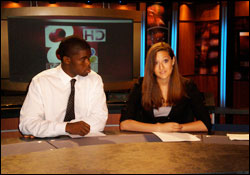 MUJW students had the opportunity to conduct on-site interviews and gather video footage for stories on the surge in youth sports, the growing number of Latino businesses, the struggles of residents to cope with the economy and the new Father Augustine Tolton Regional Catholic High School.
"Once you get involved, it's a very contagious workshop. It provides mentors to a lot of students who don't have them," said MUJW director Anna Romero. "A lot of journalism programs like this don't exist anymore, but I hope our future is continuing and expanding."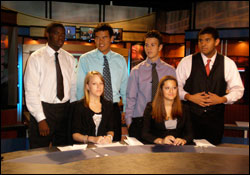 Sponsored by the Dow Jones News Fund, the workshop was founded in 1970 by the late Missouri journalism professor Robert Knight as a means to promote journalism careers for African-Americans. Originally titled the Urban Journalism Workshop, it became known as AHANA from 1990 to 2006 (the acronym stood for African-American, Hispanic, Asian and Native American). In 2007, the workshop expanded to include all races and ethnicities and has been called the Missouri Urban Journalism Workshop ever since. In addition to promoting diversity, the program gives students a chance to network and learn from veterans in the field, often with life-changing results.
"To see these students come into our program and then go out and do what they are doing really makes it worthwhile, and makes me very proud that I had a little hand in doing that," said administrative assistant Doris Barnhart, who has worked with the program for 37 of its 40 years.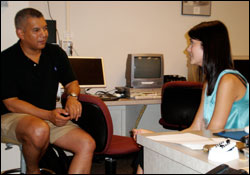 Another highlight was the involvement of CBS News anchor and national correspondent Russ Mitchell, BJ '82, who attended MUJW as a student in 1977 and has returned periodically for at least 20 years.
"The workshop gives students a crash course in the crazy, work-your-tail-off world of daily journalism. I think many of the teenagers are surprised by the hard work this profession requires, and by the end of the workshop most of them look exhausted," said Mitchell. "But many of the kids leave Columbia with a sense of confidence they may not have had on that first day, and I hope that every student gets as much out of their MUJW experience as I did 33 years ago."
In working with students on their craft, Mitchell urged them to work hard and have a thick skin.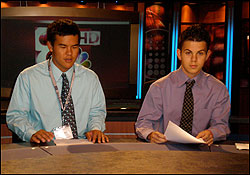 "Dan Rather (a former anchor on the CBS Evening News program) once said that anchoring is like juggling hot lead," Mitchell recalled. "As an anchor, you're the glue that holds together the newscast."
Three MUJW students received prestigious awards: Caroline McMahon for Best Photography and Best All-Around Journalist; Julian Douglass for Best Writer; and Alan Sadler for Best Multimedia. They received $50 for each award and will go on to compete for a $1,000 scholarship through the Dow Jones News Fund.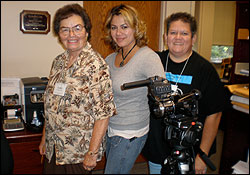 "I got to experience what it's really like in the business, telling a story by going out there and taking things into my own hands," said Sadler, who went an extra yard by writing his stories both in English and Spanish. "It felt like we were doing something new that had never been done before."
2010 also marked the first year that MUJW became home for two generations of the same family. Leticia Harrison, BJ '91, attended the workshop in 1985; her daughter, print student Kayla Harrison, attended this year.
"I wish I could come back and do it all over again," laughed Leticia Harrison.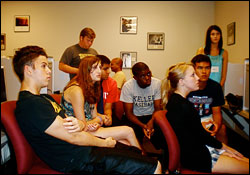 Other MUJW staff this year included Jeanne Abbott, Columbia Missourian; Wale Aliyu, BJ '07, ABC-22 in Dayton, Ohio; Tony Balandran, Kansas City Hispanic News; Victoria Benning, Washington Post; Stephanie Carey, Boonville High School; Kavita Kumar, St. Louis Post-Dispatch; Linda Lockhart, BJ '74, St. Louis Beacon; Ray Murray, MA '05, Oklahoma State University; Keith Pompey, Philadelphia Inquirer; Levon Putney, WCBS 880 in New York and New Jersey; Jake Sherlock, Columbia Missourian; Yvette Walker, MA '10, The Oklahoman; Maggie Walter, Columbia Missourian; and Teresa Taylor Williams, Muskegon Chronicle.
Other noted MUJW alumni include Mark Russell, BJ '84, The Orlando Sentinel; Michael Cheers, San Jose State University; Kia Breaux, BJ '96, The Associated Press; Jason Bowman, KOMU-TV; Nick Guillroy, KSLA-TV 12, Shreveport, La.; and Cedric the Entertainer (Cedric Kyles, who attended in 1981).
Updated: May 13, 2020
Related Stories
Expand All
Collapse All
---