Missouri School of Journalism hosting virtual high school summer workshops June 28 – 30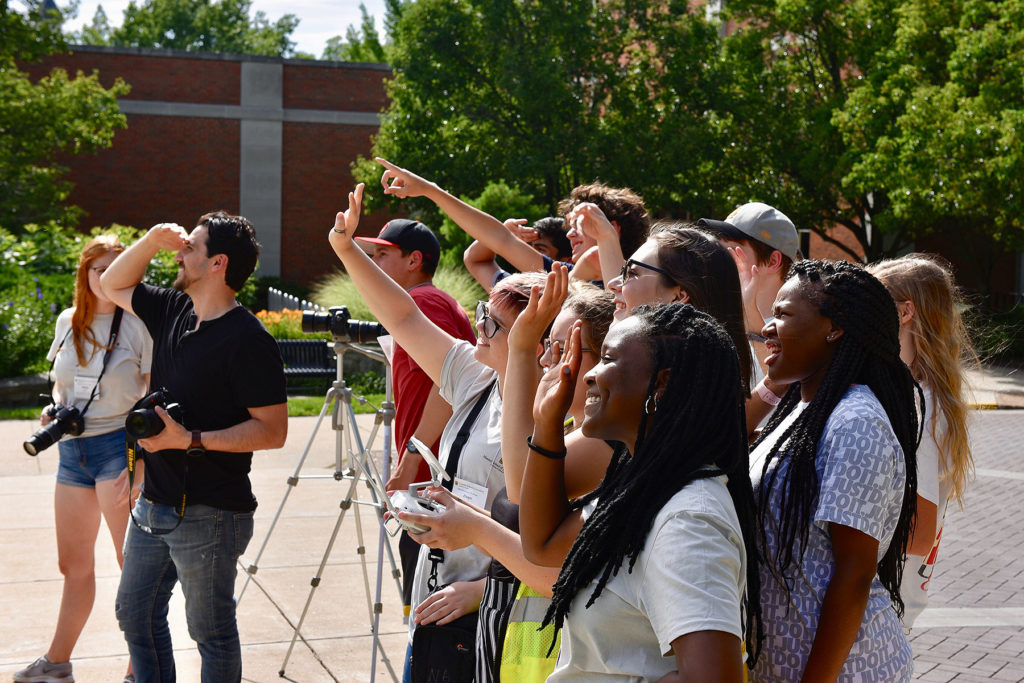 Students are able to choose either a journalism or strategic communication track for the three-day experience.
Columbia, Mo. (April 21, 2021) – High school students from around the nation are able to discover the fast-paced world of professional journalism and strategic communication during two summer high school workshops. The three-day experience will be held virtually June 28 – 30.
The summer workshop has two tracks for students to choose from: journalism and strategic communication. The cost for either workshop is $150. Some scholarships are available to those who qualify for financial need. Students can register online, and the application deadline is June 14.
"The three-day experience is perfect for high school students interested in expanding their journalism or communication skills," Ron Kelley, associate professor and director of the workshops said. "Students will learn from top journalism educators and professionals and gain valuable skills to take back to their high school classes and apply right away, whether that is for their yearbook, newspaper or other media outlet."
Highlights of Missouri University Journalism Workshop (MUJW) include:
Improving skills: learn from the School of Journalism faculty and leading journalism professionals on how to improve your writing, interviewing and storytelling skills.
Technology: Students will cover techniques for audio, social media, podcasting and video along with learning the tools for being a good investigative reporter.
Hands-on learning: Sessions will include hands-on exercises for writing and interviewing, plus opportunities for some coaching from session leaders.
Highlights of the Strategic Communication workshop include:
Career introductions: This is a fun, interactive workshop designed to introduce students to the potential career paths and opportunities found in the field of advertising.
Professional mentors: Students will learn from the School of Journalism faculty and leading industry professionals on topics including branding, writing, visual design and storytelling for advertising.
Technology training: The workshop will include beginner-level training in Adobe Creative Suite through a project designed to introduce participants to fundamental concepts of commercial branding and visual communication.
This is the second year that the in-person event has been moved to a virtual environment due to COVID-19 concerns. In the summer of 2020, approximately 54 students from 17 states participated in MUJW. According to comments from participants, the workshop was a worthwhile virtual learning experience.
"The workshop was very informative; I was grateful for the wide reach of topics and skills covered. I also really appreciated the hands-on assignments/practice as well as the feedback we were able to receive in small groups. The opportunity to apply these concepts and strategies helped me solidify everything I learned. Thank you so much for this incredible opportunity!"
"It was a great opportunity for me and I'm glad I get to take back the information I got to my school's newspaper. I learned a lot about how to fix my stories, and what to do during interviews, and I also got feedback on how much I should put into those stories and when to calm down on the writing. I also learned about what I should do to continue doing journalism in the future."
"I really loved the workshop. All the talks were helpful and brought something new to the table. The workshop only encouraged my love and passion for journalism."
For more information about either workshop, contact Ron Kelley at kelleyr@missouri.edu.
Updated: April 21, 2021
Related Stories
Expand All
Collapse All
---