Leaders' Day Prepares High School Journalists for Editorial Excellence
Faculty Shared Best Practices in Political, Trauma and Cross-Cultural Reporting
By Maris Smith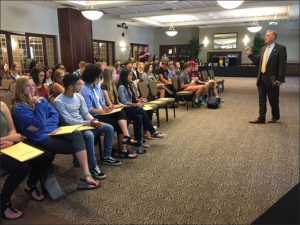 Columbia, Mo. (Sept. 27, 2016) — High school students and advisers from across the state gathered at the University of Missouri to engage in conversations about political, trauma and cross-cultural reporting during the second annual Missouri Journalism Education Association Leaders' Day on Sept. 12.
The purpose of the event was to provide student editors with the tools to help them implement high-quality journalism practices in their high schools, as well as introduce them to the Missouri School of Journalism program. More than 65 high school students and 12 advisers from 10 Missouri high schools attended the event.
Dean David Kurpius welcomed the group and encouraged them to pursue journalism as a career, noting, "The breadth, depth and scope of the School's program, combined with the time-honored Missouri Method of hands-on training in professional newsrooms and agencies, is a proven formula for success." Upon graduation, alumni form a close network to help each, Kurpius added.
Missouri School of Journalism faculty shared their expertise on a broad scope of issues that are important and relevant to student journalists. Assistant professors Cristina Mislan and Ryan Famuliner led the political coverage session, facilitating conversations around political media coverage issues such as bias, diversity and the two-party political system. The trauma reporting session, led by Associate Professor Katherine Reed, stressed the importance of maintaining empathy and sensitivity when covering trauma situations. Mislan is a member of the Journalism Studies faculty. Famuliner is a member of the Radio-TV Journalism faculty and serves as news director for KBIA-FM, mid-Missouri's NPR-member station. Reed is a member of the Print and Digital News faculty and serves as public safety and health care editor for the Columbia Missourian.
Associate Dean for Graduate Studies Earnest Perry led the third session on cross-cultural journalism. He elaborated on the craft of telling subject's stories from their lived experiences and not from how journalists perceive them.
Optional sessions for students included a campus tour, an overview of the Journalism School and a KOMU-TV station visit. Attendees also had the opportunity to ask current journalism students questions about emphasis areas, life at the university and more.
"Students in Missouri are fortunate to have a world-class institution in their own backyards," said Lynda Kraxberger, associate dean for Undergraduate Studies and Administration. "As a land-grant institution and as the world's first school of journalism, our faculty take great pride in providing programs and opportunities for learning to Missouri high school students and educators."
The Missouri Journalism Education Association is affiliated with the national Journalism Education Association and provides advisers with resources to facilitate, teach and foster current and future student journalists.
Updated: October 2, 2020
Related Stories
Expand All
Collapse All
---