Missouri Journalism Students Share Experience, Advice at St. Louis High School Journalism Conference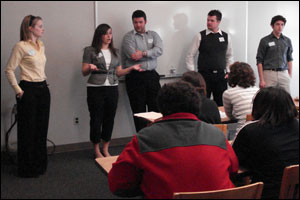 Columbia, Mo. (March 22, 2007) — Ten Missouri Journalism students and one professor recently set off for St. Louis, Mo., as ambassadors of the world's first school of journalism.
The students, all enrolled in News Producing, taught by Holly Edgell, assistant professor of radio-television journalism and KOMU executive producer, accepted an invitation to participate in the 2007 Sponsors of School Publications of Greater St. Louis Conference at Webster University. The conference brings high school journalism students and their advisers together for a full day of activities, including on-site competitions, break-out sessions, an awards ceremony and a keynote speaker.
After the conference, the students also visited the newsroom of KSDK, NewsChannel5, and visited with Charles Maulden, the station's operations manager.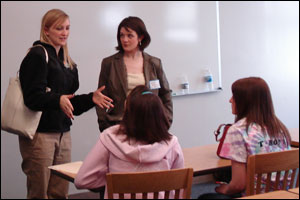 "The class seemed pretty excited to spread the message of the Missouri program and the hands-on experience our program provides," Edgell said. "They wanted to let prospective students know that we're actually giving our students real jobs while in school."
Edgell's class selected two of its members, seniors Hillari Duthoo, of Kearney, Mo., and Joshua Kranzberg, of St. Louis, to participate in a panel discussion titled "What's J-School Really Like?" In addition, all 10 delegates visited informally with high school students at the conference about the opportunities available at the Missouri School of Journalism.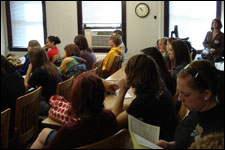 "I wanted to participate in the conference because I didn't know too much about the Missouri J-School when I was a high school senior, so I felt like it was my duty to spread as much information about the Journalism School and the University in general," Kranzberg said.
Because of her personal experiences as a transfer student, Duthoo said she was eager to help answer general questions about transitioning to college and adjusting to a new, and sometimes challenging, environment.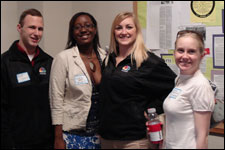 "I always love hearing what high-schoolers want to do with their lives," Duthoo said. "I wanted to answer questions for these kids because I never had anyone to do that for me. In my college career, I've had a lot of experience teaching and helping young college students prepare for their time in the Journalism School and future careers."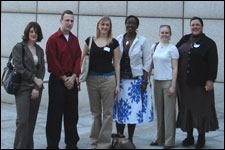 The high school students at the conference had plenty of questions to ask, too, Duthoo said.
"We had a lot of inquisitive young journalists," Duthoo said. "I was terribly excited to hear them ask good questions and then see them stick around after the discussions to ask for more specific details."
As part of their experience in News Producing, the Missouri students also work on the crew of KOMU, which is the only university-owned network affiliate in the country. KOMU serves as a working laboratory for Missouri Journalism students.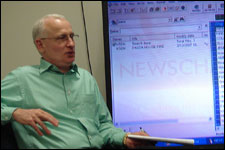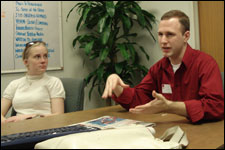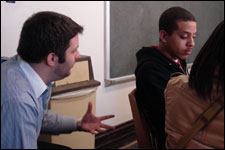 ---
Updated: April 16, 2020
Related Stories
Expand All
Collapse All
---