Students Present Campaign Ideas to St. Louis Rams Executives
Concepts Included Plans to Reach Women, Promote Philanthropy, Push Preseason Game in Columbia
By Caroline Murray
Columbia, Mo. (Feb. 5, 2015) — Several Missouri School of Journalism students recently ended their semesters with a pitch to St. Louis Rams executives at the headquarters in St. Louis.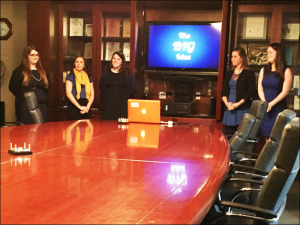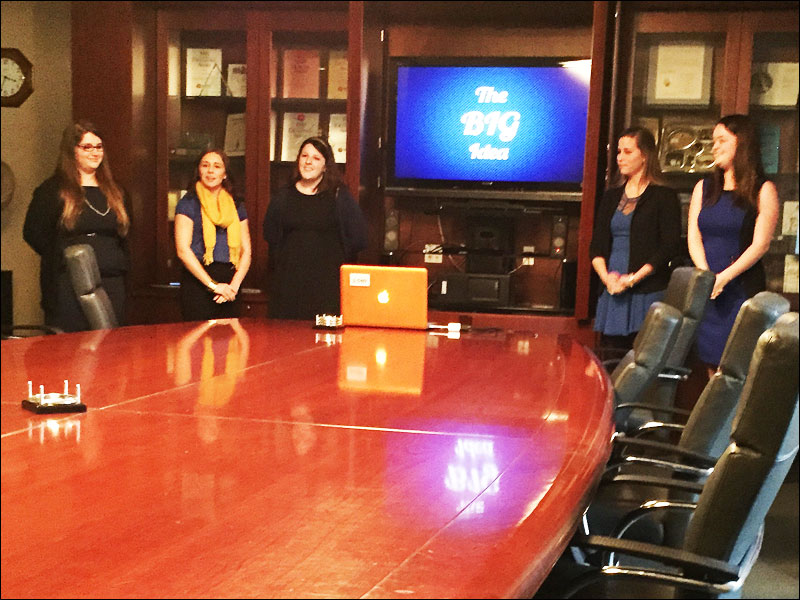 The students enrolled in the fall 2014 section of the Sports and Entertainment Promotion course, taught by Associate Professor Cynthia Frisby, presented four promotional campaigns on Dec. 17. The students pitched a variety of campaigns, including a media plan to reach women, a national media plan promoting one of the Rams' philanthropic efforts and a marketing plan to push a preseason game in Columbia.
Frisby said students learned and developed many skills important to creating effective marketing promotions.
"The Rams projects equally contributed to developing the students' research and promotions skills by demonstrating practical problems associated with research, showing them ways to evaluate and identify good quality research, and teaching them techniques to better understand consumer response to marketing," Frisby said.
In attendance at the 20-minute formal presentation were five leaders in the Rams' communications efforts, including Brian Killingsworth, vice president of marketing and brand strategy, and Molly Higgens, vice president of corporate communications and civic affairs.
Students said presenting to these executives in their boardrooms and working to solve real communications problems made the course a valuable learning experience.
"Because of the level of professionalism required for this project, we now have something that's bookable for our own portfolios," said Lauren Flaker, a master's student studying strategic communication. "While mock work is good, this gives us something we can say is real that we really pitched. We know it's professional-grade work."
Rebecca Gale, a senior studying strategic communication, echoed that working on a real client was great preparation for the "real world."
"Crisis situations can come up, your time frame is limited, and your client might give you new information or want you to change things at the last minute. It's not like doing something in a classroom where everything follows an organized plan," Gale said. "I certainly feel more comfortable applying for jobs now knowing I can tell them I worked on a real campaign."
The Sports and Entertainment Promotion course has been taught at the School of Journalism since 2012.
Updated: July 31, 2020
Related Stories
Expand All
Collapse All
---