Strategic Communication Students Visit New York City Ad/PR Agencies and Companies
Columbia, Mo. (March 9, 2012) — Creativity and innovation are hallmarks to successful communication, a group of 16 Missouri School of Journalism strategic communication students learned during a two-day trip to New York City.
Insights into how to develop and execute these values were shared at eight advertising and public relations agencies and other organizations. The juniors and seniors also learned networking tips and how to use these connections in seeking jobs and internships.
The program, led by Professor Suzette Heiman, included visits to Emanate, Ketchum, Martha Stewart Living Omnimedia and Google on Thursday, March 1, and to Dentsu America, Esquire magazine, VML and Karlsson Wilker on Friday, March 2.
"Our hosts shared their excitement about their work and the bright future that awaits these students," said Heiman.
Some of the school's alumni helped arrange the visits, Heiman also noted.
Emanate CEO Kim Sample shared the agency's philosophy and growth since its founding in 2006. The students learned how Emanate's flat organizational structure allows for a collaborative environment across all titles and how this benefits blue-chip clients such as Embassy Suites and Bank of America. One associate and one vice president shared how they are working to establish themselves as public relations practitioners.
Ketchum staffers presented several case studies, provide an overview of the agency's global presence and tips on how to get noticed by those hiring. The agency was named the 2012 PR Agency of Year during the PRWeek Awards gala held that evening. It has won a total of 33 PRWeek awards since the program's inception.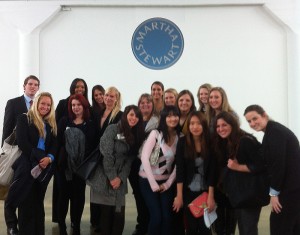 Executives at Martha Stewart Living Omnimedia (MSLO) talked about its constant reinvention process for its content and platforms, which include TV and digital video, four magazine titles, iPad and table Apps and more. Editors, including editor-in-chief of the company's "Everyday Food" magazine Sarah Carey, as well as Alanna Stang, editor-in-chief of "Whole Living" told students that open-mindedness and a passion for creativity are keys to success in a convergent environment. "Whole Living" Lifestyle editor Sarah Engler, BJ '03, members of MSLO's communications and digital/social media team spoke about their career paths. The group also toured the block-long offices, which include test kitchens, design labs where much of the company's branded merchandise is developed, photo and prop studio space and more. Jeanne Meyer, BJ '86, senior vice president of communications, played host and Kelsey Mirando, BJ '11, executive editorial assistant, helped plan the visit.
"Google employees are passionate people who want to use technology to solve big problems," said Vic Alonzo, who works with the company's university programs. The words, "awesome starts here," were on many of the presentation slides, highlighting the importance of Google's employees contributing transforming ideas, being lifelong learners and empowering those around them. The students toured the offices, which are housed in the former Old Port Authority Building.
Two of Dentsu America's art directors outlined the creative process they use. They said that the most successful campaigns are usually those developed in a collaborative environment and showed examples of work they helped create for Canon. Dentsu staff emphasized that the ability to ask good questions is very important to developing great work.
Esquire magazine's Kate Carrington, executive director of the creative/brand strategy, and Adam Dub, executive account director, told the students that it is very important to believe in what you're doing. Equally important is to have a full understanding of the brand as this information will guide decision-making on all levels. The group was encouraged to be reading every day and staying current on issues and events.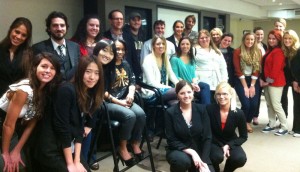 A panel of VML employees representing a wide variety of disciplines, from user experience and project management to art direction and account service, provided insights into what each job entailed. The students learned how VML, which is one of the world's leading digital marketing agencies, helps clients maximize their online and social presence. Managing Director Zachary Treuhaft engaged the group during a Q-and-A session.
The Karlsson Wilker design firm works on projects for an eclectic mix of cultural and commercial clients. Jan Wilker talked about the agency's philosophy and shared behind-the-scenes insights on developing Publikum's 12th artistic calendar for year 2005. The project took the duo to Serbia for 12 days, where they created one page a day for each month for the 24 by 36-inch, wire-bound publication.
Students said the New York advertising and public relations trip will be helpful to them as they begin their career.
"It really opened my eyes and gave me great insights into the industry," said senior Andrea Horowitz.
Updated: June 5, 2020
Related Stories
Expand All
Collapse All
---