Your Digital Multimedia Skills Are in High Demand, Say Recent Journalism Alumni to Current Students
All Speakers Had Full-Time Jobs Within 2-3 Months After Graduation
Columbia, Mo. (Nov. 5, 2012) — It wasn't but a semester or two ago that the six Missouri School of Journalism alumni on the Google+ Hangout screen were preparing to graduate and begin their careers. They had sat through a session much like this one when enrolled in the Convergence Editing and Producing course, where recent graduates shared how they conducted their job searches and impressed prospective employers while reassuring the college seniors of a bright future.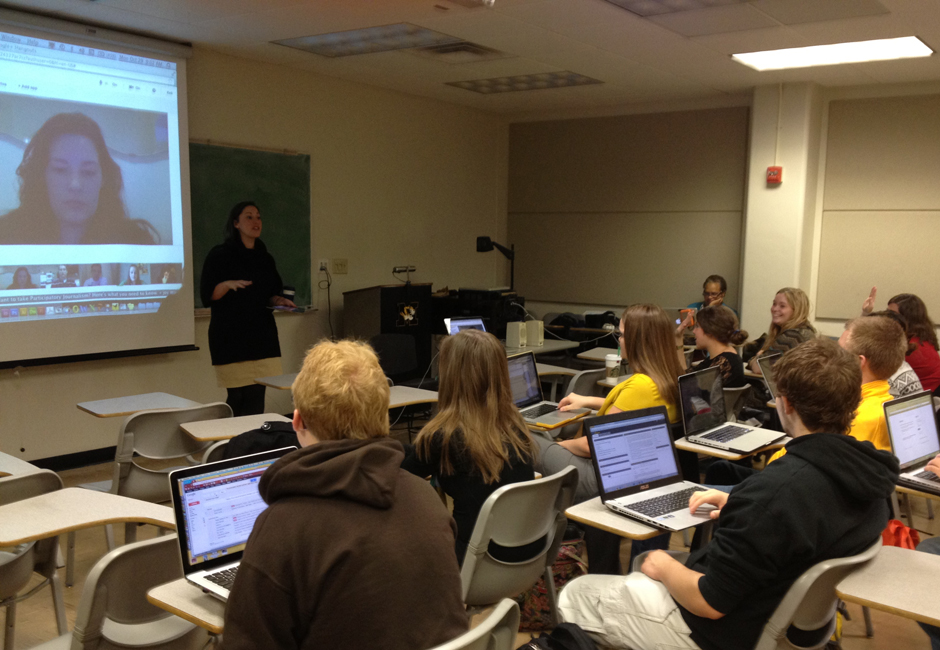 Now these six were offering advice and telling current students that their digital multimedia skills were in high demand. All speakers had full-time jobs within about two months after graduation.
"Students are understandably anxious about beginning the job search process," said Amy Simons, assistant professor who arranged the discussion as part of the class. "There's nothing more reassuring than seeing former classmates and friends successfully navigate those waters."
Simons, along with Lynda Kraxberger, associate dean for undergraduate studies, and Karen Mitchell, assistant professor, co-teach the course.
Recent graduates participating in the Google+ Hangout discussion:
Leah Becerra, BJ '12, is the graphics producer for the Springfield (Mo.) News-Leader. She creates print graphics for the newspaper, interactive and static graphics for the Web and mobile. Becerra is also responsible for online design on special projects including the paper's election coverage and recent series on poverty in Springfield.
Ashley Crockett, BJ '12, is the interactive managing editor at KRCG-TV in Jefferson City, Mo. In addition to overseeing the station's website and social media efforts, she traveled to Colorado shortly after starting her position to help a sister station's coverage of the massive wildfires.
Kaveh Kaghazi, BJ '12, is a producer for NFL.com and the NFL Network in Culver City, Calif. He produces the NFL Draft Tracker Podcast, which focuses primarily on college football, and works with NFL Fantasy Live and Thursday Night Football.
Kelsey Kind, BJ '12, is an associate producer in digital communication for Tribune Broadcasting's online division in Chicago. She helps syndicate video content to outside clients for use on-air and online.
Joey Soto, BJ '12, is an entrepreneur with Casa Hogar Vida Coffee Company, a start-up, compassion-focused business, building on his Spanish-language skills and internships he held in Honduras and Latin America. Based in Kansas City, Mo., Soto assists with marketing, communications, operations, supply-chain management and research and development.
Claire Standridge, BJ '12, is an account executive with New Futuro in Chicago. The company provides online resources to help Hispanic youth be eligible for higher education opportunities and assists with college fairs around the country. Among the corporate sponsors Standridge works with are the U.S. Army, the U.S. Marine Corps, Aldi, AT&T, Burger King and Jostens.
The hour-long conversation covered a variety of topics, from deciphering the terms in job postings and narrowing down the search by vicinity to networking with alumni and transitioning from college to the real world. Among the many tidbits shared:
Standridge emphasized the importance of having a plan when moving to a new city so people realize that the relocation is not a whimsical idea. Her strategy was to set up coffees and lunches with anyone who might be able to help her in some way.
The alumni said that they their salary expectations were undefined during the interview process, but the offers met or exceeded ranges presented on employment-related websites and information from those in the field.
Crockett said it was a "little weird" stepping into a management position right after graduation, where she has the "adult" authority to deal with some of the issues related to her job. "It took a little bit, but I do know what I'm doing and do my job well," she said.
Soto knew a traditional journalism path wasn't for him since his sophomore year. "But, I think what I realized is that those skills I was learning with video editing, with photo editing, with just being more savvy on the Internet, what I did stuff with Newsy with marketing, I think what I realized was when I graduated, I am going to be a huge asset to any company I go work for," he said.
The opportunity to see how former classmates and friends have made the transition into the working world is a wonderful experience for students, noted Simons.
"Each grad was able to connect the dots between their educational experiences, their job search and the working roles they're required to perform each day," she said.
Updated: July 10, 2020
Related Stories
Expand All
Collapse All
---