Strategic Communication Career Fair Breaks Record Recruiter and Student Attendance
Agencies Come to Columbia Looking to Fill Internship and Job Openings with Missouri School of Journalism Students
By Natasha Desai
Public Relations Account Executive
MOJO Ad
Columbia, Mo. (Feb. 23, 2012) — The 2012 Strategic Communication Career Fair brought in a record number of 34 companies and agencies that provided students with internship and job opportunities. The student-led program was held on Thursday, Feb. 16, at the Reynolds Alumni Center on the University of Missouri campus.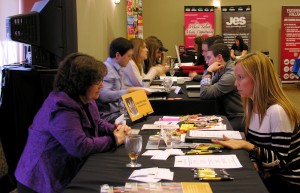 "What was most exciting was that these recruiters really came looking to hire our students," said Gwen Daniels, who served as the fair's manager. Daniels, BJ '11, is earning her master's degree through the school's five-year BJ/MA program. She is the graduate assistant for MOJO Ad, which is now in its fifth year of planning and managing this event. MOJO Ad is the premier student-staffed professional-services advertising agency in the country and specializes in the youth and young adult market.
Strategic Communication Career Fair Recruiters

The agencies and companies represented have local, regional and global reach.

3 Interactive/AdKarma
Bernstein-Rein
Boxing Clever
Cannonball
Elasticity
Emfluence
Empower MediaMarketing
Evolve Digital Labs
Fleishman-Hillard Dallas
Fleishman-Hillard St. Louis
GMR Marketing
GROUP360 Worldwide
Hoffman-Lewis
Hughes/Leahy/Karlovic
Intouch Solutions
JES Holdings
Leo Burnett
Momentum Worldwide
Omnicom Media Group
Osborn-Barr
PlattForm Advertising
RIVET
Rodgers Townsend
Stakeholder Insights, LLC
Sullivan Higdon & Sink
The Integer Group
The Marketing Arm
The Richards Group
True Media
University of Missouri Crosby MBA
University of Missouri Publications
VCU Brandcenter
Veterans United
VML
More than 275 students registered for the day-long event, taking advantage of the opportunity to visit with agencies and other companies that have local, national and global reach.
Recruiters ranged from veterans of the fair to first-timers – all of whom had direct experience with or had heard about the top strategic communication talent at the Missouri School of Journalism.
"This is my third year here. The first year, I was blown away. Each year I come expecting to meet the best and the brightest and I am never disappointed," said Beth Ward, a senior vice president and central region recruiter at Fleishman-Hillard.
Molly Paskal, BJ '11, returned to the fair as an account planner with The Integer Group.
"I was in these students' shoes a year ago," said Paskal. "I enjoyed being able to come back and offer advice."
Students came through the fair equipped with maps and research on the recruiters' agencies and companies. Students came early and stayed late, in an attempt to visit with everyone on their list.
"I felt like the people were excited to be here and that they were just as excited as we were," said Avenly Jones, a junior strategic communication student. "I had great conversations."
During lunch, MOJO Ad students presented the agency's annual "State of the YAYA" report, which highlights key insights and marketing tips about the 18 to 24 youth and young adult market. A copy of the report can be downloaded from the MOJO Ad website.
A "Meet and Greet" event was held the evening before the career fair. Students presented an overview of the strategic communication area of study and student work. Agencies shared specific talent areas they were interested in recruiting.
The four student workshops on resumes and interview skills held prior to the career fair also broke records of student attendance. These included:
Branding Yourself, led by Ross Snodgrass, BJ '87, group creative director at The Integer Group.
Resume Review Panel, led by five industry professionals who then reviewed student resumes in individual sessions.
Networking, led by Stephanie Padgett, assistant professor.
Creative Portfolio Review, with Snodgrass; Leslie Harris, creative talent manager at The Integer Group; and Brian Brooker, BJ '83, chief creative officer at Bernstein-Rein.
This year marked the fifth of Snodgrass' "Branding Yourself" workshop, which provides tips to aspiring creatives on how to create their own personal brand. He said the resumes and portfolios he reviewed at the fair were "of high quality and well designed," an indication that the students took his advice to heart. Snodgrass also commented that "the secret is out" about Missouri's strategic communication students, and there was now a "competition for the talent" at the school.
Social media took a leading role before, during and after the fair. Students who followed @MUCareerFair on Twitter received updates on workshop dates as well as live tweets during the discussions.
During the fair recruiters used the official event hashtag, #marvelousmelding, in their tweets advertising their tables.
RIVET kicked off the morning with a tweet reading, "We're excited to be @MUCareerFair today. Come share your hopes, your dreams, but mostly your portfolios and resumes."
One tweet that Osborn & Barr's human resources manager Holly Head sent out was, "Lunch was great. Back at it with two open chairs. Come see me…to learn about @osborn_barr's 2012 summer intern opps!"
Updated: June 5, 2020
Related Stories
Expand All
Collapse All
---