Summer in the Big Apple: Internships Provides 10 Missouri Journalism Students with a Variety of News and Networking Opportunities
They Describe the Learning as Intense, Fast-Paced, Crazy and Fabulous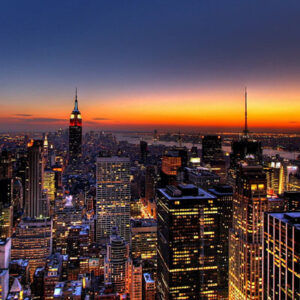 New York (Aug. 8, 2013) — What's it like to live and work in New York City, the media and business capital of the universe? This summer 10 Missouri School of Journalism students had that chance while interning at outlets that spanned the media and corporate spectrum: ABC News Digital, Seventeen magazine, the United Nations, Standard & Poors, HollywoodLife.com and others.
In addition to their internships, students met on Monday evenings to explore a wide variety of issues with industry professionals who work for consumer magazines and non-profits, as well as in public relations, advertising and graphic design. During these Monday evening sessions students met more than 15 professionals and discussed the work they do at magazines like Self, Cosmopolitan, New York, Popular Mechanics, Esquire, Men's Health, Women's Health, Everyday with Rachel Ray and Condé Nast Traveler and at publications like Advertising Age and American Banker, says Associate Professor and Meredith Chair John Fennell, who taught the class.
Plus, on three separate "media day" Fridays, the group traveled around the city to visit 12 organizations including the Wall Street Journal, Good Morning America, the New York Times Magazine, Pro Publica, Martha Stewart Living Omnimedia, Huffington Post as well as advertising and PR agencies like Burson-Marsteller, DraftFCB and Ketchum.
"Students got a full dose of what it's like to live and work in New York through the eyes of seasoned pros and, hands-on, through their internships," adds Fennell. "They head back to Columbia with amazing experiences and a list of new contacts they would have otherwise never met."
The New York program is one of seven internship-based programs sponsored by the School's Global Programs office. In 2013, 156 students participated in these programs under the supervision of a Missouri School of Journalism faculty member.
Here the students share stories and insights they gained in their internships.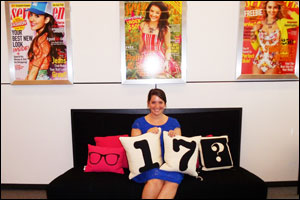 Maddie Aberman
Internship: Seventeen magazine
Area of Study: Magazine Editing
Hometown: Minnetonka, Minn.
This year we decided on a new spin for the October issue of Seventeen: Trick-or-Treat. Candy-Flavored Beauty Products. My job was to find Seventeen-appropriate products to feature.
I began my online research, and let's just say that the results were less than decent. Search results had me navigating my way through X-rated websites and lingerie shops. I had little luck other than a million variations of flavored lip products. My editor and I eventually expanded the story to candy-flavored and scented products.
Here are the three most important things I learned:
One. As a beauty intern, I was in constant communication with the PR world: requesting samples, checking in about new product releases or fact-checking credits. This back-and-forth between editorial and public relations is not something that ends at an internship level, and I am thrilled that I acquired such relevant experience.
Two. Multi-tasking. At any given moment I was doing photo research, calling in press sheets, locating lost products and brainstorming for an upcoming story. Keeping a "To Do List" Word document open all day was the easiest way not to miss anything.
Three. The magazine industry is intense, fast-paced, crazy and fabulous. I am passionate about magazines and beauty, and I'm lucky that I found an industry that seamlessly combines the two. Even when I was overwhelmed, I loved what I did.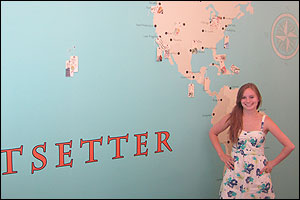 Chelsea Bengier
Internship: Jetsetter
Area of Study: Magazine Editing
Hometown: North Easton, Mass.
I spent the summer dreaming about travel, not for fun but as my job. I worked at Jetsetter, an online e-commerce luxury travel site with an editorial focus. The staff writes reviews for hotels that guests can book through Jetsetter, but the site also provides pre-planned packages and tours, and has an online magazine with travel features. I listened with eager ears as my coworkers dropped exotic destination names without blinking an eye. I've learned all facets of the travel site: editorial, Web, advertising and social media marketing.
Before receiving my high school diploma, I'd moved six times and lived in five states. This made me realize how big the world is and how much is out there waiting to be discovered. After studying abroad in Florence, Italy, and backpacking around Europe for a summer, I still itched to feel the rumble of a train, glance a new landscape out a plane window and hear foreign languages. From that point, I knew travel was the career niche I wanted to pursue.
That's how I found myself at Jetsetter, where a typical day consists of writing features and 1,000-word travel packages, reformatting hotel reviews using HTML, captioning photos, updating Twitter, fact checking and copy editing articles.
My boss recently left for Europe. Someday I'll be the one headed to JFK Airport, passport in hand, embarking on my next international adventure.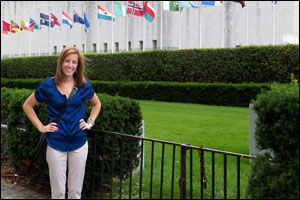 Sammie Hill
Internship: United Nations Alliance of Civilizations
Areas of Study: Strategic Communication and International Peace Studies
Hometown: O'Fallon, Mo.
I worked as the media intern for the United Nations Alliance of Civilizations, an initiative of the UN Secretary-General that focuses on youth, migration, education and media.
I was involved in supporting a variety of media projects. My days began with reading international news and sending headlines relevant to cross-cultural conflict to the office staff.
My major role was maintaining the Global Experts site, a resource connecting journalists and others to high-level experts around the world. By giving journalists access to these experts, the organization aims to increase the number of insightful and contextual stories in the news. My job included maintaining and updating the experts' profiles, aggregating and posting pieces written by experts and posting to various social media pages.
I also worked on the #coveringmigration social media campaign which has been exploring best practices and opportunities for improving the way media groups cover migration and related topics. In working on this project, I also learned to monitor and analyze the effectiveness of social media campaigns.
Working for the UN was extremely exciting and educational. There was always something interesting happening, from discussing the role of journalism with an ambassador from Qatar on my first day to monitoring the situation in Egypt with my coworkers. I loved learning in a truly multicultural work environment and will certainly miss this place.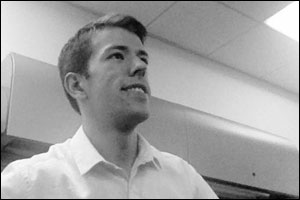 Jacob Klinghammer
Internship: Standard & Poor's Ratings Services
Area of Study: Strategic Communication
Hometown: St. Charles, Mo.
At Standard & Poor's, I spent the summer combing through articles determining the creditworthiness of mortgage-backed securities, asset-backed securities, collateralized debt obligations and asset-backed commercial paper. I confirmed the upgrades and downgrades on various tranches and their respective credit ratings.
Two months ago, I did not know what any of that meant.
My biggest fears before moving to New York was that the slightest mishap in my duties as an editorial intern would ignite a chain of events that would eventually crumble U.S. capital markets.
S&P shared the same fear about its interns.
On day one, I worked on credit ratings articles with seasoned editors proofing my work and constantly looking over my shoulder – the best way to catch mistakes. My eye sharpened each day, and as the summer progressed, I learned to catch grammatical and mechanical errors left behind by numbers-focused credit analysts.
At the same time, I gained a deeper understanding of structured finance, particularly how inaccurate subprime residential mortgage-backed securities ratings can, and did, lead to a massive, bound-to-burst, credit bubble.
I accomplished all of this while sitting in a cubicle, 41 stories in the sky, equipped with a highlighter, two pads of stickies, a tangle of computer wire, and a tiny, airport security-certified bottle of hand sanitizer.
U.S. capital markets remain mostly intact.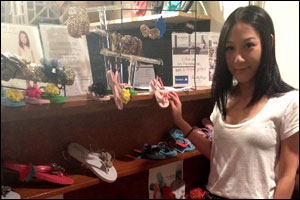 Yufei Liao
Internship: Sand By Saya
Area of Study: Strategic Communication
Hometown: Sichuan, China
I grew up in Sichuan, China, and came to Mizzou to earn a degree in strategic communication with a minor in business. This summer I interned at Sand By Saya, a small shoe company located near Times Square that is owned by a Japanese fashion designer. The three-year-old company is affiliated with major department stores such as Barneys and in boutiques in New York City, Los Angeles and Hawaii. Magazines like Elle, Asian Fusion and Vogue feature the shoes.
My responsibilities included helping to increase our company's brand awareness and market share in order to attract more retailers nationally and internationally. The director wants to expand the brand to Hong Kong, and I contacted Hong Kong fashion bloggers and department stores about our product.
Graphic design is the most important skill I gained from the journalism school. At Sand By Saya, I designed fliers and print ads for the company's website and Facebook page. Knowing how to use software like Photoshop and InDesign really helped me in this position. I also assisted with campaign ideas for a roof-top party at Z Hotel, where we showcased our collections and enjoyed the Manhattan sunset over cocktails.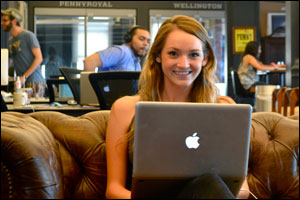 Courtney Lindbeck
Internship: Fueled Collective and BrandYourself.com
Area of Study: Multiplatform Design
Hometown: Collinsville, Ill.
I shared my 11th floor office space in SoHo with a large brown dog, an ice cream cart, a snack bar, a whiskey room and more than 20 of New York's start-up companies. Not to mention that, FourSquare, the location-based social networking site, was located right below us.
I interned for a mobile app development and design "collective" called Fueled. It is a "collective" because this is a shared co-working space housing a number of start-ups. Inside Fueled there are large tables with people working side by side, collectively and openly inside a super cool space.
Twice a week the other Fueled writers and I would meet in a conference room and video chat with our editor who was based in Fueled's London office. We pitched story ideas that revolved around technology, mobile apps, start-ups and any other great ideas we could think up.
We spent our days researching and writing articles. Various news outlets would then publish our articles, accompanied with Fueled's logo and our personal byline. The Huffington Post published one of my articles about the appropriate age to give children a cell phone. We also interviewed and reported on various start-ups within the collective. I also landed a part-time job with BrandYourself.com. There, I developed search engine optimization skills and designed Web pages.
I didn't know I would learn all that I did. But while interning in New York, the possibilities are endless.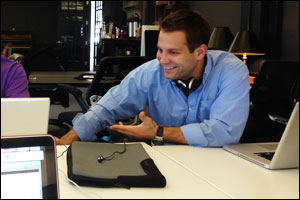 Aaron Maassen
Internship: BrandYourself.com
Area of Study: Strategic Communication
Hometown: Kansas City, Mo.
Ever wonder why certain sites pop up when you Google your name? Is it how often you post, how many followers you have, maybe the legitimacy of the site?
It's called search engine optimization. After my summer in Soho, I know all about it.
BrandYourself.com, a search engine optimization start-up, operates similarly to the more popular company, Reputation.com, and helps people take control of their search results.
In this job, I built and maintained websites for people who wished to better their search results online. The process helped me become familiar with a number of platforms that were formerly foreign to me. I took clients' names, bought domains on GoDaddy.com, performed some simple coding and created custom sites using a WordPress interface.
Most of all, this experience demonstrated to me the power of Google. I know many people center their businesses over the Internet; now I have seen first-hand how they leveraged the Internet in their favor.
By working in a start-up with only 13 employees, I experienced the entire span of the operation, from customer service and sales to interacting with investors. This work environment really got my wheels spinning, teaching me to be proactive on the streets and online, and what it takes to run small business.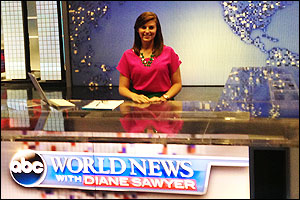 Nicole Neidenberg
Internship: ABC News Digital/ABC News Now
Area of Study: Television Journalism
Hometown: Ellsinore, Mo.
At ABC News Digital, I met a New York original, Milton Glaser, designer of the famous "I love New York" logo. This NYC moment occurred during a shoot where I had the opportunity to operate the second camera on my own. As eager as I was to meet Glaser, I was more excited to be so hands-on; getting a good shot, a good focus and good audio. In other words, working at the highest level of television news.
I was shooting with a DSLR Mark 5 camera, a tool many of the major networks now use. I had to think of creative angles for shots that would be used later for Newsmakers, a series on Yahoo! News and ABCNews.com. At KOMU, I learned how to write, shoot and edit my own packages, but ABC News does this process differently. Here, producers produce, photographers shoot and editors edit. The majority of the staff has a singular role to play in the production of a story.
Key to making this process work is communication. Producers are able to find new stories constantly, photographers can take their time and shoot creatively, and editors are able to edit multiple stories at a time.
I heard captivating stories from interviewees like the 84-year-old Glaser. I am even more excited to see what this field has in store for me.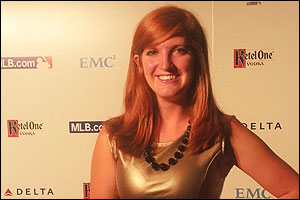 Taylor Weatherby
Internship: HollywoodLife.com
Area of Study: Magazine Editing
Hometown: Bloomington, Minn.
As I stood with a group of reporters and photographers along a blue carpet that resembled the White House interior, cameras flashed and the sound of shutters snapping hundreds of pictures filled the air. This Minnesota girl whose only journalism experience was covering news in Columbia, Mo., was now covering the movie premiere of "White House Down" for HollywoodLife.com. I saw Jamie Foxx as I nervously looked up and down the carpet. Reporters around me checked their recorders, reading over their list of questions and reviewing the tip sheet of who would be attending for the evening. I was one of them. My teen fan days were over. This was my job.
There is a lot of pressure working as a reporter for a celebrity gossip outlet, mainly to keep positive relationships with a multitude of people: celebrities, reps, publicists, PR companies, and so on. During my internship, I witnessed first-hand how important these relationships are and how to maintain them – practicing those lessons while interviewing celebrities!
This summer I found myself in an entirely different world than I could have ever imagined – a world of luxury and fame. At 21 years old, I was living my dream. I was a celebrity reporter.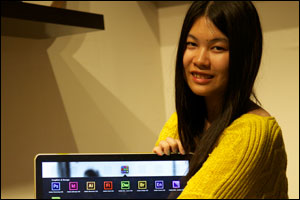 Yu Yan
Internship: Kristin Hanson Luxury Jewelry
Area of Study: Strategic Communication
Hometown: Hunan Province, China
Kristin Hanson Luxury Jewelry, located in the Tribeca area of lower Manhattan, creates hand-made jewelry that features rare, natural color diamonds set in contemporary designs.
CEO and designer Kristin Hanson also owns a luxury studio that features her designs and a school located in the same building that teaches students jewelry design. To work in this elegant atmosphere was pure inspiration.
My work as an intern was project-based and most of my responsibilities were related to design or public relations. My first jobs included redesigning Kristin Hanson's website and creating posters, which fully utilized the design skills I learned at the J-School.
I also worked on a public relations campaign targeting the Chinese market. I set up an account for the company on Weibo, the most popular social network in China. I created an online promotional event through that social network platform, which attracted 20,000 page views. I also successfully built relationships for the company with professional photographers and models, Harper's Bazaar magazine, and Career Pro USA, an online resources sharing platform for Chinese students in America.
Kristin Hanson is a "yes" boss, who gave me a lot of opportunities to try new things and placed few restrictions on my creativity. This internship taught me that when you have a good idea and use your imagination to make it happen, it will.
Updated: July 17, 2020
Related Stories
Expand All
Collapse All
---