Missouri Journalism Students Share Expertise in Internships Worldwide
School's Hands-On, Real-Media and Agency Training Provides Students with the Skill Sets to Secure Prestigious Opportunities
By Kiara Ealy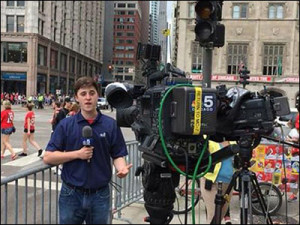 Columbia, Mo. (Sept. 11, 2015) — Broadcast senior Louie Kaczmarek conducted interviews – in both English and Spanish – during his summer internship at Chicago's NBC 5. As a member of the station's investigative unit, Kaczmarek called on government and business entities for records, spoke with government officials for statements, wrote online stories and assisted reporters while on location.
"I had the opportunity to learn in-depth research tactics and broaden my ability to take a step back and look at different angles of a story," Kaczmarek said of his experience.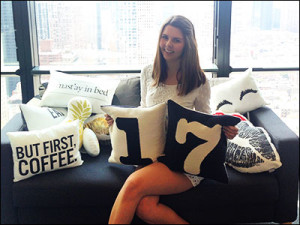 As several hundred Missouri School of Journalism students took on highly regarded internships in major metropolitan cities such as Chicago, New York City and Washington D.C., and abroad in Hong Kong, Brussels and London, summer "break" meant contributing to the day-to-day activities of professional newsrooms and strategic communication agencies.
The experience gained through the proven Missouri Method is what differentiates Missouri journalism students in a pool of internship applicants, according to Lynda Kraxberger, associate dean of undergraduate studies. Students get hands-on, real-world experience at six professional, community-based newsrooms and two advertising/public relations agencies.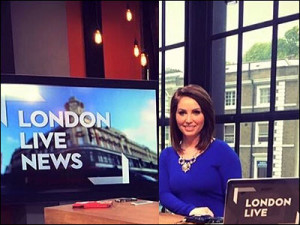 "Employers often use Missouri as the example of students who come to the internship fully prepared," Kraxberger said. "The Missouri Method has taught them how to approach deadlines in a real-world environment. Our students are ready to work hard and learn even more during their internship experience."
Magazine journalism senior Carolin Lehmann published numerous articles on Seventeen.com – including one about transgender students using gender-specific public restrooms – during her full-time editing internship. Among Lehmann's daily responsibilities was assisting with photo shoots, pitching stories, developing content and formatting photos for the site in Photoshop.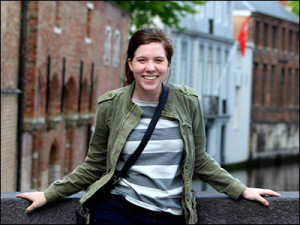 Lehmann was one of 12 students who participated in the New York Summer Program, one of more than 20 internship-based opportunities provided through the School's Global Programs office. About 120 journalism students interned at international sites such as Reuters, Politico, SWIFT, London Live, Premier PR, CBS, Consumer Reports, Al Jazeera and EU Reporter. One new internship location in Barcelona, Spain, opened this summer.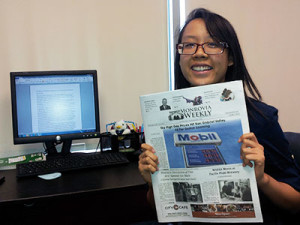 Among those who studied abroad was Kolbie Satterfield, a broadcast journalism senior who interned at London Live. She interviewed Olympic gold medalists, reported on the largest subway system strike in London history, and wrote, filmed, and edited scripts for shows.
Another was Claire Salzman, who worked at the European Youth Forum in Brussels. She covered conferences at the European Parliament, assisted with the Youth Forum's Twitter and Facebook accounts, and attended a variety of events with global officials, including U.N. Secretary-General Ban-Ki-moon.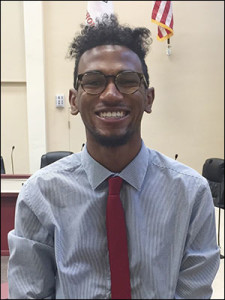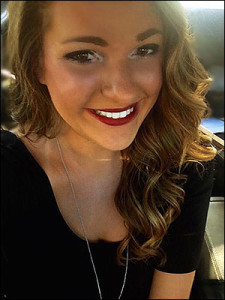 In Global Programs' ninth year partnering with McCann-Erickson, a group of students participated in a new program in Hong Kong, which included an intensive two-week experience where they were given a project by one of McCann-Erickson's clients and asked to build an entire campaign for a particular product in the HK market. The oral care client, toothpaste brand Darlie, was so impressed that the agency has begun implementing suggestions by the students immediately into their work. The McCann-Erickson internship programs in Tokyo and Prague earned the same level praise for the quality of the students' work.
Back in the U.S., print and digital news student Joyce Peng spent the summer working for Beacon Media in the Los Angeles area. She covered the 2015 opening ceremony, the competitions and torch run of the Special Olympics World Games and wrote about health and education topics.
No matter where a student chose to intern, their experiences provided valuable insights and practice. Among them are the following:
Zack Newman

Elise Schmelzer

Strategic communication senior Hannah Boxerman brainstormed copy for clients such as Food Lion and Bass Pro Shops/Tracker Marine as an intern for St. Louis-based Group360.

Multimedia storyteller Zack Newman interned at Fox News Channel in New York, where he assisted correspondents with research and source needs, edited b-roll for various Fox shows and pitched segment ideas.
Senior Elise Schmelzer spent the summer as a breaking news reporter for the Dallas Morning News, where she interviewed Texas Gov. Greg Abbott, a U.S. senator and a U.S. representative; reported on homicides from crime scenes; and covered reactions to the Supreme Court's decision to allow gay marriage.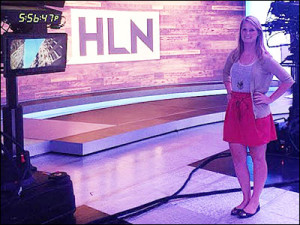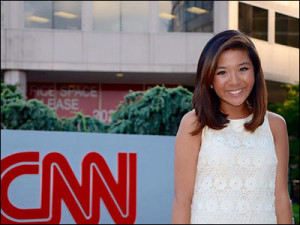 As a public relations intern for eLittle Communications in St. Louis, senior Jalen Mosby's bulk of responsibilities for his assigned client, the City of Ferguson, included work on communication plans and campaigns as well as handling media inquiries and requests for the Ferguson mayor and community officials.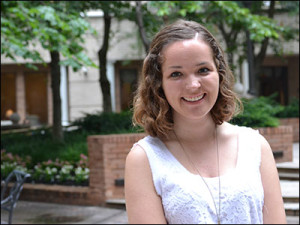 Sometimes opportunity keeps knocking, and that was the case for master's student Katie Yaeger. She wrapped up a summer fellowship with the American Press Institute, where she worked with Missouri journalism alumni Liz Worthington, BJ '05, content strategy program manager, and Jeff Sonderman, BJ '04, deputy director. Yaeger, BJ '15, is working on her graduate degree as a two-year master's student. While an undergraduate, she completed a Dow Jones News Fund internship at the Kansas City Star and a copy editing internship at the Orange County Register.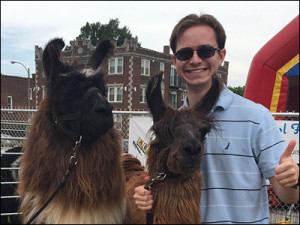 Yaeger's research and resume building did not conclude with her studies on social media. She became further involved in the API's research by co-authoring the survey "Facing Change: The Needs, Attitudes and Experiences of People in Media."
Back in Missouri, dreams were becoming a reality for print and digital news student John Witthaus, who interned as a general assignment/breaking news reporter at the St. Louis Post Dispatch. His story assignments included Fair St. Louis and Derek "Skippy" Tower, the 2014 Big Buck Hunter World Champion.
"It's fascinating to work in a big newsroom and learn how a major metro is put together everyday," Witthaus said. "The P-D is my hometown newspaper and working with them was a dream."
Updated: December 1, 2020
Related Stories
Expand All
Collapse All
---