Junior Wins a $3,000 Scripps Howard Foundation Scholarship
Daniela Vidal Will Intern at WBUR Boston This Summer
Columbia, Mo. (April 25, 2016) — Listeners of the nationally broadcast midway news show "Here and Now" will benefit from the talents of Missouri School of Journalism student Daniela Vidal this summer.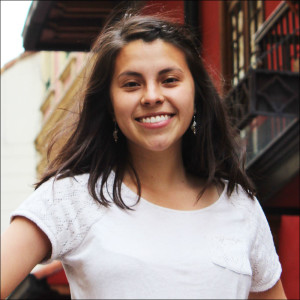 As the winner of a 2016 Scripps Howard Foundation scholarship, Vidal, a junior studying convergence radio reporting, will be a digital intern at WBUR Boston where the show is produced. She also will work at Hirondelle USA, a nonprofit focused on helping build independent local media in post-conflict or crisis countries.
The Scripps scholarship recipients receive a $3,000 stipend and $500 follow-up scholarship. These monies enable students to take unpaid or low-paying professional internships at news organizations they might not otherwise have been able to participate in.
The Scripps Howard Foundation awards the annual scholarship in consultation with the leadership of the E.W. Scripps Company and its operating units.
Vidal currently works on the community outreach team at the Columbia Missourian. She has reported for KBIA-FM and will continue to do so when she returns to campus this fall.
The selection committee praised Vidal's enthusiastic embrace of multiple paths for telling stories.
"She understands that some stories can be told in shorter formats while others require more depth, and both types can be told through traditional media forms as well as evolving platforms like podcasts and social media," a committee member said. "Her news judgment and range of technical skills will make her an outstanding asset to a newsroom."
Vidal thanked her journalism professors for helping her.
"My professors have been instrumental for me, pushing me to get better every day and to keep digging deeper in my reporting or the way I think about audience engagement," she said.
Updated: September 24, 2020
Related Stories
Expand All
Collapse All
---