Strategic Communication Students Win 1st Place at NSAC Districts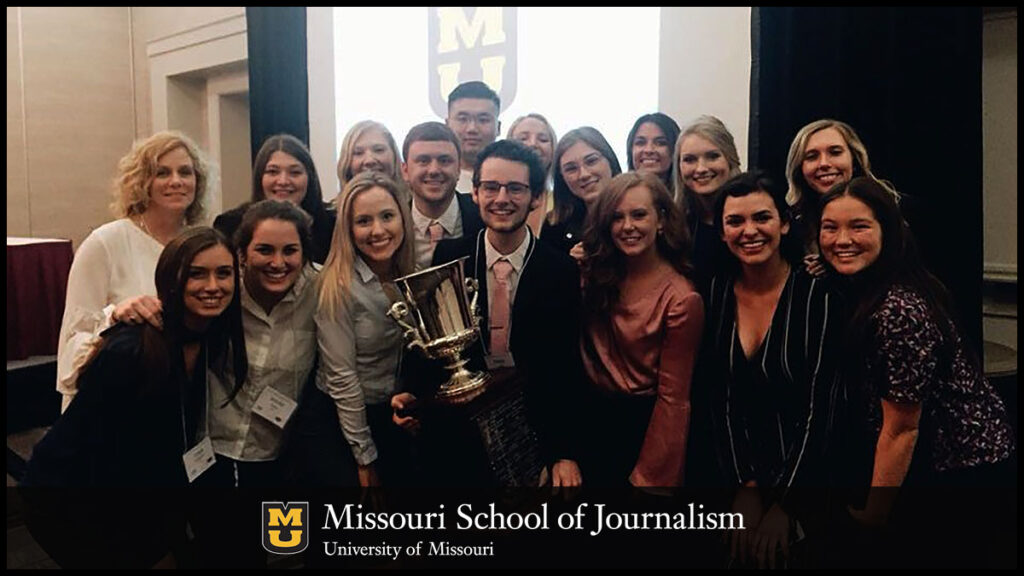 Columbia, Mo. (April 20, 2018) — The insightful strategy and creative executions of Missouri School of Journalism strategic communication students won them first place at the District 9 National Student Advertising Competition (NSAC) held on April 13 in Kansas City, Missouri.
During the day-long competition, seven teams from various schools in the District 9 region answered the challenge they were given to create an integrated marketing campaign that drives relevancy of the Ocean Spray brand among the millennial consumer. Schools presented their campaigns in a 20-minute pitch to judges. Prior to the competition, each team also submitted a plan book detailing every aspect of their campaigns. In addition to MU, competing schools included the University of Nebraska, University of Kansas, Webster University, St. Louis University, University of Northern Iowa and Lindenwood College.
"As a professor, it was so rewarding to watch this team's campaign come together over the last several months," said Holly Higginbotham, associate professor of strategic communication and faculty advisor to the team. "They presented their research, strategy and creative ideas flawlessly at the competition. I'm thrilled that the judges saw their vision and rewarded them with a first place finish."
NSAC, a program of the American Advertising Federation, is the premier college advertising competition for AAF student chapters across the country. It provides more than 2,000 college students the real-world experience of creating a strategic advertising campaign for a corporate client.
This year marked a change for the NSAC program at Mizzou. In previous years the competition was conducted as an extracurricular activity. This year strategic communication seniors developed the Ocean Spray campaign as part of a capstone class, earning course credit for their work. It's an approach Higginbotham said most other universities in the competition take and one that made sense for the school's strategic communication program.
"All our capstone courses are run through our school's student-run advertising agencies, where students work on campaigns for real clients," she said. "NSAC provides that real world client experience, so it was a natural fit to be part of our capstone program."
Student teams in the competition are judged by working professionals in the advertising and public relations industry. Campaigns are scored on research on the product and its competition, creativity, media plan, strategy and integration, measurements of success and overall quality of the campaign.
In addition to the team's first place finish, senior Patrick LaBelle was named one of two best presenters in the competition. LaBelle, a three-year NSAC veteran, received a best presenter award for the second year in a row. Seniors Caleb Bishop, Mackenzie Thomas and Lauren Niemeyer were also on Mizzou's presentation team.
"There's really nothing like NSAC. It's as close as you can get to an ad agency in school. For me, it's been the hallmark of my time at Mizzou, and I can't even begin to describe how great it is to win first my senior year after falling short in the past," LaBelle said, a reference to Mizzou's third place district finishes in 2016 and 2017 when NSAC was done as an extracurricular activity.
With its district win, the team qualifies to compete in the semi-final round, which will be held virtually May 2 and 3. Eight schools from the semi-final round will be selected to advance to the finals in Chicago on June 7 and 8.
Other members of this year's team include Matt Chirillo, Erin Curry, Jenn Fabian, Holly Hunt, Lauren Kight, Ceara Kirkpatrick, Mackenzie Lujin, Zhongyang Lyu, Heidi Mader, Amanda Moy, Christine Orzechowski, Christy Prust, Jessica Sellers, Chandler Short, Olivia Thoelke and Mary Wynn.
About the American Advertising Federation
Established in 1905, the American Advertising Federation (AAF), acts as the "Unifying Voice for Advertising." Its membership is comprised of nearly 100 corporate members made up of the nation's leading advertisers, agencies, and media companies; a national network of nearly 200 local clubs representing 40,000 advertising professionals; and more than 200 college chapters with 5,000 student members. The AAF operates a host of programs and initiatives, including the Advertising Hall of Fame, the Advertising Hall of Achievement, the American Advertising Awards, the NSAC, the Mosaic Center for Multiculturalism and AdCamp for high school students. Follow us on social media: Facebook, Twitter, Instagram and LinkedIn.
About the Missouri School of Journalism
Founded by Walter Williams in 1908, the Missouri School of Journalism is the world's first school of journalism and the international leader in journalism education. Some of the best journalists in the world have learned their profession through the Missouri Method, which provides practical hands-on training in six professional news outlets and two strategic communication agencies.
Updated: October 30, 2020
Related Stories
Expand All
Collapse All
---