AdZou presents findings to clients via Zoom, overcoming challenging circumstances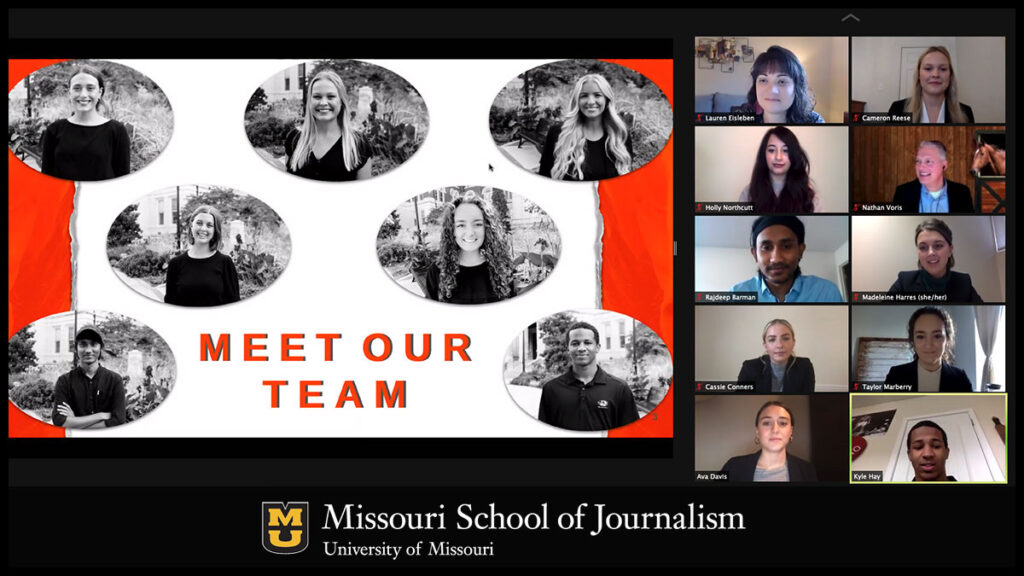 By Zach Taylor
Columbia, Mo. (Jan. 4, 2021) — For strategic communication students at the Missouri School of Journalism, each student's senior capstone is an indispensable part of their collegiate experience. This is always true, even in the face of the ongoing coronavirus pandemic.
This fall semester, four AdZou teams performed extensive quantitative and qualitative research and developed marketing plans for two clients. Three teams worked on Zoetis, a global animal-care company, while one team worked on Adroit Studios, an education gamification start-up. The students completed the work remotely, in accordance with public health guidelines related to COVID-19.
The teams all had something in common; they each produced inspiring work that lit a fire underneath their clients.
"The clients were thrilled with our final presentations," said Jim Flink, associate professor of strategic communication and lab instructor for the Adroit Studios AdZou team. "I was so proud of our students for the quality work they put together. With COVID going on, sometimes you just have to throw in the towel, but not for this bunch. They knocked it out of the park, and the feedback our clients gave us confirms this."
While the work was stellar, getting to the final presentations was anything but easy. With both the faculty and students working from home, there were sometimes distractions that wouldn't be seen in the office or the classroom.
Lauren Eisleben, an adjunct instructor of strategic communication and lab instructor for the Zoetis AdZou teams, saw this firsthand. "I had students attend Zoom sessions in the car on several occasions," she said. "And sometimes there would be family or pets that would make cameos. I often had to teach with my three school-age children in the background."
Although everyone understood the need for holding the class virtually, there was definitely something lost without the in-person connections. However, everyone involved tried to find the silver lining to this year's remote work.
"One of the advantages of Zoom presentations is that it makes it a lot easier for multiple people from the client organization to attend the final pitch," said Holly Higginbotham, director of AdZou and associate professor of strategic communication. "One of our clients this semester, Zoetis, is a global company. Normally we would only have one client rep there for the in-person presentation, but we had seven or eight attend this year. It was great for our students to get to share their work directly with so many people at the company and to hear all their feedback on the work."
One might expect remote learning to hinder student growth, but that wasn't the case. Students who participated in AdZou this semester reported that they grew tremendously both personally and professionally.
"Going into the semester, I was very worried about having to do my capstone virtually," said Claire Carenza, account planner for team Mod Media, which worked with Adroit Studios. "I thought that it would make things a lot more difficult, but my team took it in stride. I think that getting to work with a real client was such a great opportunity, and it gave me a good idea of what it will be like once I'm actually working for an agency."
Sydney Smalling, the account executive for team Mod Media, felt the same way about her experience. "I learned how to be a better teammate and leader this semester," she said. "Making solid human connections in life is what will take you further, and this experience helped me with that. I realized that everyone deserves grace. We all have things going on in our life, and if someone's having a bad day, you have to have empathy for them."
Despite difficult circumstances, AdZou students performed extraordinary work for their clients and grew professionally and personally along the way.
"This has been such a challenging and difficult semester in so many ways, for students and for professors," said Higginbotham. "It's such a testament to the caliber of our AdZou students that the end result of the work they delivered was no different in quality than what clients would have received if we'd been in a normal semester. I am so proud of our students and I can't wait to see where they go from here!"
Updated: January 4, 2021
Related Stories
Expand All
Collapse All
---