Students Gain Hands-On Experience Developing Campaigns to Attract Audiences to Boxing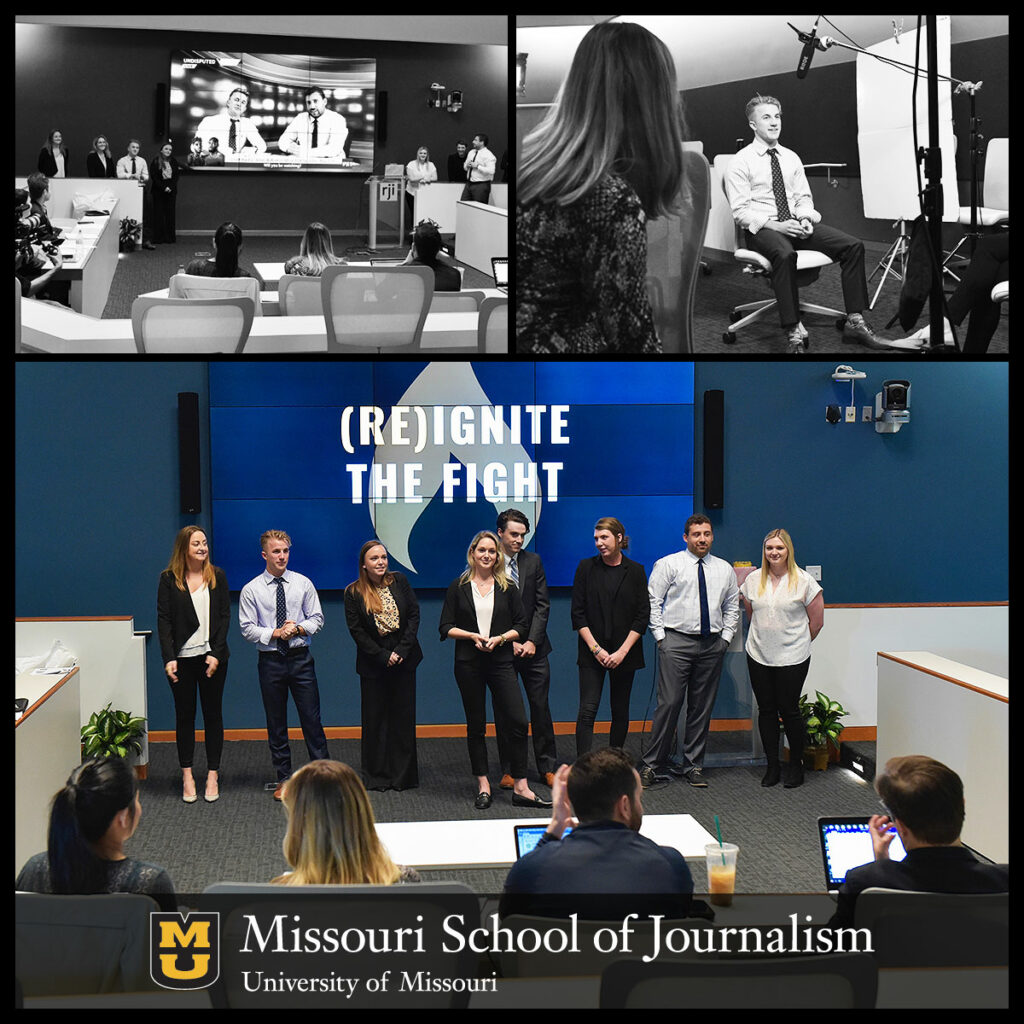 Over the course of what can often be a time-consuming challenge during the final semester of their senior year, Missouri Adjunct Instructor Scott Fuenfhausen likes to remind his AdZou students that they will be encouraged to keep going as long as they "look at this as a 16-week interview."
Fox Sports has option to implement winning team's marketing ideas
By Jennifer Nelson
Columbia, Missouri (May 29, 2019) — Four undergraduate strategic communication teams gained hands-on marketing experience this spring as they developed national marketing campaigns to increase viewership of Premier Boxing Champions on Fox Sports.
As part of its Fox Sports University (FSU) program, the sports TV network tasked 32 AdZou seniors with finding ways to attract new audiences to boxing.
Student-produced ideas ranged from augmented reality experiences to sharing individual boxer stories through video campaigns. Later this year, Fox Sports will pick a winning team with the hope that at least one of their concepts can come to life, said Micaela Asercion, associate manager for strategic partnerships at Fox Sports.
This is the ninth year Fox Sports has hired the J-School's fully-integrated strategic communication agency to develop creative campaigns.
FSU gives students from schools across the country, including the Missouri School of Journalism, an opportunity to work on real-world challenges while "bridging the gap between academia and the sports industry," said Asercion.
"With an emphasis on experiential learning, AdZou's full-service agency has been a natural fit for the Fox Sports University program," said Asercion. "Throughout nine years of partnership, Mizzou students have continually impressed Fox Sports executives with their creativity and fresh insights into the business."
The students began developing their campaigns by conducting research about Fox Sports, FSU viewership, other sports networks and boxing leagues. They also conducted a viewing-habits survey of the general public as to what might motivate them to consider adding boxing to their regular viewing line-up.
It was during the information-gathering phase of the project that strategic communication student Chanel Smith of Gaithersburg, Maryland, said she grew the most. "One skill I definitely honed was research," Smith said. "It's easy to jump into different tactics, or create an ad, but it needs to speak to the right audience. That can't be done without doing the research."
Team research showed that average consumers associate boxing with pay-per-view, so the challenge the teams faced was how to best communicate that boxing is also available without the added costs associated with cable channels, said AdZou Account Executive Colin MacGregor of Elmhurst, Illinois. To do this, MacGregor said his team used associations with past boxing legends, such as Muhammed Ali, whose bouts were typically available exclusively on cable television, as part of their campaign.
"We were trying to get the message across that Fox is bringing boxing back to its roots and making it more accessible to the casual sports fan," MacGregor said.
After research was completed, students split into four teams and began working on different creative campaigns. Students on AdZou teams are each assigned a role similar to one they might have in an agency setting, including public relations account executive, copywriter and media planner.
Account Executive Savannah Bernard of Allen, Texas, said that although she initially wanted the public relations role, she's thankful she got her second choice of assignment as account executive because it gave her the opportunity to learn how to lead a team. "I've just never really been the sole person in charge of everybody," Allen said. "I've been an assistant, so learning how to navigate that, and help people solve all their problems, and then do all of my stuff…has been a bit of a learning curve."
Working with a real-world client not only gives students an opportunity to impress prospective employers, but the client they are working with as well, said AdZou adjunct instructor Scott Fuenfhausen. "I always tell them to look at this as a 16-week interview," said Fuenfhausen. "And [potential employers] do take notice of the students who are exceptional."
About AdZou
AdZou is based on the "Missouri Method" of learning by doing. Directed by public relations, advertising and marketing professionals, graduating seniors work in small teams to bring fresh perspectives to their research-based campaigns for real fee-based companies or organizations.
Updated: November 10, 2020
Related Stories
Expand All
Collapse All
---