MOJO Ad Students Present Final Campaigns to U.S. Fish and Wildlife Service
By Natasha Desai
Public Relations Account Executive
MOJO Ad
Columbia, Mo. (Dec. 17, 2012) — MOJO Ad students proposed three different ways to encourage natural resource stewardship and volunteerism among the Youth and Young Adult (YAYA) market during their final campaign presentations to the U.S. Fish and Wildlife Service (USFWS) on Nov. 30.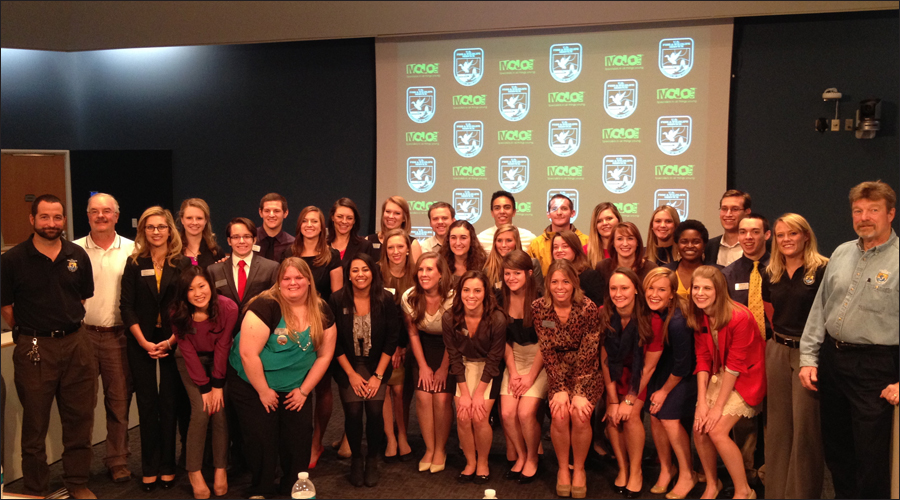 USFWS Midwest staff members were in attendance, while representatives from the national level watched through the Reynolds Journalism Institute event live stream. For them, the presentations sparked a conversation about reaching a demographic they knew they needed to reach, but weren't sure they could.
"At the start, we were skeptical, hesitant and at times, even wary, of engaging with a young adult audience that seems too far out of reach and too distant to our day-to-day encounters," said Charles Traxler, USFWS assistant regional director of external affairs. "For those who watched your presentations, that mentality shifted. You showed us the significance, the power, and the necessity of engaging with the young adult market."
MOJO Ad, the Missouri School of Journalism's student-staffed, professional-services advertising agency, is composed of three teams of 10 students. Teams worked together on the situational analysis as well as consumer insights developed from primary and secondary research, which included focus groups and a survey administered to nearly 1,500 individuals in the YAYA market across all 50 states.
Each team selected an insight to base their strategy on and subsequently pitched three distinct campaigns. The winning campaign used stunning images of USFWS refuges, offering YAYA volunteers an opportunity to make each riverbend, trail, meadow and pond their own. By leveraging that feeling of personal ownership, the campaign sought to turn first-time volunteers into loyal advocates of the organization.
Traxler says that in addition to the winning campaign, the USFWS intends to incorporate elements from the other two as well in their efforts to reach young adults.
The fall 2012 semester marked the first time MOJO Ad worked with a governmental organization. All three teams employed innovative thinking to gear their campaigns toward emerging media, word-of-mouth and guerrilla tactics while crafting creative messaging that could be displayed outside traditional media.
"You showed us insights that we were oblivious to, creative tactics we never knew existed, and fueled a conversation among our staff across the country that would have never otherwise took place."
"We are often times intimidated by technology and unsure of new or out-of-the-box ideas, simply because we are creatures of habit and cautious under the eye of rules and regulations," said Traxler. "You showed us insights that we were oblivious to, creative tactics we never knew existed, and fueled a conversation among our staff across the country that would have never otherwise took place."
To put the USFWS mission at the forefront of their campaigns, the students immersed themselves in USFWS volunteer opportunities that included hiking, electrofishing and tree planting. One specific opportunity included students going to the Missouri River to survey fish – and even kill any invasive species, like Asian carp, that came aboard the boats.
On a broader scale, the students' experiences and work on their campaigns highlighted true causes the USFWS is constantly fighting for.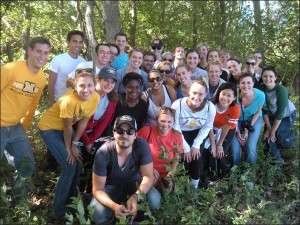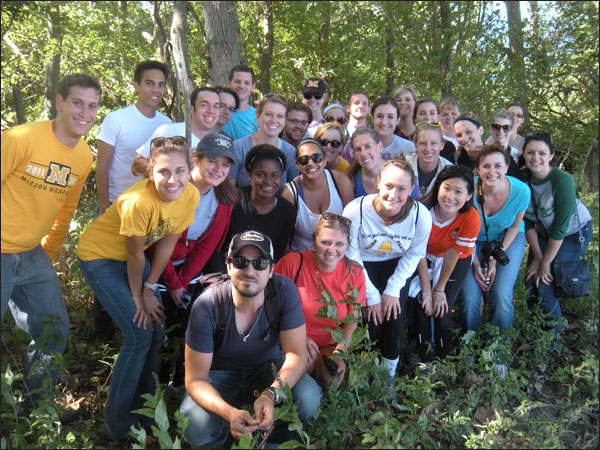 "The work of the MOJO Ad teams has been exceptional and, at the very least, we know that more than 30 bright young minds were, at one time, invested in the conservation conversation, a dialogue that we hope continues in years to come for the sake of our agency and the people, places and wildlife we work to protect, conserve and restore," said Traxler.
Working with the USFWS also marked another milestone in agency history, as it was the first time MOJO Ad worked on a client brought to them by an alumnus. USFWS public affairs specialist Ashley Spratt, BJ '07, MA '08, was a public relations account executive in the agency's inaugural semester and worked on a campaign for Honda. She said she was thrilled to have my experience with MOJO Ad come full circle as both a student and client.
"As a MOJO Ad alum, I recall the incredible work ethic, dedication and creativity of the faculty and staff," said Spratt. "The final presentations blew my expectations out of the water. The level of professionalism, in-depth research, strategic concepts and creative executions of each campaign were outstanding."
Updated: July 13, 2020
Related Stories
Expand All
Collapse All
---