MU Alumni Shared Perspective with Current Students at 'What I Wish I Knew'
By Mackenzie Chaney, Callie Hines and Brooke Saharovici
MOJO Ad Public Relations Account Executives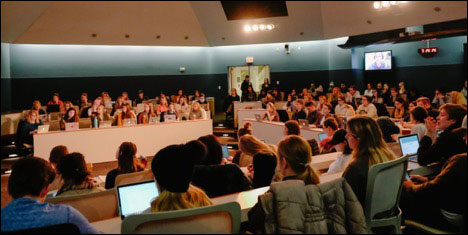 Columbia, Mo. (Nov. 30, 2018) — MOJO Ad hosted "What I Wish I Knew" on Nov. 28 in Fred W. Smith Forum to kick off the 2019 MU Strategic Career Fest. The event, a virtual panel of recent MU strategic communication alumni, offered approximately 100 students an opportunity to engage in an open conversation about tips, tricks and advice regarding the advertising industry and job search process.
"What I Wish I Knew" topics included networking, job searching and leveraging Missouri School of Journalism experience in the real world. The panelists brought their own stories and expertise to the discussion to help prepare students for the Career Fest and beyond.
Panelists were from Complex Networks, Digitas North America, Facebook, The Marketing Arm and Vox Media. They work in a number of disciplines, ranging from creative to account roles.
Panelist Michael Sojka, BJ '15, is currently a copywriter at Digitas North America in New York. In response to a question regarding harnessing his Missouri School of Journalism skills in the real world, Sojka said, "I think something that I value and that I tried to emphasize when I was at Mizzou is learning how I affect everybody else on my team. It's really easy to have the mindset that this is my role on the team, and I'm going to silo myself and focus on this. Every decision you make affects other people down the line. So, I think understanding why they've made choices that have led to where you guys are currently at is important."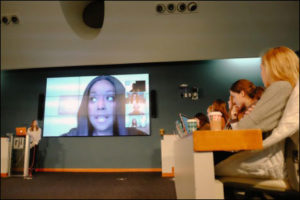 Other panelists included Jazmin Burrell, account manager at Vox Media and founder and chief creative strategist at Lizzie Della Creative Strategies in New York; Alexis Johnson, publicist at Complex Networks in Los Angeles; Miranda Lee, account manager at Facebook in Austin, Texas; and Jillian Mullin, junior art director at The Marketing Arm in Dallas.
Leading up to the event, strategic communication students were able to submit questions via the strategic communication social media channels. Questions ranged from topics of company culture, to moving to a new city and wage negotiation.
"The five diverse journalism alumni at 'What I Wish I Knew' instilled confidence in me about transitioning from Mizzou into the professional world," said senior Mary Grace Eldridge. "Hearing about their perspectives on pay, benefits, interviewing, and more has helped prepare me for graduation in the spring, and I feel more confident than ever going in to the job search."
"What I Wish I Knew" was the first of four events that will culminate in the Career Fest on Feb. 12, 2019. Students will also have an opportunity to take part in a Resume and Portfolio Workshop and a Meet and Greet reception to help them prepare. Registration for the upcoming three is open from now until Feb. 1.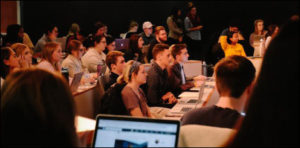 Further questions regarding "What I Wish I Knew" and other Career Fest events can be directed to the MOJO Ad public relations account executives at stratcommcareerfair@missouri.edu.
About MOJO Ad
MOJO Ad is the premier student-staffed advertising agency in the country. Students work with national companies to create innovative programs to reach the ultra-savvy youth and young adult (YAYA) market. We offer a full range of integrated marketing services including research, account planning, media planning, creative development and more. We'll work with you to design a customized marketing program that fits your specific goals and objectives.
Updated: November 6, 2020
Related Stories
Expand All
Collapse All
---