MOJO Ad Students Present Annual State of the YAYA to Chicago Advertising Agencies
By Natasha Desai
Public Relations Account Executive
MOJO Ad
Columbia, Mo. (April 19, 2012) — Twelve MOJO Ad students visited nine Chicago advertising agencies and companies March 27-30 to present the annual State of the YAYA report and learn more about the advertising world.
Representing some of the world's leading brands like McDonalds, Proctor & Gamble, Sharpie and Supercuts, the agencies and companies visited included:
At most agencies, students presented the State of the YAYA report to senior management and other company employees of each company, many of which included MOJO Ad alumni now working at the respective agencies.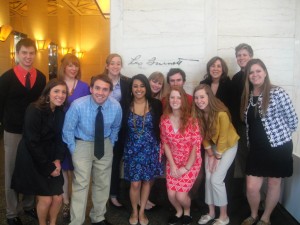 MOJO Ad is the Missouri School of Journalism's student-staffed, professional-services advertising agency. The State of the YAYA report, updated each fall, includes insights about the Youth and Young Adult market crafted through primary and secondary research. The report also includes tips for agencies on how to market to and work with YAYA individuals.
"It was helpful that they included implications for agencies hiring and working with this group," said Laurie Stearn, American Association of Advertising Agencies central region vice president, who viewed the presentation at Element 79. "Most agencies I have seen doing trend reports over my 20-plus years in the marketing business do not include these implications, which made this report particularly helpful."
Each presentation was followed by a question and answer session, giving the agencies a chance to gain further insight on the YAYA market and how they can help their clients reach them effectively. At DDB, much of the conversation revolved around YAYAs and fast food – McDonalds is one of DDB's largest clients. Assistant Professor and MOJO Ad Director Barbara Ifshin led the trip.
"We were all very impressed with the students from MOJO Ad," said Christiana Basso, a public relations account supervisor at Cramer-Krasselt. "I was especially intrigued by their overview of the YAYA demographic, particularly how they have been affected by social media."
In addition to the presentation and discussion, students learned about the company culture through human resources presentations, viewed agencies' current and past work as well as received tours of their facilities. The students also participated in panels and discussions about agencies' current client work and what life at an agency is like.
At Draftfcb, a panel of four entry-level employees, including Lauren Hysted, BJ '11, a MOJO Ad alumna, spoke to students about their internship and job-hunting experiences. MOJO Ad students provided feedback on an upcoming campaign underway at Element 79.
Eve Silver, BJ '08, and MOJO Ad alumna, hosted the students at Google for lunch and spoke with them about her path after graduation. She started at OMD as a media strategist before becoming an account manager at Google.
A MOJO Ad alumni reunion was held for those working in the Chicago area. Current students had the chance to network and ask questions about post-graduate life in strategic communication. More than 25 members of MOJO Ad, past and present, were in attendance.
"There's only so much you can learn about the agency from its website or from what you've heard," said Chris Beesley, a MOJO Ad media planner. "Seeing all the differences in company cultures helped me figure out exactly what I'll be looking for in an agency in the future."
Updated: June 5, 2020
Related Stories
Expand All
Collapse All
---