MOJO Ad presents findings to AT&T, wraps up first-ever virtual semester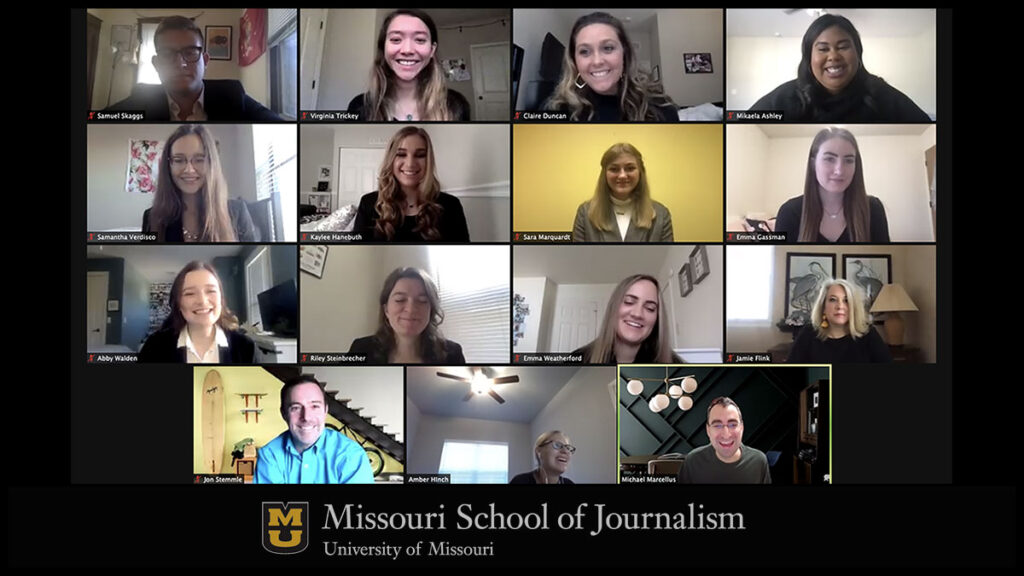 By Zach Taylor
Columbia, Mo. (Jan. 6, 2021) — For MOJO Ad, this year's fall semester was unlike any other.
Due to concerns about the ongoing coronavirus pandemic, the capstone was held virtually for the semester. But that didn't stop some of the J-School's best and brightest from putting together three quality campaigns for AT&T.
Specifically, AT&T asked MOJO Ad to revolutionize the health and wellness journey for college students in campus environments.
Students divided into three teams, which the students named Vaxa, Vero and Verve, to create integrated campaigns focused on the 18- to-24-year-old youth and young adult (YAYA) market. The campaigns, plus a review of the primary quantitative and qualitative research findings, were presented to AT&T over Zoom on Dec. 10.
"It's difficult to explain how much the MOJO Ad students accomplished this semester," said Jamie Flink, associate professor and co-director of MOJO Ad. "This group is special. The pandemic presented challenges, but you would never know it based on the final presentations. Their desire to produce great work never waned."
Normally at the end of the semester, one team is selected as the winner. However, AT&T was so moved by each of the presentations that they were unable to choose one. "I was very impressed with the teams," said Michael Marcellus, senior technical product manager for AT&T. "These are obviously all top-notch students. From the presentation, videos, ideas, research, and presenting skills – all were very well done!"
While the presentations went smoothly and impressed AT&T, it took a lot of teamwork and cooperation to overcome this semester's unusual circumstances. For this semester's MOJO Ad class, there was one recurring theme: Friendship despite distance.
Because of the pandemic, some students didn't return to campus this fall like they usually would have. That includes Ashley Dorf, team Vaxa's content manager, who collaborated with her team from her home in California.
"It was a unique experience completing my last semester remotely and in a different time zone from the rest of my team, but I still learned so much about the campaign process," said Dorf, who was also selected by her peers as the Larry Powell Award recipient, given for excellence in the MOJO Ad capstone. "It's amazing that I was able to connect with my team members so well, even though I have not even met many of them in person. My Vaxa team members have really become close friends from my Mizzou experience."
Abby Walden, team Vero's art director, echoed this sentiment. "This was a tough year in so many ways," she said. "But my team made it bearable. Somehow, someway, we made it work and bonded together despite the distance between us. I hope we can all meet up for real one day because I feel like my teammates are some of my closest friends, and it's a shame we haven't met each other in person."
Not only did MOJO Ad's students develop lifelong friendships this semester, but they also gained valuable knowledge that will serve them well in their professional careers.
"Sure, I learned a lot about project management," said Ali Randazzo, team Verve's account manager. "But my biggest takeaway from this experience is the relationships I developed with my teammates. Despite tough circumstances and an online environment, my team showed up and gave it their best every day, every meeting and every presentation. We all learned what it's like to collaborate in a professional setting, and I can't wait to see how we apply the skills we gained in the real world."
For Jon Stemmle, professor, co-director of MOJO Ad and faculty chair for strategic communication, the semester was another example of the ingenuity and ability of students in the School of Journalism.
"I never cease to be amazed at our students and what they're capable of," said Stemmle. "They persevered and thrived through incredibly difficult circumstances. I couldn't be prouder of the work they created for AT&T. It wasn't the semester any of us expected, but after this experience I believe the students will be prepared for anything that comes their way."
Updated: August 27, 2021
Related Stories
Expand All
Collapse All
---