Strategic communication senior shows resilience when finishing degree after COVID-19 challenges motivated him to move home to South Korea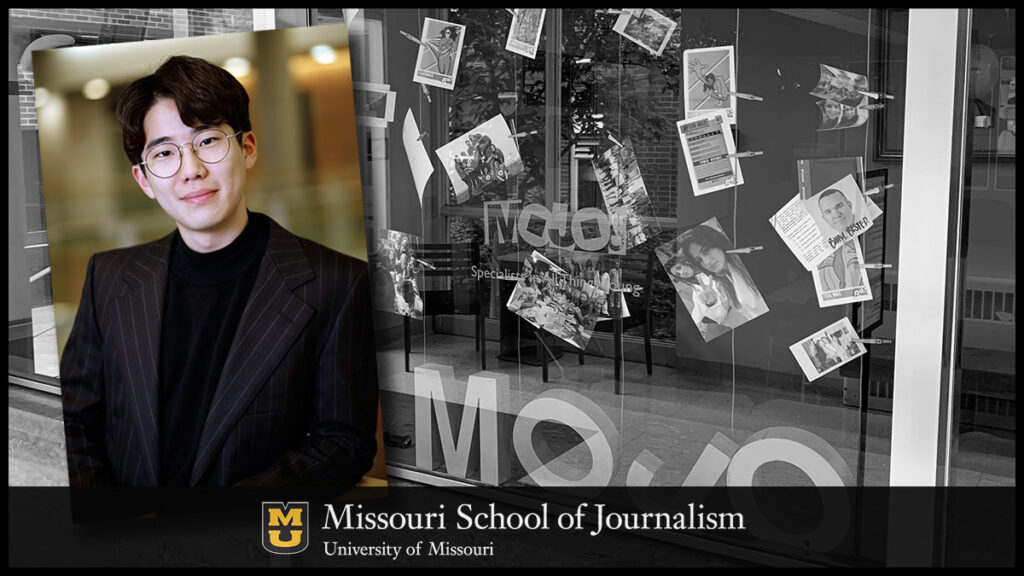 Missouri strategic communication senior Jihwan Aum rose to multiple COVID-19-related challenges working from his home on the other side of the world; his dedication and perseverance earned him an award from his MOJO Ad classmates.
MOJO Ad provided hands-on work experience for job market
By: Jennifer Nelson
Columbia, Mo. (June 3, 2020) — The coronavirus has required everyone at the Missouri School of Journalism to make some adjustments when it comes to learning and working from home. But for strategic communication senior Jihwan Aum, who chose to move back to his home in South Korea as he got ready to work on his final projects, there were some added challenges to working from the other side of the world. But he rose to the challenge and his dedication and perseverance earned him an award from his MOJO Ad classmates and professor and helped him maintain A's in all his classes.
Aum moved back to South Korea as COVID-19 hit because he wasn't sure if he'd be able to acquire the work status he would need in the U.S. as an international student quickly enough given the current economic climate, and he was also worried about the future of the job economy in the U.S.
His professors were understanding and accommodating to him when he moved home. For example, his MOJO Ad instructor told him he didn't need to attend the two-hour class meetings twice a week for MOJO Ad, the premier, student-staffed ad agency at the Missouri School of Journalism, since the meetings would all start at 11 p.m. Korean Standard Time. He chose to participate live anyway for the remaining three weeks of class. Aum's final capstone presentation for MOJO Ad meant he was online from midnight to 4 a.m. KST.
Aum worked as a researcher for MOJO Ad to conduct quantitative primary research to gather relevant data for the client's ask. During the final presentation, he presented as part of the situation analysis and primary research team as well as his campaign team Vista.
While working virtually, he also placed second in the China Global Marketing competition in his Global Marketing class, which met from 2 to 3:35 a.m. KST, but his professor provided him flexibility to work on the class in his own time.
Some days he was awake all day and sometimes all night, too, he said, finishing his class projects.
"His dedication blew us away," said professor Jon Stemmle, faculty chair of strategic communication and co-director of MOJO Ad. "He never missed a (MOJO Ad) meeting and was still incredibly responsive with everything his team needed. It speaks volumes to his character and his professionalism."
To honor his hard work, he received the Larry Powell Award, which is an internal award given each year to the MOJO Ad staff member "who exemplifies the traits we hope each of you strive for: selflessness, going above and beyond for their team, taking on duties outside of their own role and their own team, growth over time and representing the spirit of Mojo Ad." Receiving this award was his favorite memory from his time attending MU.
Coming to Mizzou
Aum transferred to MU from the West coast to be closer to his girlfriend and attend the "first and best journalism school," he said.
One of the reasons he chose strategic communication as a major was so he could improve his English skills to a level where people wouldn't be able to distinguish him as an American or a foreigner.
In addition to working as a researcher for MOJO Ad, Aum worked for Stemmle while at MU as a research assistant. In this role, he helped Stemmle with research for a textbook about internal communication.
"Jon's work taught me how to collect relevant information for a certain topic," he said. "This made me understand the traditional research method, which is searching. It also taught me that there are many ways to do information gathering."
Aum also worked as a researcher for Relevant Youth Insight, a student-run creative agency at MU, and was a communications consultant for a small Korean company where he was in charge of communications between the company's headquarters and international clients.
During his time at MU, Aum also participated in the 2019 RJI Student Competition. He was part of Team Artico, a finalist team that shared a desire to connect smart technology to TV news so users could ask a smart device about basic information about the news they are watching and receive an answer.
He was also a member of the American Advertising Federation's Mizzou Chapter. As a member, he traveled to some of Chicago's top advertising and publishing agencies as a student to learn more about the capabilities job seekers should have before joining the job market.
"What surprised me the most of the skills they were talking about were already being taught in MOJO Ad," said Aum. "This was the moment I started to grow deeper credibility toward the Missouri Method."
He also took the Novak Strategic Communication Leadership course offered by the School's Novak Leadership Institute and was one of 11 students to be selected to attend the Novak Future Leaders Tour in San Francisco in January this year. The trip is geared toward students looking for a career that combines strategic communication with technology and innovation, said Brandon Butcher, associate director of the Novak Leadership Institute.
The group traveled to tech-driven innovative companies including Facebook and Salesforce, as well as ad agencies like McGarry Bowen. They also went to Stanford Design School where they participated in a design school boot camp.
As a new graduate, Aum now has a dream of expanding his field of study to user experience research in South Korea. This interest was something that evolved from his initial interest in research and his desire to solve bigger problems, he said.
"As technology innovates, there are some more complex issues that need to be solved from many different perspectives," he said. "As someone who understands the multitude-ness of human complexity, I thought I could be used in the field to create solutions to these problems. I currently want to solve the technology generation effect, which is a disparity of technology use among different age groups."
Advice to prospective students? "Ready to actively seek subjects that you want to learn? Do not follow someone's curriculum just because they have succeeded from that. We all have a different starting point, so you might as well create your own tailored route. It takes time, but it's really worth it. You just have to try to know yourself a little better. Spend your time on that."
Updated: November 13, 2020
Related Stories
Expand All
Collapse All
---