Reaching Young Adults: Using Communications Expertise from the Missouri School of Journalism to Engage Young Adults in USFWS Volunteer Opportunities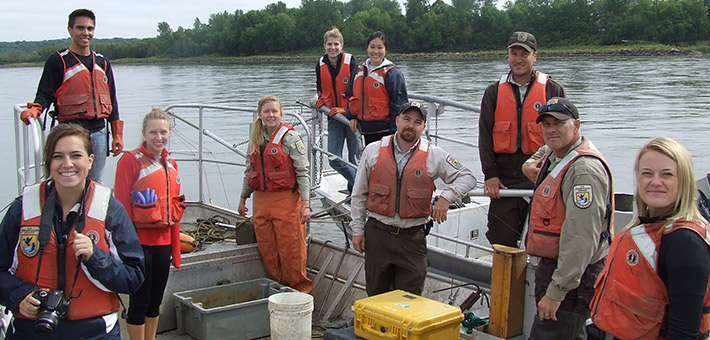 By Ashley Spratt
Communications Coordinator
U.S. Fish and Wildlife Service
Columbia, Mo. (Oct. 30, 2012) — The U.S. Fish and Wildlife Service (USFWS), the nation's premiere agency dedicated to the protection, conservation and management of fish, wildlife and our natural resources, faces an unprecedented challenge of engaging a generation of tech-savvy, highly diverse, and highly influential young adults between the ages of 18-24.
This fall, students from the Missouri School of Journalism, the nation's top-ranked academic institution in the field of communications, are working alongside USFWS staff to inform and support the agency's mission to connect with this non-traditional young adult audience. Their goal is to develop a comprehensive communications campaign that encourages natural resource stewardship and volunteerism among those 18 to 24 years.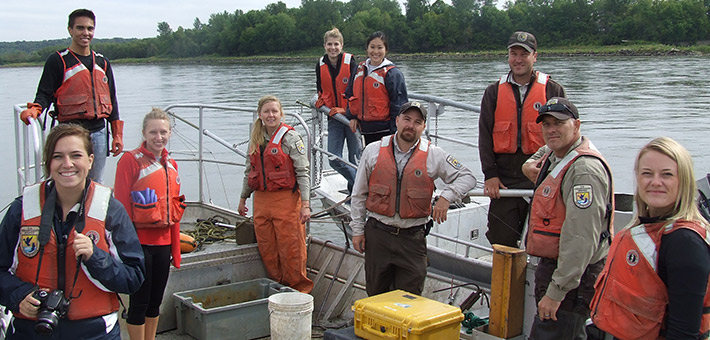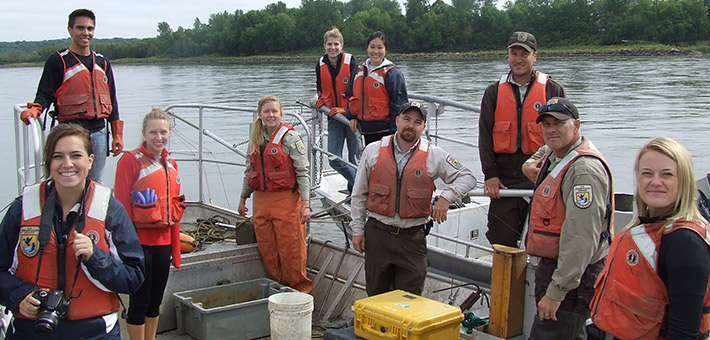 "This age range holds a significant stake in the current and future health of our nation's natural resources," said Charles Traxler, USFWS assistant regional director of external affairs. "That's why it is so important for our agency to grasp their language and know how to communicate with them effectively."
USFWS is partnering with MOJO Ad, the School of Journalism's professional-services, student-staffed communications agency. The agency is made up of seniors and graduate students competitively selected to work with clients seeking strategic communication campaigns to reach the young adult market. Professor Barbara Ifshin directs a team of faculty who work with the students.
Stephanie Padgett, MOJO Ad's director of media and research, says, "MOJO Ad staff are all part of the demographic they are working to target. That's the difference we provide. We offer a fresh perspective on how to communicate to 18-24 year-olds, straight from the horses' mouth."
MOJO Ad annually produces a comprehensive "State of the YAYA" report, with market insights on the 18-24 audience, including their behaviors, attitudes and interests. This report helps inform the development of communications campaigns targeting young adults.
"By utilizing highly-specialized communications specialists to inform how we talk with the youth and young adult market, we are positioning our agency to reach this emerging and important constituency," said Traxler.
As part of the group's primary research, MOJO Ad staff members are spending time with USFWS field staff representing national wildlife refuges, fisheries, ecological services and external affairs.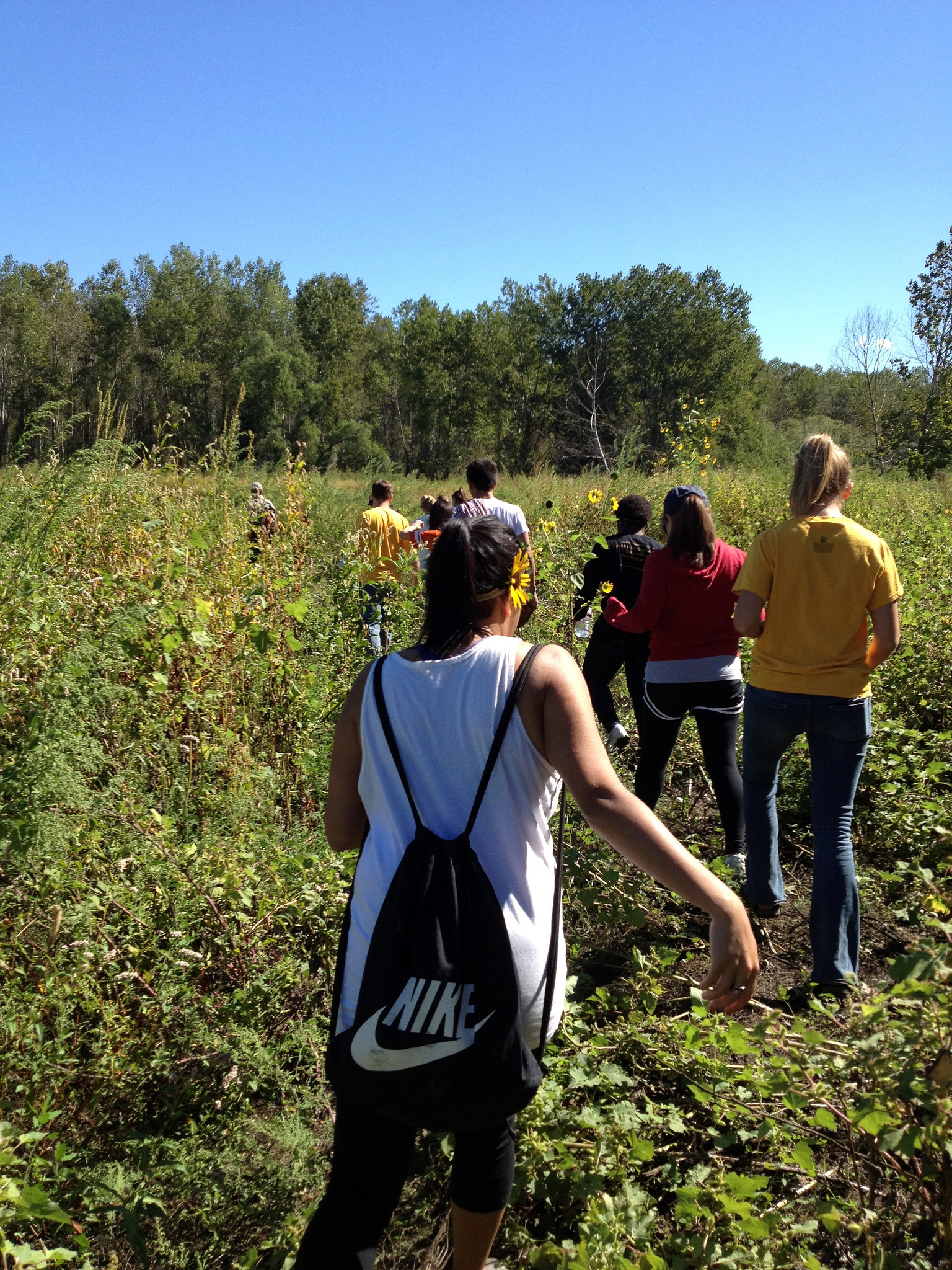 Jestin Clark, wildlife biologist with Big Muddy National Fish and Wildlife Refuge, and Ashley Spratt, BJ '07, MA '08, communications coordinator of USFWS External Affairs, took more than 30 MOJO Ad staffers on a three-mile hike through the refuge's Overland Bottoms unit, showcasing ongoing projects by volunteers including educational kiosks, invasive species removal, tree plantings, and trail construction.
USFWS Columbia Fish and Wildlife Conservation Office staff – Anna Clark, Heather Calkins, Hilary Meyer, Colby Wrasse, Jeff Muchard and Jeff Finley – led an outing for MOJO Ad staffers on the Missouri River, giving hands-on demonstrations of volunteer opportunities with fisheries biologists. Students assisted in trammel netting, push trawling and electrofishing.
"Many of the students had never been on the Missouri River before," Clark said. "Being on a boat, holding a juvenile shovelnose sturgeon in their hands, and dodging jumping silver carp were all first-time experiences. At the end of the day, they really understood why conserving fisheries matters."
Several MOJO Ad staff members also participated in National Public Lands Day, volunteering alongside USFWS staff and other conservation partners to plant trees and prairie cordgrass in a conservation area near St. Louis.
MOJO Ad staff are using this hands-on experience, in addition to secondary research about USFWS volunteer programs, to build their strategic communication campaign. The agency aims to identify what values or activities related to natural resource conservation resonate with the target market, and identify how USFWS can generate good will, support or advocacy for natural resources issues, and encourage volunteer participation through USFWS programs.
"This partnership with MOJO Ad can lead us in the right direction to educate and inform young adults about the mission of our agency and why our work matters," Traxler said. "They can help us engage young adults in the conservation conversation and guide our efforts to utilize social media and other communications tools to encourage a call to action through volunteerism."
MOJO Ad will present research findings and recommended communication strategies to representatives from across USFWS this November.
Updated: July 10, 2020
Related Stories
Expand All
Collapse All
---