Humans of Strat Comm: Faith Vickery
Columbia, Mo. (Dec. 12, 2016) — Being open-minded has led senior Faith Vickery to a lot of her college adventures and career successes.
During Faith's sophomore year at Mizzou, she learned about UNICEF, an organization that provides humanitarian and developmental assistance to children and mothers in developing nations. She also learned that there was no student organization on campus to carry out their message. So, with the help of her roommate and six other Mizzou students, she started a student organization called UNICEF Mizzou.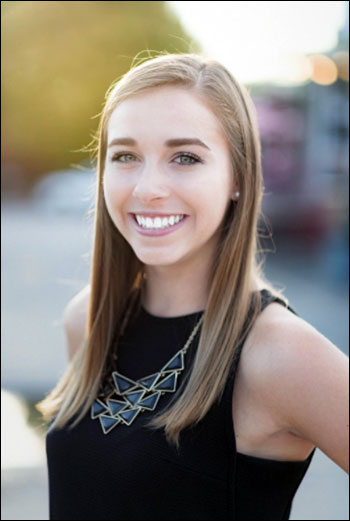 As a student organization, the group's main focus is fundraising and educating. They do profit shares, canning downtown, and have recently started doing community service as a group, such as cooking dinner for the residents of the local Ronald McDonald House.
"I've learned a lot about developing countries and how little children are living on," Faith said. "On the other end of that, I've learned how little money it costs us to provide basic needs like clean water for a child. Every child deserves a fair chance at life. They can't control the situation they were born into."
Faith's open-mindedness during Jamie Flink's Management of Strategic Communication class led her to fall in love with strategy, which is equivalent to coming up with a solution to a problem and seeing that every aspect of the campaign lines up with that idea.
Last summer, Faith interned at Brädo Creative Insight in St. Louis. Of the job, Faith said it "was one of the most wonderful experiences I've had in my college career" thus far.
"My passion for qualitative research and insight grew immensely," Faith said. "Brädo allowed me to do real work and helped me strengthen my strategic thinking skills."
As a creative strategy intern, Faith participated in brainstorming sessions, assisted with different research processes and analyzed research data in order to draw insights. She was also given two mentors in which she helped with ongoing projects. Her time at Brädo prepared her for her current role as a media planner in MOJO Ad.
"Not only did I gain skills that I use for helping my team create campaigns, but MOJO Ad is the closest thing you can have to a full-time job while still being in school," Faith said. "Working 40 hours a week at Brädo this summer definitely prepared me for the work ethic you need in Mojo."
UNICEF Mizzou and the strategic communications department has jump-started Faith's journey here at Mizzou and has taught her important skills that she will need in the advertising industry like presenting, social media and design skills. Now, as graduation approaches for her in May, Faith hopes to keep her mind open and follow the path to her dream job in strategy.
Updated: October 9, 2020
Related Stories
Expand All
Collapse All
---