Students Get Top Marks from Fox Sports University Experience
Columbia, Mo. (Sept. 26, 2017) — Strategic communication student Cassidy Herring was in complete disbelief when she got the call that her AdZou capstone team had won the Fox Sports University competition. She was one of six students on Team Cor during the 2017 spring semester who bested the other three Fox Sports AdZou teams for the win.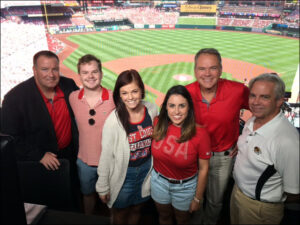 Fox Sports has a different project every spring. This year students were challenged to think of fresh, out-of-the box ideas to convince 18-to-25 year olds in the area to subscribe to cable in order to watch Fox Sports Midwest.
"Encouraging the millennial age groups to find value in keeping cable TV was a big challenge," said Scott Fuenfhausen, the instructor for the Fox Sports AdZou lab. "It's a tough situation considering most young people want to customize their viewing preferences and cable doesn't allow for that. But St. Louis sports is worth the cost."
Through months of research and planning, the members of Team Cor had figured out an interesting angle to reach their young audience: FOMO, or the "fear of missing out." This common fear is a source of anxiety for almost all millennials, who value events over possessions and who don't want to miss out on an amazing new experience.
With inspiration from the idea of FOMO, the team found the basis of their campaign: Be there. Cable is the only way millennials will ever be present and a part of the conversation during popular sporting events. This idea grew to become the team's tagline, and their campaign's theme for corresponding events, social media campaigns, and other touch points.
"Leading this team was one of the most rewarding experiences of my college experience," said Lauren Butowsky, the account executive for Team Cor. "Although no project of the caliber is without its challenges, we tried to create a low stress environment full of open communication and support of our teammates."
At the end of the semester, the four AdZou teams presented their campaigns to a panel of Fox Sports executives, who picked a winning team.
As the winning team, the members of Team Cor were given a tour of the Fox Sports Midwest setup in August, including a visit to the broadcast booth behind home plate, meeting the broadcasters covering the game and marketing people working on game day events, and attending a St. Louis Cardinals game in prime seats.
"The experience was neat because all the people we met were very engaged in our work. We were able to pick their brains and really learn from their extensive experience in the field," said Herring, the team's public relations account executive who is currently working on her master's degree at Mizzou. "It's just amazing how it all came full circle. At the beginning of the semester, winning the competition was just a lofty dream and to actually achieve that dream and more was incredibly rewarding."
Members of Team Cor:
Lauren Butowsky, Account Executive
Laura Maurer, Account Planner
Cassidy Herring, Public Relations Account Executive
Baylee Cummins, Graphic Designer
Joe Merril, Copywriter
Sam Hoffman, Digital Media Specialist
Updated: October 23, 2020
Related Stories
Expand All
Collapse All
---