Humans of Strat Comm: Carolyn Welter
Columbia, Mo. (March 13, 2016) — Senior Carolyn Welter is never afraid to take on a new challenge. Originally from Prairie Village, Kansas, Carolyn came to Mizzou in 2012 ready to jumpstart her journalism career.
"I had a really great experience as a student journalist in high school, so I knew the J-School would naturally be a good fit," Carolyn said.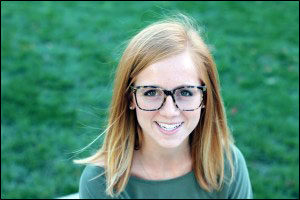 Now a senior in strategic communication, Carolyn still keeps a busy schedule during her final semester. She is active in Greek Life at MU, serving as vice president of public relations for the Panhellenic Association, is a strategy and public relations intern for the MU Office of Greek Life, and is a member of Kappa Alpha Theta. Carolyn was also recently recognized as a Mizzou '39 recipient in February, an award bestowed by the MU Alumni Association to 39 top seniors for their academic achievements, leadership and service to the university community.
Along with all of her extracurricular activities, Carolyn also serves as an account executive for MOJO Ad this semester, working on the BENGAY client account, and is enrolled in an Advanced Social Media Strategies class this semester in partnership with Kansas City-based ad agency VML.
"I think that being in MOJO Ad is one of my favorite experiences at the Missouri School of Journalism," Carolyn said. "The people I have met and the level of work that is produced is so inspiring. Even though we work long hours, it doesn't feel like work because I'm doing something I love with people I love."
In her limited free moments, Carolyn enjoys running and training for marathons, spending time with friends and family, and hanging out with her cat Arthur. Carolyn hopes to relocate to Kansas City following graduation and put her strategic communication skills to work at an advertising agency there.
"I believe the skills I have gained from my strategic communication classes and outside organizations will be the skills I use every day in my professional life," Carolyn said. "By practicing good time management, teamwork strategies, creativity, and technical skills, I am confident I will do my best in an account executive role."
Updated: September 16, 2020
Related Stories
Expand All
Collapse All
---