Humans of Strat Comm: Seinga Macauley
Columbia, Mo. (Nov. 20, 2016) — Usually, when a student pulls an all-nighter, it's because of a big exam or paper that's due in a class. However, for Seinga Macauley, it was part of her summer job.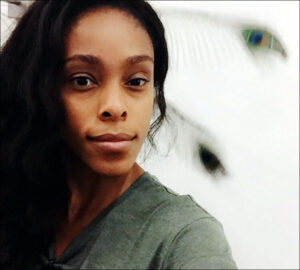 This summer, Seinga worked as an art director for the Marcus Graham Project (MGP) in Dallas. MGP is a non-profit organization dedicated to promoting diversity in advertising by building the field's next generation of leaders. MGP founded the iCR8 Bootcamp eight years ago. Alumni of the program have gone on to work for agencies like Deutsch, Droga5, FCB, Havas Worldwide and more. Seinga was a part of a 10-person team that created a popup agency called EVOLV, similar to the setup used in J-School strategic communication capstone classes. Seinga was in charge of coming up with creative solutions for brands such as Revolt TV, Popz Topz, and Chandon, which required having an open mind full of ideas and creating graphics that visualize them.
"My favorite [brand to work on] was Chandon because I got to take the lead on it and learn what it takes to be an art director and think outside the box with few restraints," said Seinga.
Seinga was inspired to apply for MGP after attending a National Association of Black Journalists event where Lincoln Stephens, MGP founder and creator, Mizzou alumnus and recent Missouri Honor Medal recipient, talked about the importance of being unique to make it in the advertising world. He also gave tips on how to apply and stand out for the MGP program.
Although she had taken all the coursework and had experience as a designer, Seinga chose not to apply at first. Instead, she decided to gain more experience by becoming a graphic designer for the Mizzou Student Design Center which provides graphic design services for MSA/GPC, recognized student organizations, and the Department of Student Life.
After spending a year working on various projects for these groups, plus freelance work, Seinga decided the time was right to apply. The application process was extensive, including essay responses, a 30-second video pitch and an interview with MGP alumni. However, in the end, Seinga got the call to enter the iCR8 Bootcamp and spend the summer in Dallas, just 30 minutes from her hometown.
"I learned how to be a successful 'creative.'" Seinga said. "Being a part of MGP pushed me to think big and stay determined to produce concepts that make people think. It's not an easy task, especially with well-known clients, but it's so rewarding at the end. Truly, your experience is valued by how hard you push yourself to become better at what you do."
Although Seinga worked hard this summer, she still found time to enjoy the Dallas culture. Her favorite memories of her time there were trying out new restaurants with her MGP teammates, discovering Dallas' music scene and going to her first rodeo.
"Living in downtown Dallas was so much fun because I was able to explore the real culture of my city," Seinga said. "Dallas is not the Texan stereotype everyone thinks it is. It's a modern city."
Seinga's best piece of advice for current students is to not get too comfortable.
"When something seems scary to you, that means that opportunity is your next step to take," Seinga said. "Why stay where you are comfortable when you can become the person you wish you could be? Stop wishing, do it, and keep moving forward."
Even though Seinga is back in Columbia and back to the more traditional all-nighters, she knows now that her future career in art direction is undeniable.
"The best part about being an art director is seeing people enjoy what you create," Seinga said. "The fact that I have the chance of impacting the world makes me want to do my job. I just want to give people something positive to enjoy and prosper from."
Updated: October 9, 2020
Related Stories
Expand All
Collapse All
---