Alumni Profile: Dylan Connell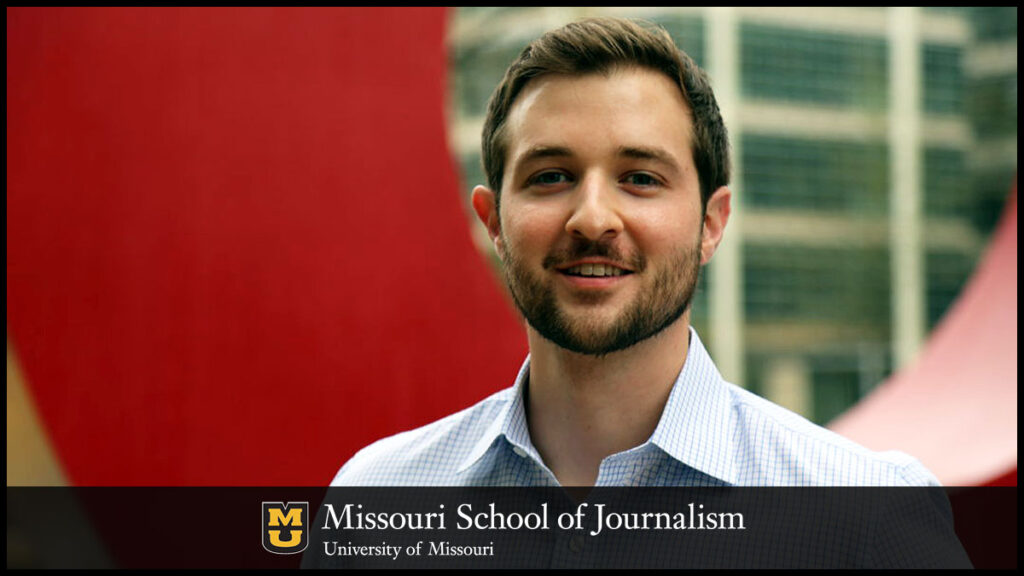 Columbia, Mo. (April 18, 2018) — With graduation approaching, strategic communication students are doing all they can to stand out to employers. Strategic communication alumnus Dylan Connell remembers that feeling all too well about how hard he worked to develop his professional skills.
"Become an expert on a useful topic. It could be anything," Connell said. "For me, it was writing. No internship, great connection or well-designed resume will make up for a lack of competency, ever."
As a regional adviser in the public and government affairs department at Exxon Mobil Corporation, Connell started out as an intern in the department after graduating from Mizzou in 2014. He found out about the internship from a J-School posting and couldn't resist applying. He started three weeks after graduation and realized he wanted to have a career at ExxonMobil after only a short time interning.
Now, Connell gets to work with a wide array of people every day: geoscientists, former journalists, environmental scientists, federal government officials, civil engineers, and many others.
"The caliber of the people I get to work with blows me away," Connell said. "ExxonMobil is a global company operating in every region of the world. There are 90 languages spoken at our campus in Houston. The women and men I work with have incredible backgrounds."
Although he lives in Houston, Connell's main responsibility is to support ExxonMobil's public affairs operations in South and Latin America. He is a lead advisor on Argentina, Colombia and Guyana and previously has worked on Brazil and Mexico.
"It's a dream come true to be doing this in my 20s," Connell said. "I have always wanted to work in the international space, but that's not necessarily something you get to do right away in any industry."
Working at ExxonMobil has given Connell countless opportunities, but he never expected to work in the energy industry.
"I don't mind sharing that my politics generally skew to the left, but thankfully I've always kept an open mind when approaching any issue. The J-School taught me to avoid assumptions, because that's how biases and stereotypes are formed," Connell said. "After working at ExxonMobil, I don't see energy as a political issue. Humanity will need all types of energy – solar, wind, petroleum, nuclear, etc. to meet future demand and raise living standards for developing nations, where billions of people are living in poverty that Americans cannot comprehend."
Going on four years at ExxonMobil, Connell has been able to work on extremely significant developments that have helped him grow personally and professionally.
"Easily the most meaningful project I've been working on is our operations in Guyana, a small country in South America where poverty is very high and standards of living are low," Connell said. "The oil and gas industry is totally new there. It's ethnically diverse and has some of the most pristine rainforests on the planet. We are safely exploring and developing oil reserves in ultra deep water hundreds of miles offshore. Getting to know the people and culture of Guyana and working on projects that will have enormous benefits to the country's economy is very meaningful. I may not ever do anything else as important as this."
Connell's key to success is planning and patience. He creates long-term goals that help him stay focused and patient.
"I try to make decisions today that will allow me to achieve my goals down the line, even if it takes years. So I guess you could say I'm patient. I'm not afraid of delayed gratification," Connell said.
"When I was graduating I knew that I'd have to start low on the ladder and prove myself regardless of where I was working, so I never sought out superficial perks like a cool-sounding title or relaxed dress code. Career growth potential, benefits, and work/life balance were my main priorities," he added. "I'm lucky to have found a company that excels in those areas. I can focus on what truly matters, like spending time with my partner and getting closer with friends when I have the chance. If you have a job that does not prevent you from devoting time to those things, or even encourages it – you're successful."
Updated: October 30, 2020
Related Stories
Expand All
Collapse All
---