Humans of Strat Comm: Alise Murawski
Columbia, Mo. (April 15, 2016) — It's easy to find strategic communication senior Alise Murawski in a crowd. Just look for the student with the huge smile on her face. Whether she's studying in "The RJI Fishbowl" or chatting with friends in the Student Center, Alise radiates the pride she feels as part of the Mizzou community.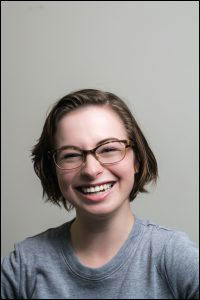 After her first visit and tour of MU, Alise knew she would be happy attending school in the friendly Show Me State. Alise has also learned over the course of her academic career and from her strategic communication classes that a little bit of positivity goes a long way.
"The most important thing my strategic communication classes have taught me is the power of working outside of your comfort zone," Alise said. "When you take a learning opportunity to advance beyond your comfort zone, your perspective changes and you ultimately are able to grow your personal and professional skills."
Alise serves as a copywriter for her AdZou capstone team this semester working on a campaign to raise awareness about distracted driving (think texting and driving) for the Missouri Department of Transportation. She is also enrolled in Empower Media Marketing and PR Writing.
Last summer, Alise brought her smile to her internship with the Bureau of Public Affairs at the Department of State in the District of Columbia. She spent her summer in the nation's capital working at the Washington Foreign Press Center relaying with foreign correspondents assigned to the Senate beat, and assisted with summits, roundtables and briefings. Despite her experience in several different interest areas of strategic communication, Alise is excited to see where her career path leads following graduation next month.
"I'm interested in media relations, but I also love copywriting, public relations and research, so I don't really know where I'll end up," Alise said. "Right now, I'm open to any opportunity because you never know when something great might happen!"
As the semester winds down, Alise is making the most of the time she has left at Mizzou, serving as a social media and public relations coordinator for the Disaster and Community Crisis Center, the scholarship chair for MU chapter of Phi Sigma Pi, a national honor fraternity, and as a member of the student organization Mizzou Women in Media.
Out of all of her professional and personal experiences, Alise treasures those she has shared with her friends and classmates. She urges her fellow School of Journalism students to use their smile to get the most out of their college experiences too.
"I'm so grateful to be surrounded by peers who are passionate about their futures and innovative career fields within journalism and strategic communication," Alise said. "You should never be afraid to ask someone interesting to coffee. It's how many of my great friendships started."
Updated: January 7, 2020
Related Stories
Expand All
Collapse All
---