Alumna Jazmin Burrell makes Forbes 30 Under 30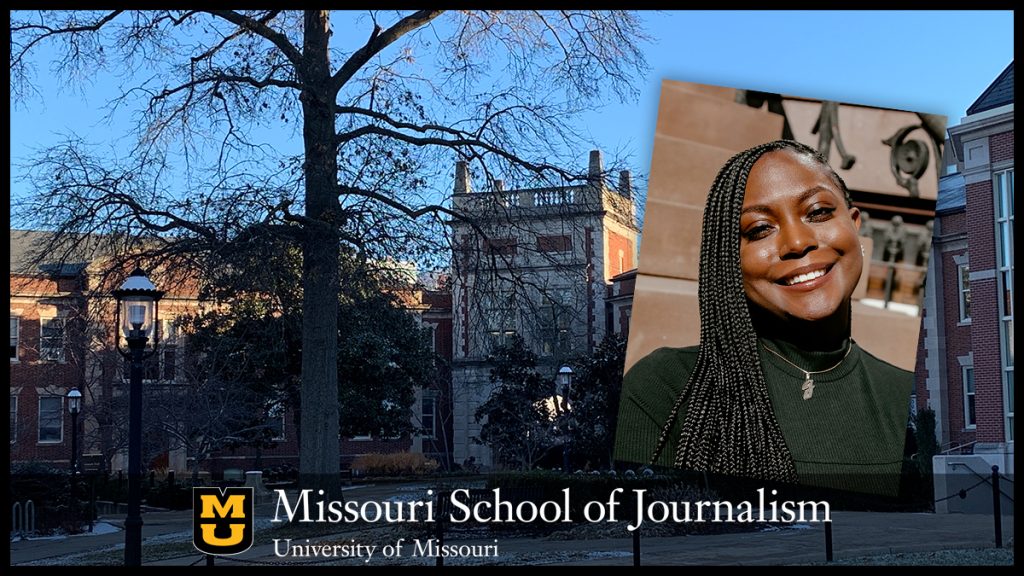 By Abby Werner
Strategic Communication alumna Jazmin Burrell, BJ '15, was recently named on the Forbes 30 Under 30 Marketing and Advertising list. She received the honor for the work she does as a creative strategist at social media company Snap Inc., as well as for her boutique creative shop Lizzie Della Creative Strategies.
Burrell, 29, has made it her focus to tell both her story, and stories like hers, in the most authentic way possible. She knows that she brings a valuable perspective to the table because of her background.
"The industry can appear very crowded, particularly for minorities, so many of them want to get into advertising because they didn't see themselves," Burrell said. "But my mom did everything that she possibly could to make sure that I felt seen and represented as an only child and as a Black woman in America, particularly in the Midwest. So I wanted to get into advertising to help other people see themselves in that light too, because I was able to grow up and see myself in that way."
As a first generation college student, Burrell came to Mizzou from Kansas City on the George C. Brooks Scholarship. During her time in undergrad, she emphasized in account management and earned minors in Spanish and Classic Humanities. She also picked up certificates in Multicultural Studies and Sales and Customer Development. Burrell was a part of the Chancellor's Diversity Initiative, participated with the Black Culture Center and worked closely with the Spanish department. What she hypes up the most from her college experience are her professors.
"So many professors at Mizzou made such a huge difference in my career," Burrell said. "They've supported me, in some shape, form or fashion both while I was there doing some of those projects and post-Mizzou. They have been a champion in my corner."
After graduating, Burrell worked for a few creative agencies such as Spike DDB, which is owned and operated by legendary filmmaker Spike Lee, before starting at Snap Inc. in January 2020. There, she works with brands like Proctor & Gamble, L'Oreal and Estée Lauder on how they advertise on the platform. She also led the creation and execution of the inaugural Snapchat Creative Council, which was an initiative to elevate diverse voices in the creative industry.
"A fun fact is that Snapchat is the first real job I ever interviewed for," Burrell said. "Right after I graduated, they flew me out to Venice Beach and put me up in a hotel. I was devastated when I didn't get it. So it goes to show, there's always a time and a place. Companies grow and change — when you're a fit, you're a fit. And I was a better fit when I was hired at the end of 2019."
Burrell emphasized the importance of working somewhere that values you, particularly as a Black woman. She doesn't want to be tokenized, she wants to be able to do work that opens the door for others in underrepresented communities and help them to see themselves in media.
"It is very easy to get wrapped up in the grandeur of the J-School and what your peers are doing, but comparison is the thief of joy and things are going to happen for you on your own time."

Jazmin Burrell
"I've experienced it all, and of course no company is absolutely perfect," Burrell said. "But Snap has truly been a place that has fostered my voice and many others in this landscape. And I definitely feel like I've been able to make impactful work here. The kind of work that I wanted to create in other places, but didn't have the opportunity to do so."
Lizzie Della Creative Strategies is how Burrell feeds the non-corporate side of her passions and connects with her community. The company is named after her great grandmother, and it's where she does mostly pro bono work for minority-owned businesses and nonprofits.
"Lizzie Della helps me resonate with community and with projects that I know have a lot of passion and sincerity behind them," Burrell said. "I really just use it as a release, to do what I know I'm naturally good at and help somebody be able to fulfill their dreams of what they imagine their company to be by helping them build their brand."
In the last year, the recognition for Burrell's work has been pouring in. She was nominated and made it to the final three for the ADCOLOR Rising Star Award. And she also made The Drum's Future 50 list, highlighting the best emerging marketers in the world. That award meant a lot to her because she was nominated by a client.
"What made the ADCOLOR award so special to me, even though I didn't get it, was that among the finalists I was the only person that did not have the typical NABJ background," Burrell said. "I got nominated off the strength of my work at Snap and defending the overall advertising space when it came to being Black in marketing and being very vocal about it."
These awards culminated with Burrell earning Forbes 30 Under 30 for Marketing and Advertising. According to Burrell, after being nominated the application process was not overly complicated. And she found out that she made the list at the exact same time as everyone else.
"The thing that made me so happy and grateful is that when I posted about it, I got so much love from past and current clients, people that I grew up with, professors, everyone," Burrell said. "My Instagram was absolutely insane when people kept reposting the picture. I think that honestly the most humbling part of it was the outpouring of love I got from my community."
Burrell's message to Strategic Communication students who are currently in school is to not get caught up with imposter's syndrome by comparing what you are doing to the students around you. You have to stick to your own course and figure out your story.
"It is very easy to get wrapped up in the grandeur of the J-School and what your peers are doing," Burrell said. "But comparison is the thief of joy and things are going to happen for you on your own time."
Updated: January 19, 2022
Related Stories
Expand All
Collapse All
---