Missouri School of Journalism alum is living her dream working as a junior strategist for a full-service ad agency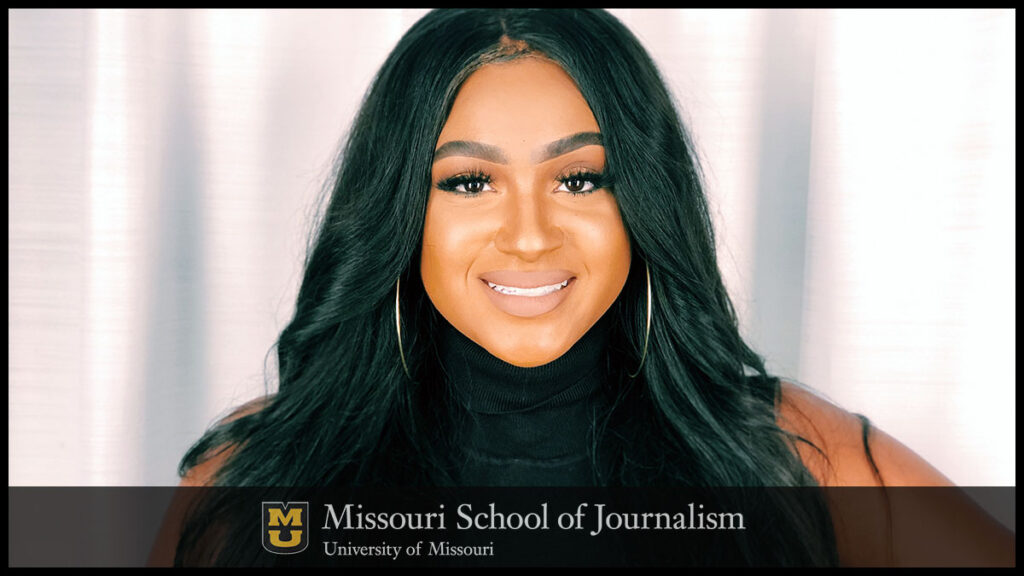 In December of her senior year at Mizzou, Alicia White was named one of AAF's "Most Promising Multicultural Students" and was sent to New York City for a week, where Beauty@Gotham is headquartered.
By Zach Taylor
Columbia, Mo. (Sept. 21, 2020) — Alicia White, BJ '19, is an agent for change within the beauty industry.
White is a junior strategist for Beauty@Gotham, a full-service ad agency whose primary client is Maybelline New York, the No. 1 makeup brand in the world. She works on brand and content strategy for Maybelline NY, which includes researching, developing campaign strategy and managing messaging priorities. "We look at different aspects of the consumer journey to find insights," said White. "Then, we essentially 'sell' our insights to the creative team."
One of White's favorite parts about her job is the diversity of the projects she gets to work on. Maybelline NY is a global company, so White has to view her work through a varied cultural lens. She works on a wide-range of projects related to the Chinese New Year, Ramadan and Black Lives Matter. "It's really cool to speak to people in these different markets," said White. "I like showing people we understand them and we make cool products for them."
She got to show her diverse range and understanding when she worked on a product with higher pigments geared toward those with darker skin tones. To accommodate for the inadequacies of existing makeup, people with darker skin tones have to use hacks and find workarounds. As the day gets longer, it becomes more likely for makeup to smudge, which causes people with darker skin tones to feel anxious about their appearance.
The project was personal for White, who struggled finding makeup products that worked on her skin tone. "It's frustrating that there is such a big market that isn't being catered to," said White. "There are 30 million people around the world that look like me that have to use workarounds and feel unnecessary anxiety about their appearance."
Usually, strategists put themselves in other people's shoes. One of the reasons White enjoyed working on this project was because she got to draw from her own experiences. "I was speaking for my 16-year-old self," said White. "I was speaking for little girls who are going to pick up their first eyebrow pencil and need to feel confident."
White has fulfilled many of her dreams in her short professional career. She has a job she loves, works with people who support her and is truly happy at this point in her life. More importantly, she gets to make a difference in the world. "Beauty products aren't going to save a life," said White, "but they can improve people's self-confidence and decrease anxiety."
It would have been easy for White to have anxiety when she made the trip to Columbia, Missouri, 563 miles away from her hometown of Plano, Texas, to study at the world's first School of Journalism. While exploring her emphasis options, it became clear that strategic communication was the best fit. "I didn't want to be on TV, I didn't want to hear my voice on a podcast and I didn't want to write," said White. "I liked marketing, but didn't want to transfer to the business school and lose the creative side, so it just worked out that I went through the strategic communication program."
White had a busy college experience. In addition to her coursework, she was a member of the Alpha Kappa Alpha sorority, the Legion of Black Collegians Homecoming Queen in 2018, a J-School ambassador and president of Mizzou Black Women's Initiative (MBWI).
As part of her work with MBWI, White teamed up with Velma Buckner, the coordinator of MU's Gaines/Oldham Black Culture Center and a "mother away from home" for many of the initiative's students, to create an academic class. This course, the first developed by and for Black women at MU, was taught by Buckner while White served as the teaching assistant and student ambassador. The class is based on four pillars: academic success, career readiness, establishing community and identity exploration, and has the goal of creating a safe space for Black women at MU to come together. In its research, the class found that Black women are succeeding in most aspects of their lives, but the one area where they struggle is having a sense of community and support.
"Right now, it's hard to hold the identity of being a Black woman in America, and when you go to college you leave your support system behind, which can make things even more scary," said White. "The idea behind the class was to create a community for Black women at Mizzou." One of the ways the class creates a sense of community for its students is by hosting an annual service trip. On the trip, students meet with community leaders, gain first-hand knowledge and give back through volunteering. Through these trips to places like Memphis, Washington and Houston, and regular class time on campus, the MWBI forms a sense of community for many and makes the world a better place for everyone.
White's efforts didn't go unnoticed. Before she started her professional journey, she was inducted into Mizzou '39, an annual award given to 39 outstanding seniors chosen for their outstanding academic achievement, leadership and service.
More than a year has passed since her graduation from Mizzou, and she's still surprised how her dream job all came together.
"Something I have always loved is beauty," said White. When one of her close friends told her about Beauty@Gotham, a full-service ad agency that specializes in the beauty market, her interest was piqued. In December of her senior year, White was selected to be a part of the AAF's 'Most Promising Multicultural Students' class, and was sent to New York City for a week, where Beauty@Gotham happens to be located.
Knowing that she had an opportunity to get her foot in the door, White checked Beauty@Gotham on social media and found Jazmin Burrell, BJ '15, a Missouri School of Journalism alum, who was working there. They messaged back and forth, and Burrell ended up inviting White out to talk when she was in New York. White's initiative paid off with an invite to apply for an internship opening.
Although White wanted a strategy internship position, they only had account management positions open. "I decided that it was important to get my foot in the door," said White, who applied for the position and was hired. However, just a month into her internship, a junior strategist position opened up, which was exactly the opportunity White was hoping for. "I essentially treated my internship like a three-month long interview for the strategist position," said White. "Because there were so many Mizzou people at Gotham, my boss said she had to put me through the ringer to prove to the staff that I was getting the position because of my merits, and not my alma mater."
That said, White knows that her time at the J-School has helped her get to this point in her career. "If it wasn't for Mizzou, I wouldn't be where I am today," said White.
Updated: November 13, 2020
Related Stories
Expand All
Collapse All
---