Natasha Desai Selected as an American Advertising Federation Most Promising Minority Student, Wins Young Talent Award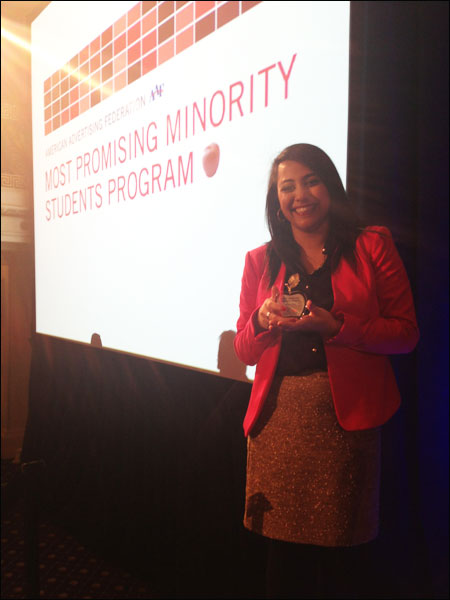 By Celia Darrough
Columbia, Mo. (Feb. 20, 2013) — Recent graduate Natasha Desai was one of 50 students in the country selected as one of the American Advertising Federation's most promising minority students. She was one of only four to receive the AAF Young Talent Award, which is given to students who have shown outstanding interest and work experience in advertising.
Desai, BJ '12, received an all-expenses-paid trip to New York City as part of her selection as one of the most promising minority students. There, she was part of a three-day convention that gave her the opportunity to meet with professionals and attend a career fair and a luncheon.
It was during the luncheon when it was announced that Desai had won the AAF Young Talent Award, which came with a $2,500 prize. Desai said she was so shocked at hearing her name called, she can hardly remember what presenter James Edmund Datri, AAF president and CEO, said afterward.
"I don't doubt that all the real-world experience I've had at Mizzou played a part, because I don't think there's any better way to express your interest and learning in a field than to be doing the type of work we do at our school," she said.
At the luncheon, each student introduced themselves on stage and read their tagline – 15 words or less to describe themselves and their goals in advertising/communications. Desai's was "Everyone has a story. Channeling my diverse experiences into understanding lets me communicate them authentically."
Desai said her goal as a professional is to always be telling someone's story in a way that's true to him or her. Her tagline represents that.
Desai applied for the award in October 2012 after reading about it during her junior year and hearing about it from Assistant Professor and AAF Mizzou adviser Stephanie Padgett. She said she realized how much the award meant to her when she was selected.
"Diversity has been a huge part of my life, so to be able to go to New York and be surrounded by 50 other insanely-talented students who are so committed to diversity, I feel so honored, humbled and blessed. Truly," she said.
During her time in New York, she also met with companies such as Omnicom, General Mills, CNN, McCann NY, Deutsch and Publicis, many of which gave presentations or tours.
"To know that the agencies there not only valued us as prospective employees, but also as the future of advertising and the future of diversity discussion – it's pretty incredible," Desai said.
Desai graduated with an emphasis in strategic communication, a minor in business and a multicultural certificate. She works as an assistant music publicist in Los Angeles at PMK*BNC, and has interned at MTV India and CheresseINK in St. Louis.
Updated: July 13, 2020
Related Stories
Expand All
Collapse All
---