Bridget Botchway Bradley Wins 2014 Undergraduate Inclusive Excellence Award
The Chancellor's Diversity Initiative Recognizes Outstanding Contributions to Any Area of Diversity at the University of Missouri
By Caroline Murray
Columbia, Mo. (March 21, 2014) — Missouri School of Journalism senior Bridget Botchway Bradley has been named the winner of the 2014 undergraduate Inclusive Excellence Award.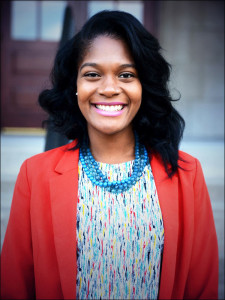 The award, part of the Chancellor's Diversity Initiative, is given to individuals or groups who have made outstanding contributions to any area of diversity at the University of Missouri, including gender, racial-ethnic background, language, religious belief, sexual orientation, disabilities and economic strata. This is the third year the award has been presented.
"There is a tremendous amount of talent, ambition and intellect at Mizzou, and it comes in all different colors, sizes and styles," Botchway Bradley said.
Bradley serves as lead videographer for the Missouri Student Unions and an outreach assistant for Academic Retention Services at MU. She is also a member of the Interactive Theatre Troupe in the MU Department of Theater, a member of the United Ambassadors Minority Recruit Team in the MU Office of Admissions and a mentor for high school girls in the Ladies P.A.S.S. Debutant Cotillion.
Botchway Bradley said she is encouraged by the growing diversity on the creative side of the industry.
"I am currently the only female videographer for the Digital Communications department for the Missouri Student Unions, and I am often the only female and African American in my advanced design classes," Botchway Bradley said. "However, I have seen and researched that the amount of women in journalism and strategic communication has grown and continues to grow. There are more women in executive positions now than ever before, which gives me so much hope and excitement for my future."
Botchway Bradley plans to pursue her master's degree in new media management next spring. Her goal is to promote positive portrayals of underrepresented groups in television, print, and radio.
"Diversity is about reaching out, being open to new experiences, growing from these experiences and teaching others," Botchway Bradley said. "Diversity is more of a practice in my opinion, and practicing diversity at Mizzou can benefit our campus for all current and future Tigers."
Chancellor R. Bowen Loftin, Deputy Chancellor Michael Middleton and MU Chief Diversity Officer Noor Azizan-Gardner presented Bradley with her Inclusive Excellence Award during the March 11 recognition ceremony in Memorial Union's Stotler Lounge. More than 70 people or groups were nominated for the 2014 awards.
Updated: July 23, 2020
Related Stories
Expand All
Collapse All
---