Professor Emeritus Brian Brooks Honored by the Missouri Interscholastic Press Association with Knight Award
Columbia, Mo. (April 25, 2013) — Professor Emeritus Brian Brooks was recently honored by the Missouri Interscholastic Press Association with the 2013 Knight Award.
The Knight Award is named for Robert Knight, a Missouri Journalism professor who directed MIPA from 1966-92. He was instrumental in supporting and expanding scholastic journalism and its resources across the nation. The award is recognition by the organization of someone who has been an influence in scholastic journalism.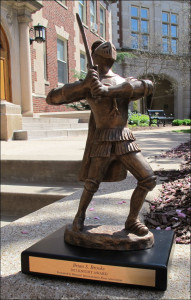 The MIPA executive board felt Brooks was the perfect recipient for this honor, according to Stephanie Green, the organization's president. She teaches journalism at Boonville High School and teaches in the University of Missouri's online program.
"He was always very hands-on and accessible to our organization, students and advisers," she said.
Brooks welcomed high school journalism students from around the state when they attended both at Scholastic Journalism Day and Summer Media Workshop on the MU campus. He helped ensure the establishment of the master's program between the MU College of Education and the School of Journalism. This allows high school teachers could gain certification through the Missouri Department of Elementary and Secondary Education as well as pursue a graduate degree in curriculum and instruction for English and journalism education.
Anna Romero supported Brooks' nomination for the award. Romero serves as executive director of MIPA and is an associate professor at the School.
"Brian never says no when it comes to educating young journalists in high school or college," Romero said.
Brooks was out of the country when his award was announced during April's Scholastic Journalism Day. He accepted it via a video message.
Updated: July 15, 2020
Related Stories
Expand All
Collapse All
---