Vox Magazine Wins 3 National Society of Professional Journalists Awards
The Mark of Excellence Awards Recognizes the Best in Student Journalism
Columbia, Mo. (June 6, 2016) — Vox Magazine is the winner of three national Society of Professional Journalists 2015 Mark of Excellence Awards, which recognizes collegiate work published or broadcasted during 2015.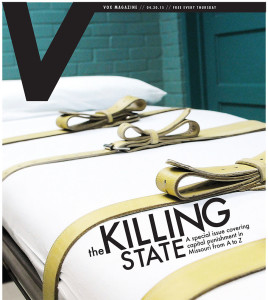 The awards honor the best in student journalism. Judges looked for adherence to high journalistic standards; clarity, insight and respect for the audience; enterprise and ingenuity, among other criteria.
Vox Magazine was designated as the national winner in the Best Student Magazine category for The Killing State, a special issue about Missouri's death penalty, published April 30, 2015.
The feature in The Killing State issue – called The Death Penalty in Missouri from A to Z – was designated as the national winner in the Non-Fiction Magazine Article category.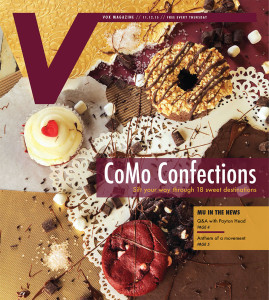 The death penalty stories were written by Associate Professor Paige Williams' advanced writing class, and the issue was edited and produced by students in Assistant Professor Heather Lamb's magazine staff class and designed by a student in Renee Martin Kratzer's advanced design class. Associate Professor John Fennell served as writing coach on the issue.
"It doesn't get much sweeter than this: award-winning stories in an award-winning issue," said Lamb. "It acknowledges the collaborative team effort that goes into producing a magazine. It starts with great reporting and writing, and then continues with thoughtful editing, creative design and interactive digital production."
Photographs for Columbia's Sweet Treats were designated a national finalist in the Photo Illustration (Large) 10,000+ Students category. Master's student Alex Menz was the photographer and photo editor for the cover and feature photos that ran on Nov. 12, 2015. Assistant Professor Brian Kratzer served as director of photography.
The winners and finalists were previously recognized by receiving first-place in one of the SPJ's 12 regional competitions. Only first-place regional winners advanced to the national competition. First-place national winners will be recognized at the Excellence in Journalism 2016 conference in New Orleans.
Updated: September 29, 2020
Related Stories
Expand All
Collapse All
---