Vox, Magazine Students Win 9 Awards in National Contest
Work Stood Out Amid 218 Entries in Association for Education in Journalism and Mass Communication Student Magazine Contest
Columbia, Mo. (Aug. 17, 2016) — Missouri School of Journalism magazine students and Vox Magazine won nine awards in the annual Student Magazine Contest sponsored by the Association for Education in Journalism and Mass Communication. The total includes four first-place awards, three categories in which Missouri entries won both first- and second-place and a third-place for overall excellence of editorial.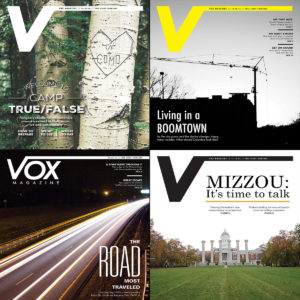 The competition recognizes the best writing and design, editorial excellence and new magazine concepts by college students. This year's contest attracted 218 entries from 23 universities in the U.S. and Canada. Judges for the contest were publishers, editors and writers for consumer and specialized business magazines.
The stories were published in Vox Magazine, a cross-platform city magazine providing insight on local news and culture. The print edition has a weekly circulation of 10,000. It is distributed in the Thursday edition of the Columbia Missourian and can be picked up at drop locations around Columbia and on all three college campuses. The mobile-responsive daily VoxMagazine.com attracts 30,000 weekly unique visitors. Magazine journalism faculty serve as advisers.
The start-up magazine projects were completed in the Magazine Publishing class taught by Professor and Meredith Chair John Fennell.
"These awards represent the smart leadership of so many in the magazine department," said Heather Lamb, editorial director of Vox. "I'm especially proud of the award for editorial excellence. The winning issue published the week after the university's chancellor and system president resigned, and amid campus protests and national media coverage. We kept the long-planned centerpiece feature about mental health among students, but added five new stories to address what was happening. Turning around complex stories on short deadlines and coming up with a cover to address both topics was a challenge. The winning results exemplify the extraordinary students and faculty we have at the School of Journalism."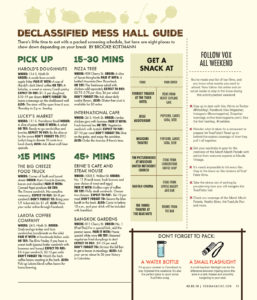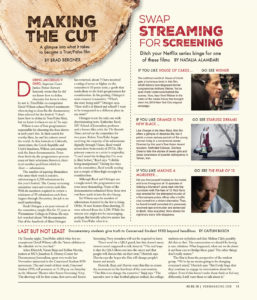 The 2016 AEJMC Student Magazine Contest categories, winners and judges' comments are:
Start-Up Magazine Project – Team (6 Entries)
Judges: Ray Paprocki, general manager of Dispatch Magazines, Nikki Wood, president and editorial director of Marin Magazine, and Bruce Gaultney, publisher of Austin Monthly. Award sponsored by City and Regional Magazine Association.
First Place: Spent, created by Magazine Publishing students Taylor Lower, Abby Kass, Brianna Schroer, Megan Bedford, Scott Germanetti, Rachel Jelinek and Matt Hellman. The faculty adviser was John Fennell.

Judges' Comments: Great concept. Creative. Innovative. The presentation established a need and an audience. Essentially, Money Magazine for millennials. Strong design. As one judge noted, "I was sucked in by the stories. We think the concept could work as a monthly frequency. While we caution the team to look closely at the start-up costs, we were impressed with the idea and the presentation."

Second Place: Upbringing, created by Magazine Publishing students Brianna Arps, Dominique Feldman, Veronica DeStefano, Ben Kothe, Shy Hardiman, Alex Bond and Kayla Piedimonte. The faculty adviser was John Fennell.

Judges' Comments: They made a compelling case for the publication. Again, we would caution the team to look closely at the start-up costs (and expected first-year revenue), but could see the market for a publication geared toward African-American families.
Articles – Places (13 Entries)
Judge: Scott Stuckey, editor of The Science Teacher, author of National Geographic's Ultimate Field Guide to Travel Photography and former managing editor of National Geographic Traveler.
First Place: "Living in a Boomtown" by Vox staff. Faculty advisers were John Fennell and Heather Lamb.

Judge's Comments: If it takes a village to raise a child, it takes a team to put together a magazine package that blows away the competition: writers, photographers, designers, editors, and, above all, a leader (team leader or perhaps an editor in chief) with a vision for how all their efforts should come together. This package about the built environment of a college town asks, "What kind of place should Columbia be?" The package approaches the answer from different directions with a variety of voices. We learn about luxury apartments, dormitories, Section 8 housing, land annexation, real estate prices, and comparisons to similarly sized cities. We hear from a mayor, city planner, architect, council member, landlords, developers, city residents, and students. The package presents multiple entry points via written-through pieces, photographs, a map, graph, biographical sketches, sidebars, and a chart with infographics. This entry was not just about place but also important public affairs. Heavy lifting was involved with spectacular results.

Second Place: "Missouri's Main Street" by Vox staff. Faculty advisers were Berkley Hudson and Heather Lamb.

Judge's Comments: This entry, another example of teamwork and packaging, ties together a string of articles about places that have one thing in common: They lie along Interstate 70 within the state of Missouri. This approach of linking a collection of short articles by theme is ideal for modern magazines, offering brevity, variety, and coherence. The theme piqued my curiosity as a reader. I found myself wanting to know how proximity to an interstate affected a strip club, graffiti park, pool hall and Airbnb property. Articles written by different reporters varied in tone and substance. One addressed how a town managed to become a tourist destination even though the interstate bypassed it. Another looked at unsolved murders along the route. Yet another portrayed a community where the highway brought suburban sprawl. The package ended with a fun-facts page akin to the Harper's Index. The success of these packaged contest entries points to the strength of team energy and synergy. Magazines that only compile the efforts of lone wolves are at a disadvantage—in a contest or on the newsstand
Articles – People (34 Entries)
Judge: Richard B. Stolley, former senior editorial adviser at Time Inc. and founding editor of People.
Third Place: "Good Vibrations" by Greta Weber. Faculty advisers were Paige Williams and Heather Lamb.

Judge's Comments: Another blind man has developed the skills of bats and dolphins to "see with sound." It's called echolocation, and is a growing trend in the sightless world. By tapping his cane and snapping his fingers, he is able to discern objects and people in his path, a kind of remarkable human sonar.
Articles – Investigation and Analysis (25 Entries)
Judge: Steve George, vice president, content, at Kalmbach Publishing and former editor of Discover Magazine.
First Place: "The Adderall Diaries" by Dan Roe. Faculty advisers were Heather Lamb and Berkley Hudson.

Judge's Comments: While Adderall abuse is nothing new, this piece did a strong job covering the latest resurgence. Nice mix of supporting elements as well.
Articles – Service and Information (15 Entries)
Judge: Alison Gwinn, freelance writer, former executive editor of Parade.
First Place: "Roots n Blues n BBQ Festival" by Vox staff. Faculty advisers were Jennifer Rowe, Heather Lamb and John Fennell.

Judge's Comments: This 24-page guide to a popular Columbia, Mo., music and food festival is chock full of service-y elements, all packaged in a lively, fun design that perfectly matches the vibe of the subject. Aimed at both the experienced festival-goer and the newbie, this special section is anchored by insightful profiles of a number of the fest's top performers (from legends like Buddy Guy to newer acts like Danielle Nicole), and includes smart insider-y "411" tips on how to navigate the fair, well-reported pieces on the fair's special handmade art and the kids' foundation it supports, plus a very clever flowchart to help readers find their perfect BBQ. Finally, there is a helpful guide to the 28 artists on the bill. Overall, it is a smartly layered, well-paced and engaging package that looks and reads very professionally.

Second Place: "Gear Up for Camp True/False," by Vox staff. Faculty advisers were Jennifer Rowe and Heather Lamb.

Judge's Comments: The smartly written and reported opening piece by Siyu Lei sets the tone for a thorough, well reported and lively 24-page guide to the annual documentary film festival known as True/False in Columbia, Mo., which recently celebrated its 13th year. The package includes a number of smart, inventive features, including a "declassified mess hall guide," which tells readers the best places to dine or snack, based on the times they have available, a "what to pack" sidebar, mini profiles of 10 festival film directors, interesting pieces on how the selection committee goes about picking the final films, as well as how it ensures diversity (given the recent Oscar brouhaha), and a roundup of worthy musical acts. The package is topped off by a clever matrix that guides festival-goers to 28 films based on their tastes (from uplifting to heavy, artsy to mainstream). The guide does exactly what it sets out to do, providing a soup-to-nuts, freshly conceived primer to an important local event.
Single Issue of an Ongoing Magazine – Editorial (13 Entries)
Judge: Christina Shanahan, senior editor at InStyle magazine.
Third Place: Vox Magazine: Mizzou: It's Time to Talk. Faculty advisers were Heather Lamb and John Fennell.

Judge's Comments: Very thorough and relevant reporting of issues relevant to this community (highly engaging for this particular audience).
Updated: September 30, 2020
Related Stories
Expand All
Collapse All
---