Vox Magazine Wins 8 Awards in National Student Magazine Contest
Missouri Journalism Work Stands Out in a Crowded Field of 270 Entries from 28 Universities
Columbia, Mo. (July 28, 2014) — Missouri School of Journalism magazine students and Vox Magazine won eight awards – three earned first place – in the annual Student Magazine Contest sponsored by the Association for Education in Journalism and Mass Communication.
The competition recognizes the best writing and design, overall excellence and new magazine concepts by college students. This year's contest attracted 270 entries from 28 universities in the U.S. and Canada. Judges for the contest were publishers, editors and writers for consumer and specialized business magazines. Missouri tied for second in total number of awards won by a university.
"I'm just so thrilled to see the students' work recognized this way," said Heather Lamb, assistant professor and Vox editorial director. "The general excellence award is especially exciting. As a weekly magazine, Vox has the challenge of creating amazing issues week in and week out, something that is pretty unique in collegiate magazine publishing. I couldn't be more proud of these students."
The stories were published in Vox Magazine, an award-winning weekly city magazine that appears in the Columbia Missourian newspaper and is distributed throughout the city of Columbia. Vox publishes a weekly iPad edition and a daily culture and entertainment blog called VoxTalk. The Vox Magazine website has 20,000 weekly unique visitors. The print edition has a weekly circulation of 10,000. Magazine journalism faculty serve as advisers.
The start-up magazine projects were completed in the Magazine Publishing class taught by Associate Professor and Meredith Chair John Fennell.
The 2014 AEJMC Student Magazine Contest categories, winners and judge's comments are:
Consumer Magazine Article: Feature (44 Entries Total)
Third Place: "Free To Be Me" by Claire Landsbaum. The faculty advisers were Mary Kay Blakely and Heather Lamb.
Judge's Comments: Great aggregation of people who together nicely illuminated the difficult experience of coming out. The writing is professional; the tendency in these types of stories is to become an advocate and this piece stays clear.
Consumer Magazine Article: People (41 Entries Total)
First Place: "Sex and (Dis)ability" by Kevin Dubouis. The faculty advisers were John Fennell and Heather Lamb.
Judge's Comments: What might be thought of as a taboo subject – sex among the disabled – is handled with great reporting and proper restraint. A quadriplegic man, a paraplegic woman and an occupational therapist talk with amazing candor about what is and is not possible and the psychological and physical comfort that ensues. Persuading these courageous people to discuss their intimate lives cannot have been easy. And the discretion with which their sexual confessions are written about results in an amazing piece of journalism.
Consumer Magazine Article: Service and Information (11 Entries Total)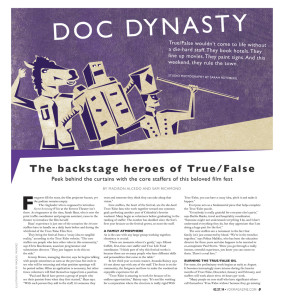 First Place: "Doc Dynasty" by Vox Magazine staff. The faculty advisers were Heather Lamb and Jennifer Rowe.
Judge's Comments: This article is almost excessively thorough. I'd expect something like this for a preview of an event on the scale of South by Southwest. It's impressive that the team was able to think of so many different ways to introduce a film fest of this size. The attention to details and creative sidebar treatments keep it an enjoyable read throughout. Just really well packaged. It shows a lot of hard work and creativity, and ambition that I frankly wouldn't have expected from a university magazine.
Honorable Mention: "How Merlot Can You Go?" by Vox Magazine staff. (11 Entries Total) The faculty advisers were Nina Furstenau, David Reed and Rob Weir.
Judge's Comments: From the annotated bottle on the opener to the showcase of the different country connections of each winery to the timeline sidebar, this is some great packaging. I've read several why-this-wine-region-that-you-might-think-isn't-cool-actually-is articles and this one is the first that actually makes me want to check the area out.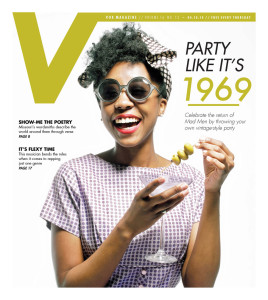 Single Issue of an Ongoing Print Magazine: Design (24 Entries Total)
Third Place: Vox Magazine's "Party Like It's 1969" issue, April 10, 2014. The faculty advisers were Erica Mendez Babcock and Heather Lamb.
Judge's Comments: Good, comprehensive design, with excellent photo direction. Strong cover. And simple typography that works!
Single Issue of an Ongoing Print Magazine: General Excellence (26 Entries Total)
Third Place: Vox Magazine's "True/False" issue, Feb. 27, 2014. The faculty advisers were Mary Kay Blakely, David Reed and Heather Lamb.
Judge's Comments: While this newspaper insert lacks the glossy production and flashy design of some competitors, it nevertheless stands out for the professionalism, cleanliness, and quality of its writing, editing, and layout. The issue celebrating the True/False film festival covers the personalities, the spirit and the practicalities of an event that is special to the campus. It gets readers excited to attend and enhances their experience once they do.
Start-up Magazine Project: Team (10 Entries Total)
First Place: "Union." Team members: Justin Brisson, Benita Brown, Bethany Christo, Ted Hart, Laura Heck, Jessica Lueck, Janelle Pfeifer and Allison Pohle. The faculty advisers were John Fennell and Erica Mendez Babcock.
Judge's Comments: In this challenging magazine market, it's tough to come up with editorial concepts that feel fresh and relevant to consumers and that also appeal to a broad range of potential advertisers, but Union has hit that sweet spot. Gay men planning their weddings are a growing, engaged and underserved audience. Despite the still-sputtering economy, people are still willing to spend money on big life events, which makes advertisers' ears perk up. But this promising business model has to have solid editorial to back it up. Luckily, the editors of Union have created a sleek, engaging magazine with a solid editorial voice, a wide range of engaging stories and a clean, spare design. One small quibble: For this kind of audience, it wouldn't hurt to have a few more males names on the masthead or in the stable of contributors.
Second Place: "Vintage Now." Team members: Chelsea Bengier, Claire Porter, Caroline Michler, Jamie Hergenrader, Dani Vanderboegh, Breanna Dumbacher and Jennifer Liu.
Judge's Comments: If Instagram filters and the Mason jar movement are any indication, everything old is new again. Vintage Now taps into this desire to honor old-school aesthetics, while still embracing everything we love about the present. The Vintage Now staff elegantly integrates the old-new mashup into one stylish magazine. The blend of fashion, beauty, home and broader lifestyle coverage with a nod to the people and personalities of the past makes this concept feel richer and deeper than your standard fashion and beauty glossy. One tip: Flip the order of "Now" and "Vintage" in the logo for a more instant read of the magazine title.
Updated: July 27, 2020
Related Stories
Expand All
Collapse All
---