Students Publish Columbia's Little-Known Secrets in Vox Magazine
The Semester-Long Project Features About 80 Quirky Tidbits in Print, Online and Social Media
By Caroline Murray
Columbia, Mo. (Jan. 27, 2014) — Approximately 80 quirky little-known secrets about Columbia, Mo., were revealed in a recent issue of Vox Magazine.
Among the disclosures:
Sparky's Homemade Ice Cream has served chocolate-covered cicada ice cream. Customers have requested a Doritos Locos taco flavor, but it hasn't made it on to the menu yet.
Before the familiar building on the corner of Ninth and Elm now known as Shakespeare's served delicious pizza, it welcomed the gay population to Poor Richard's bar.
Though it might not be on the menu, basil lemonade is behind the counter at Main Squeeze from May to August.
Missouri School of Journalism magazine and convergence students collaborated during the fall 2013 semester to produce a Dec. 5 package called "Little Known Secrets."
The content exposed the mysterious, the strange and the unfamiliar behind Columbia's people and places, hauntings and history. There are items about unprinted menus, celebrity appearances and even ghosts presented as short blurbs and others as full-length articles.
The goal of the package was to familiarize students with Twitter as a crowdsourcing tool and to maintain a constant multimedia presence through Instagram, Twitter, GIFs and Vine videos.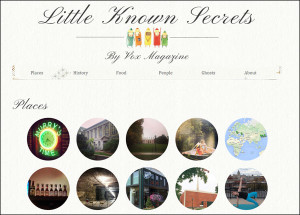 "I wanted my students to dig up intriguing secrets about our town and then concisely share those factual pieces of information," said Assistant Professor Amanda Hinnant who spearheaded the project. "Also, I wanted to allow the content of the secret to dictate how the story should be told."
Hinnant believes it will help students when they graduate to have used social media for reporting and to have created several videos, GIFs and photos.
"The multimedia element of the project was actually the part that I enjoyed the most," said Maura Hohman, a graduate student and Vox reporter. "It was important to Dr. Hinnant that we thought of the whole thing as 'a package,' which made sense to me."
Hohman focused on using Instagrams, GIFs and Vines to complement the corresponding secret with multimedia content.
This combination of short quick hits and longer pieces, all of which needed to stand alone yet fit cohesively into this large story package, excited Rachael Brown about the project. She is a senior involved in the editing of the project through the Magazine Staff class.
"I really liked seeing all these short vignettes come together into one really interesting feature," Brown said. "As a staff editor, I was still only a student, so it was great experience to have so much say in how a package comes together."
Students in the Multimedia Planning and Design classes, taught by Rob Weir and Assistant Professor Ying Wu, competed to design the Web page for the content. Yuqing Pan, a senior in Wu's class, designed the winning page.
"This multimedia design project helped students to think about how to build up a clear information architecture for complicated info and various materials for storytelling," Wu said. "From this project, students learned how to visualize the categories of information to create a more interesting user experience."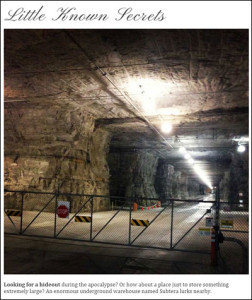 Rob Weir, director of digital development for the Columbia Missourian, then coded the entire site.
"The goal for this project is to get the students some experience with building a site that could go live and with materials that are changing over time," Weir said. "They learn how to plan for a site that doesn't have all the pieces put together, which means that they have to plan ahead for material they may not have at hand right now. They learn how to adapt to changing content and changing plans on deadline."
Rebecca Reno, a senior in Magazines Across Platforms, served as the feature Web editor and got a taste of the fast-paced nature of online editing.
"I would say the biggest challenge was editing the project on the day before it became live on the Vox website," Reno said. "There were so many details to check and we had to make sure every link worked, so it was a little time consuming."
Associate Professor and Vox Executive Editor Jennifer Rowe said this semester-long project was an opportunity for a rich learning experience.
"Students have an opportunity to do more extensive research and get input and feedback from community members," Rowe said. "It's also a great chance for them to understand the stamina and initiative that bigger and long-term projects demand."
Vox's "Little Known Secrets" provides an opportunity for natives and newcomers alike to get to know their community better.
"In the end, as a non-native to Columbia, learning all of these secrets was the best part," Brown said. "One reason I want to become an editor is because I'm a very curious person, so it was great to learn all of these interesting secrets about the place I've lived for the past four years."
Updated: July 21, 2020
Related Stories
Expand All
Collapse All
---