Missouri Undergrads Leverage RJI Fellowships to Help Established Media Outlets 'Push the Envelope'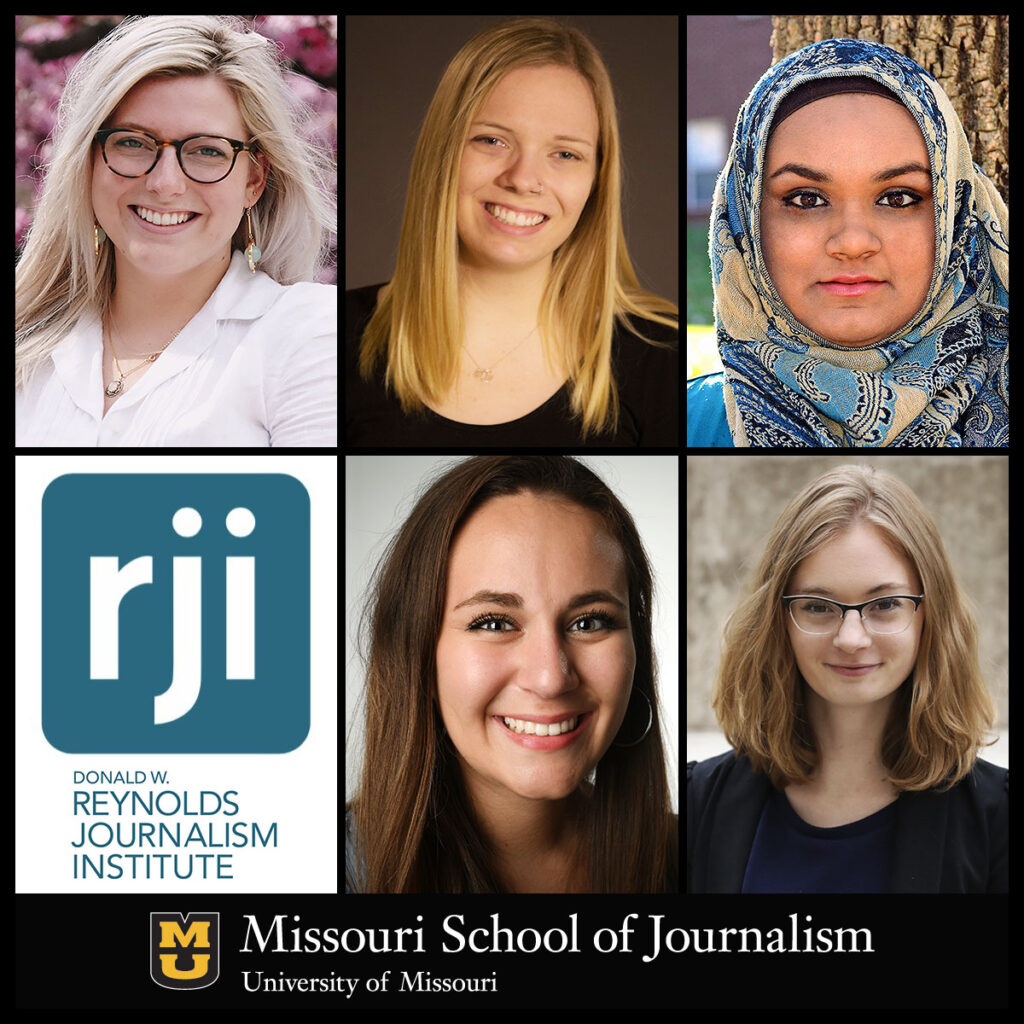 Clockwise from top-left, the 2018 RJI Student Innovation Fellows are Meg Cunningham, Kyra Haas, Humera Lodhi, Rachel Thomas and Hannah Rodriguez.
News Organizations Gain Access to 'Innovative, Tech-Savvy Journalism Students'
Columbia, Mo. (June 8, 2018) — Five Missouri School of Journalism seniors will help advance new storytelling initiatives and business practices at leading news organizations as the latest group of RJI Student Innovation Fellows. Their projects will range from creating Snapchat content intended to reach first-time voters to helping a product team use emerging technologies such as virtual reality to create content.
Humera Lodhi is the program's first summer fellow and is currently working for Raycom Media, based at WAVE-TV in Louisville, Kentucky.
The fellowship program, which launched in January 2018, pairs up newsrooms with "smart, digital-minded students," says Mike McKean, associate director at the Donald W. Reynolds Journalism Institute. The program provides newsrooms with "extra hands on deck," while offering students real-world experience.
Each fellow receives a minimum of $4,000 to help with living expenses as they work 30 hours a week. RJI and the partner organizations share the cost of the stipend.
"The results from the spring 2018 fellowships at ABC News, PolitiFact, Mic and NowThis confirm that we've come up with a good idea that serves the needs of newsrooms," says McKean. "We look forward to working with some of those partners again this fall while reaching out to other media outlets that want access to innovative, tech-savvy journalism students."
Raycom Media and The Seattle Times are the newest fellowship partners.
Seattle Times Executive Editor Don Shelton says he decided to enlist his newsroom in the program after being impressed by a group of Missouri School of Journalism students and faculty who visited his newsroom last year. Professor Marty Steffens has taken her Media Models class to Seattle annually the past 10 years to explore a variety of changing business models.
"The students were smart, engaged and asked a lot of good questions," says Shelton. "When we found out about the RJI Student Innovation Fellowship program it seemed like a win-win. We're excited about hosting one of the students this fall."
Summer 2018 Fellowship
Humera Lodhi of Columbia, Missouri, will produce Snapchat content for four of Raycom Media's stations with a particular focus on key U.S. Senate races in Indiana, Missouri and Arizona. Lodhi is working at WAVE-TV in Kentucky, which has a large Indiana audience, says Bill Shory, news director. Lodhi's project is a continuation of a partnership with Raycom that began in the spring as a senior capstone project for another group of students. The project, "Snap the Vote," is an initiative to bring election news and information to younger readers through the Snapchat platform. "In doing so, it would encourage a younger audience to register to vote and be more informed," says Lodhi. Lodhi says she's excited to see how a newer social platform such as Snapchat will fit a traditional newsroom setting. "Snapchat is a particularly difficult platform for traditional journalists to use and understand," says Shory. "Humera's multiplatform background not only lets her produce content that fits that platform, she's already helping us to understand how we can – and can't – leverage the platform for other coverage."
Fall 2018 Fellowships
Four additional RJI Student Innovation Fellows will take over the project in the fall and focus on the November elections.
Updated: November 4, 2020
Related Stories
Expand All
Collapse All
---