Hearst Corporation, Reynolds Journalism Institute and Adobe Announce Winners of Student Interactive Design Competition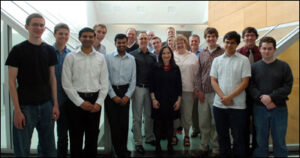 New York, N.Y. (May 6, 2010) — Hearst Corporation's Innovation group, the Reynolds Journalism Institute (RJI) at the Missouri School of Journalism and Adobe Systems Inc. today announced the two winning teams in a student competition to produce interactive applications that solve real-world needs in the advertising or news-gathering sides of the journalism industry. The winning designs are Ads with Photo Galleries, by Akshay Dave, Brent Davidson, Adam Falk, Daniel Maxon and Amit Vyawahare; and the Interactive Consumer Recommendation Engine, by Esten Hurtle, Ryan Martin, Justin Myers and Allan Vestal.
For the competition, journalism and computer science students at the University of Missouri worked in teams to use Adobe products to create programs that would address key media business challenges, as identified by Hearst. The winning Ads with Photo Galleries project creates a fresh way of engaging with multimedia that generates premium advertising positions for sponsors. The winning Interactive Consumer Recommendation Engine allows consumers to match their preferences with a variety of products. Both projects will be considered for use in Hearst's new and existing businesses.
"Fostering innovation and entrepreneurial thinking about all aspects of the communications industry is one of our core missions at Hearst," said Beth Polish, director of Corporate Innovation and senior vice president of Hearst Interactive Media. "We congratulate all the participating students for their efforts. Everyone involved with the competition found it gratifying and illuminating to work with the students and mentor the development of these ideas. We were so impressed by the results that addressed two different aspects of journalism and look forward to possibly providing new products and services based on their inspiration."
The winning teams will travel to Adobe's San Francisco offices later this month to present their project to Adobe executives. In June, they will also go to Shanghai, China, where they'll join students from Fudan University who took part in a parallel contest; the winning teams will showcase their projects at the 2010 World Expo.
"It's incredibly powerful to witness the students at University of Missouri School of Journalism combine their technology and journalism skills to address industry challenges through this contest."

Megan Stewart, director of Worldwide Higher Education at Adobe
Hearst is the first media partner to participate in the RJI competition, now in its third year. The first competition used Adobe AIR technology. Last year's focused on building applications for Apple's iPhone and produced several apps now available in the Apple iTunes Store. This year's teams had access to Adobe's Flash Catalyst and Creative Suite 4.
"This year's competition has been especially exciting as we've shown how journalistic and technological know-how can come together to address real, concrete challenges facing the media community," said Mike McKean, Missouri School of Journalism professor and director of the RJI Futures Lab. "Hearst and Adobe have been excellent partners throughout the competition and our students exceeded everyone's expectations."
"We really believe that students have the ability to bring fresh perspective to critical issues facing the publishing industry today," said Megan Stewart, director of Worldwide Higher Education at Adobe. "It's incredibly powerful to witness the students at University of Missouri School of Journalism combine their technology and journalism skills to address industry challenges through this contest."
Launched in April 2009, Hearst Corporate Innovation, a division of Hearst Corporation, works to drive innovative and entrepreneurial thinking across the company's various business units and assists employees with the development of new business concepts with the goal of turning them into profitable ventures.
---
About Hearst Corporation
Hearst Corporation (www.hearst.com) is one of the nation's largest diversified media companies. Its major interests include ownership of 15 daily and 38 weekly newspapers, including the Houston Chronicle, San Francisco Chronicle, San Antonio Express-News and Albany Times Union; nearly 200 magazines around the world, including Good Housekeeping, Cosmopolitan and O, The Oprah Magazine; 29 television stations, which reach a combined 18% of U.S. viewers; ownership in leading cable networks, including Lifetime, A&E, History and ESPN; as well as business publishing, including a minority joint venture interest in Fitch Ratings; Internet businesses, television production, newspaper features distribution and real estate.
About Donald W. Reynolds Journalism Institute
The Donald W. Reynolds Journalism Institute (rjionline.org) engages media professionals, scholars and citizens in programs aimed at improving the practice and understanding of journalism. Part of the Missouri School of Journalism, RJI collaborates with news and technology companies, professional associations, foundations and individuals to generate and test innovative models and technologies for journalism and advertising. Six Donald W. Reynolds Fellows spend an academic year at RJI, working with Missouri faculty and students and RJI staff to develop new ways to gather, process and deliver news, information and advertising. RJI was launched in 2004 with an initial $31 million grant from the Donald W. Reynolds Foundation. In 2009, the Foundation awarded the Institute an additional $15 million for operating support.
Updated: May 11, 2020
Related Stories
Expand All
Collapse All
---