Reynolds Journalism Institute Names Randy Picht, of the Associated Press, as Executive Director
Columbia, Mo. (April 13, 2012) — The Donald W. Reynolds Journalism Institute at the Missouri School of Journalism has named Randy Picht as its executive director. Picht will be the second executive director for the institute, which was created in 2004 with a $31 million grant from the Donald W. Reynolds Foundation. He succeeds Pam Johnson, who retired at the end of 2011.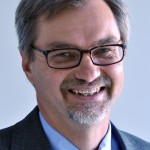 "We're delighted to have persuaded Randy Picht to take this job," said Dean Mills, dean of the Missouri School of Journalism. "He's a perfect fit, having worked on both the news and business sides of journalism at a national level. And he has an impressive history of both innovating and bringing innovation into practice – precisely RJI's mission."
Picht, BJ '80, has worked closely with newspapers and other media outlets during his nearly 29-year AP career. He is a former business editor for AP and has spent about half of his career working on the journalism side of the not-for-profit news cooperative and half of his time on the business side.
While he was business editor, from 1997 to 2000, at the cooperative's New York City headquarters, he directed coverage of the dot.com frenzy, huge mergers including Exxon and Mobil and the first time the Dow Jones Industrial Average reached the 10,000-point mark.
Picht spent several years prior to that assignment as a traveling expert helping newspapers, big and small, redesign and improve their printed stock tables and use new software to significantly reduce the amount of time required to paginate that market information.
He's played a number of key roles at AP including helping newsrooms use AP content to innovate and generate new revenue streams. As national product manager for newspapers, he created a regular showcase for the best new ideas in media called "Innovation in Action" that was shared throughout the industry. He also worked with editors to ensure that they regularly realized the most value from AP text and images.
During his tenure, he received special training as an online sales specialist and also was assigned last spring to work on the AP's licensing and tracking project, called the News Licensing Group, which was subsequently spun off as a separate company in July 2011 and renamed NewsRight.
In addition to his work as product manager, Picht formerly managed a state government news startup the AP bought in 2002 called Capitolwire, and served as bureau chief in Kansas City and in Minneapolis, his most recent assignment.
He also held news positions in Albany, N.Y., Rochester, N.Y., and St. Louis and helped cover the 1992 Winter Games in Albertville, France.
Picht, a native of Deer Park, N.Y., is married and has four children.
About the Donald W. Reynolds Journalism Institute
The Donald W. Reynolds Journalism Institute works with citizens, journalists and researchers to strengthen democracy through better journalism. RJI seeks out the most exciting new ideas, tests them with real-world experiments, uses social science research to assess their effectiveness and delivers solutions that citizens and journalists can put to use in their own communities. The institute was created with an initial gift of $31 million from the Donald W. Reynolds Foundation in 2004.
About the Donald W. Reynolds Foundation
The Donald W. Reynolds Foundation is a national philanthropic organization founded in 1954 by the late media entrepreneur for whom it is named. Headquartered in Las Vegas, Nevada, it has committed more than $110 million to its National Journalism Initiative in the United States.
About the Missouri School of Journalism
America's first school of journalism was founded at the University of Missouri in 1908. Some of the best journalists in the world have learned their profession through what is known as "the Missouri Method," which provides practical, hands-on training in news media. The School of Journalism also houses the headquarters of other professional organizations, including Investigative Reporters and Editors Inc., the Association of Health Care Journalists, and the National Freedom of Information Coalition, among others.
Updated: June 5, 2020
Related Stories
Expand All
Collapse All
---