Missouri School of Journalism, Reynolds Journalism Institute to Host National Online Chat with T. Boone Pickens on U.S. Foreign Oil Dependency, Current State of Energy Reporting
Subsequent Journalism Sessions to Feature Student Energy Research Projects, Presentation by CNBC Energy Reporter Sharon Epperson
Columbia, Mo. (April 22, 2009) — More than 200 journalism faculty, students and energy reporters across the country are expected to participate in a national "virtual chat" with energy visionary T. Boone Pickens on Wednesday, April 22, at the Missouri School of Journalism and the Reynolds Journalism Institute (RJI).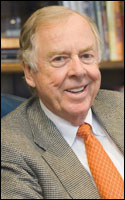 The discussion about the need to improve and expand the quality of reporting on the science, economics and geopolitical aspects of the energy industry will coincide with the Missouri Energy Summit hosted by the University of Missouri System's four campuses, held on the Columbia campus.
"We are delighted to have Mr. Pickens join us in this virtual chat on energy reporting," said Brian Brooks, associate dean of the world's first journalism school. "Over the last nine months, he has advocated his Pickens Plan that addresses and solves our dangerously escalating dependence on foreign oil. At the same time, Mr. Pickens has shared his concerns that the media has failed to hold elected politicians accountable for repeatedly promising to solve this dependency problem but failing to do so. So we're happy to turn up the volume on this discussion."
The 45-minute national energy reporting chat with Pickens, initiated with a global video clip of energy reports compiled by Newsy.com, will engage participants online and in-person discussing energy reporting issues and challenges. Marty Steffens, business and financial journalism chair at the Missouri School of Journalism, will moderate the online chat.
"Addressing the opportunities of the world's energy future will require all of its citizens to appreciate the interwoven nature of politics, economics and the spectrum of emerging energy options," said Jim Spencer, MA '91, president of Newsy.com. Newsy.com is a multi-perspective online video news site that monitors, synthesizes and presents the world's news coverage.

"Global access to multiple news perspectives will influence political and consumer decisions as well as business investments that are made in the energy industry, so it's important that journalists become well-schooled on the complexities of this industry so they can report wisely and with integrity," Spencer added. "Mr. Pickens will no doubt provide important insights on this topic."
Leading the on-site questions for Pickens will be Ellen Sherberg, publisher of the St. Louis Business Journal, and Christie Millweard, a journalism senior. Business journalism faculty attending "virtually" include:
Other virtual attendees will include members of the Society of American Business Editors and Writers. As part of the Journalism School's expanding curriculum in social media and multimedia programming, the session with Pickens will be edited for use in a subsequent discussion with hundreds of Missouri students and teachers open to the public on Thursday, April 23, in the Fred W. Smith Forum, Room 200, in the Reynolds Journalism Institute.
In addition to this virtual chat, other activities on April 23 will include:
At 9 a.m., William Allen, assistant professor and coordinator of the school's agricultural journalism program, will moderate a "Reporting on the Energy Industry" session featuring Sharon Epperson, an energy reporter for CNBC.
At 9:30 a.m., Epperson, Sherberg and Robert K. Dixon, leader of the Climate
Change and Chemicals Team at the Global Environment Facility, will engage participants in a discussion about journalism and energy coverage.
From 10:45 a.m. to noon, the journalism school will host a program featuring student energy research projects from each of the University of Missouri System's four campuses. Mike McKean, director of the RJI Futures Lab, will moderate the program.
About the Pickens Plan
Unveiled on July 8, 2008, by T. Boone Pickens, the Pickens Plan is a detailed solution for ending the United States' growing dependence on foreign oil. Earlier this year, when oil prices reached $140/barrel, America was spending about $700 billion for foreign oil, equaling the greatest transfer of wealth in human history. That figure has decreased some while oil prices have retreated, but the U.S. is still dependent on foreign nations for nearly 70 percent of its oil, representing a continuing national economic and national security threat. The plan calls for investing in power generation from domestic renewable resources such as wind and using our abundant supplies of natural gas as a transportation fuel, replacing more than one-third of our imported oil. More than 1,500,000 people have joined the Pickens Army through the Web site www.pickensplan.com, which has had more than 15,000,000 hits. For more information on the Pickens Plan, please visit our website.
Updated: May 1, 2020
Related Stories
Expand All
Collapse All
---