Fidler Named to Hall of Achievement at University of Oregon
Eugene, Ore. (Oct. 21, 2004) — Roger Fidler has been inducted into the Hall of Achievement by the School of Journalism and Communication at the University of Oregon.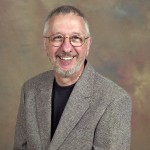 Fidler is the inaugural Visiting Fellow of the Donald W. Reynolds Journalism Institute at the Missouri School of Journalism. He plans to launch the world's first live digital newspaper edition through the School's community daily, the Columbia Missourian, as his Fellow's project.
The Hall of Achievement recognizes excellence in its graduates. Fidler, a 1966 UO graduate, was cited as both the pioneer and the prophet of the digital age of newspaper publishing. He is best known for developing the concept for the flat-panel tablet newspaper in 1981 and the prototype in 1991. His career has included positions as a reporter, feature writer, science columnist, cartographer and designer.
Fidler is journalism professor on leave from Kent State University where he directed the Institute for CyberInformation. Prior to joining the Kent State faculty in 1996, he was corporate Director of New Media for Knight Ridder Inc. and headed the company's Information Design Laboratory. He also founded and directed Knight Ridder Graphics Network, the first computer graphics network for newspapers, in 1983, and PressLink, the newspaper industry's first global online service, in 1985.
In 1999 the Freedom Forum Newseum honored Fidler as an electronic news pioneer and one of history's "Most Intriguing Newspeople" in its book Crusaders, Scoundrels, Journalists. He was a finalist for the prestigious World Technology Network Award in the Media and Journalism category in 2003 and 2004. He is the author of "Mediamorphosis: Understanding New Media."
Updated: March 17, 2020
Related Stories
Expand All
Collapse All
---